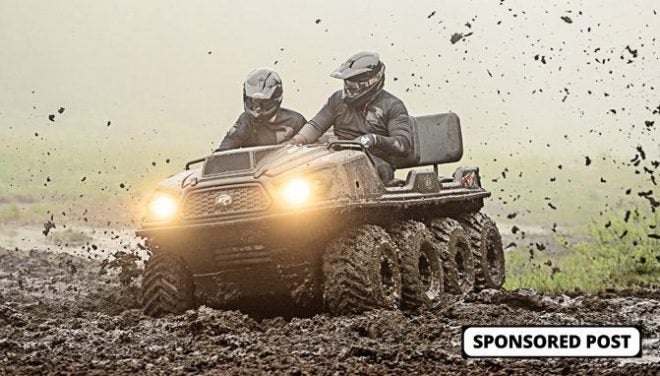 Most gearheads are familiar with the terms ATV and SxS. These acronyms for all-terrain vehicles and side-by-sides are well ingrained in the off-roader vernacular. But XTV? That's not quite as common.
Short for Extreme Terrain Vehicles, XTVs take the concept of off-roading and crank it to eleven. Most crucially, they're amphibious, allowing them to tackle obstacles that ATVs and Side-by-Sides cannot. Most XTVs cannot even be accurately described as a 4×4 since they generally have six, or even eight, wheels. In other words, these vehicles truly are in a class of their own.
ARGO, an XTV manufacturer headquartered in Canada, was first founded in 1967, naming its signature product after the Argonaut of Greek mythology for its stamina on both land and water. Its parent company, called "Ontario Drive & Gear Limited" or ODG, has certainly learned a thing or two about how off-road enthusiasts use their XTVs over the years, culminating in the new-for-2020 ARGO lineup of rigs that are designed to go anywhere and tackle any terrain.
Whether for use in a commercial application, the public sector, or personal utility, ARGOs fill the gap between recreational quads and heavy off-road equipment, going where other vehicles simply won't, or can't. Full skid plates come standard on most models, as does a bilge pump to help evacuate liquid after a water crossing. That means you can rely on these XTVs to climb, crawl, or swim to your destination, while hauling all the equipment and tools that need schlepping – making it the ideal vehicle whether you're headed to the job site or out on your next fishing and hunting adventure. With the industry's lowest center of gravity, ARGO XTVs are capable of traversing slopes and grades that would be inaccessible to traditional ATVs.
But how do they work, exactly? A multi-differential setup provides even torque to all of an ARGO's tires – even the ability to turn 180-degrees in its own length. Called zero-turn, this feature is invaluable when one needs to get out of tight and tricky spots, helping you maneuver with ease no matter where you have to go.
XTVs boast impressive payload and towing capacities as well, with even entry-level models able to haul up to 1200 lbs. Logically, top speeds are much higher on land than on water, and models can carry more weight on dry ground compared to through an aquatic environment. Meanwhile, engines range from a simple-to-operate carbureted setup to a fuel injected fan-cooled v-twin mill cranking out gobs of torque.
Aside from its increased capabilities, driving an XTV is also slightly different than piloting a traditional four-wheeler or side-by-side. A handlebar is connected to a set of service brakes mounted inboard next to the drive axles. As the vehicle's wheels are constantly connected to a drive system, the brakes slow the wheels on one side as a unit. In this respect, handling an XTV is a lot like maneuvering a skid-steer tractor. It also helps to explain why the machine can execute a zero-radius turn.
ARGO XTVs also benefit from a technological innovation called AGRO Progressive Steering (or APS), which provides smooth, confident handling. A spring linkage between the handlebars and brake system creates a progressive dual-rate steering system, resulting in a four-time increase in range of steering motion and smoother, more rounded turns – as opposed to the squared-off turns traditionally experienced while piloting multi-wheeled vehicles. First introduced for the 2019 model year, this UTV-inspired steering now comes standard on all Frontier models for 2020.
That 8×8 mobility combined with their strong-but-light construction give ARGOs the traction to traverse anything the great outdoors can throw at you, from muck to snow to swamp. Not to mention, their added water fording ability comes with no preparation required – so you don't have to hit the pause button just because you've hit a water obstacle.
ARGO has just released its lineup of machines for the 2020 model year, all featuring a fresh new look and a lower introductory starting price of just $7,999 for their Frontier line, meaning one doesn't have to go deep into debt in an effort to go deep into the water. There's also the Aurora series, a top of its class, premium XTV with all the must-have features, including 25″ tires with 9″ Steel Offset AirLock™ rims and seriously impressive EFI horsepower, making it a top choice for those looking to get serious about their next off-road adventure. Thanks to ARGO, no location or worksite is too remote, so go ahead and take "inaccessible" out of your vocabulary.
If you're in the market for a versatile off-road vehicle that can get you anywhere you need to go at a cost you can afford, head over to the ARGO website to find a dealer near you. Stay tuned for more on this innovative XTV brand and its next-level offerings.