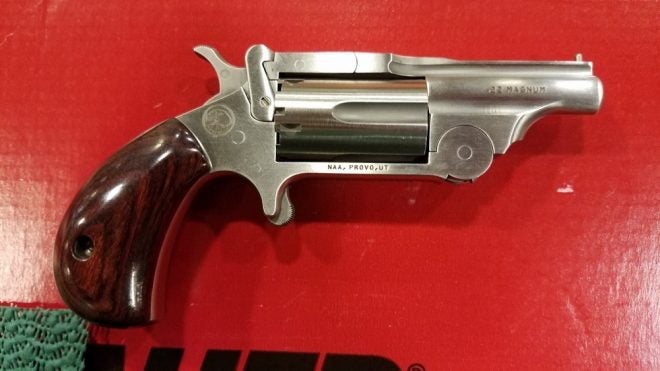 The NAA-22M-BTII is a new pocket handgun from North American Arms; a tiny 5-round revolver that almost resembles a derringer. It is the latest in their line of diminutive pocket handguns chambered in the 22 Magnum with a dual-cylinder model to handle the 22 Long Rifle.
North American Arms and its eagle-head logo has long been recognized for producing high-quality pocket guns. Their pieces are light and easy to carry for total concealment without issue, except maybe getting lost down in a pants pocket. These rimfire handguns are hardly bigger than a set of car keys and the print is much less obtrusive than many other pocket pistols.
The new North American Arms version is quite a departure from their previous designs and one in which I believe will be met with great interest.
Usually, NAA revolvers are loaded by removing the cylinder out of the frame. Not so with the new model; it is of the top-break design much like the old Schofield revolvers of the Jesse James era. The latch is on top of the frame behind the cylinder; simply release it and hinge the barrel & cylinder forward. In this position, a star extractor pulls the rounds out of the cylinder for easy finger extraction.
The base model is chambered for the 22 Magnum round, though as mentioned a second model will offer an extra cylinder to handle the 22 LR rimfire cartridge.
The NAA-22M sports a barrel 1 5/8 inch in length. Everything is stainless steel except the handsome rosewood bird's-head grips.
Other specs include a total length of only 5.16 inches, a width just over an inch, and a weight of only 6.9 ounces. The action is single action, cocking required for each shot. The front sight is a small bead though "sighting" is basically looking down the barrel, but really it is point-and-shoot.
Let's be realistic here. At an arm's length, catching a 22 magnum bullet in the head or vitals is going to hurt. This gun is intended for face-to-face defense if it comes to that. The NAA-22M-BTII retails for $479 and the dual cylinder model goes for $574. Check them out at www.northamericanarms.com.