(TACCOM 2019) IWI Jericho II 9mm SA/DA Pistol
Dickson 09.09.19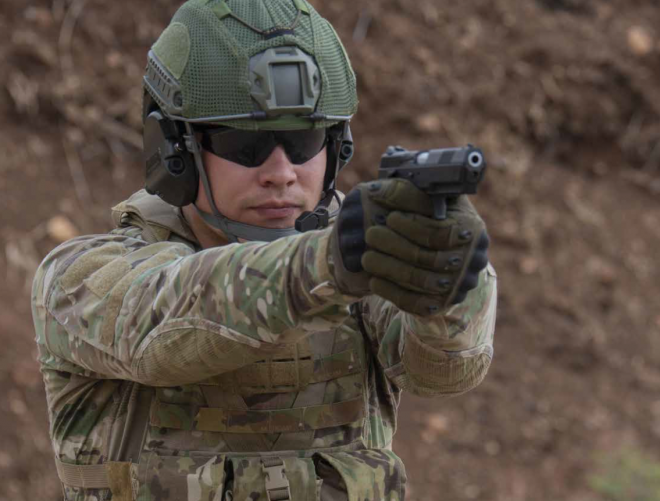 At TACCOM Show in Toronto, Canada this past weekend, IWI showcased the upcoming Jericho II 9mm pistol. This is an update to the Jericho 941 PL which is the polymer frame variant of the 941 series of pistols. It features a redesigned slide with aggressive front and rear serrations.
It has a frame safety (not a decocker, although that might be available later on) similar to a 1911 and the front rail is now MIL-STD-1913 compatible. The grip has been optimized, offering improved texture and removing finger grooves from the previous version and it now features removable backstraps. The barrel length remains the same at 112mm (4.4″) as this is considered a full-size pistol.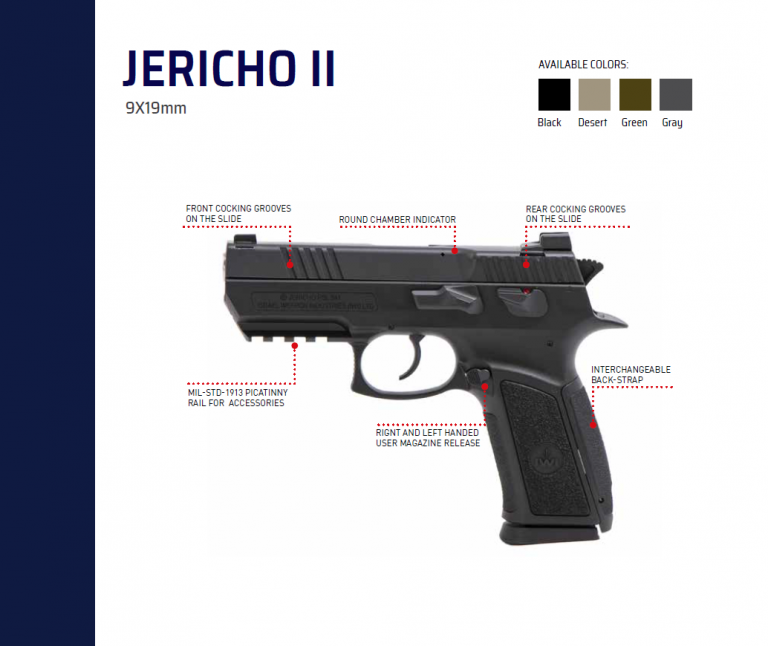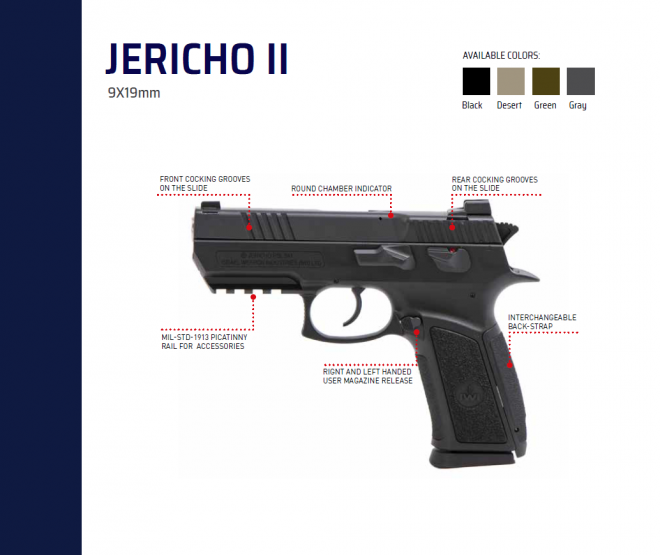 This is the description from the IWI Canada brochure.
JERICHO II Pistols is one of the most popular and respected pistols
in the world. It combines design with a variety of features and models
to create a weapon that offers outstanding performance and reliability.
The JERICHO II is deployed in Israel by the Israeli Military & Police as well
as military and police units worldwide, thus, making the pistol suitable
for a variety of operations.

In many countries the JERICHO II is used as a personal weapon, and is one
of the most popular self-protection guns.

ADVANTAGES AND BENEFITS
• Reliable mechanism
• Designed for military and police operations
• Complies with Military Standard (MIL-STD)
• Ergonomic designed pistol grip
• Fixed front and rear sights
• Double action traditional (DA / SA) or single action only (SAO)
• Polygonal rifling

FEATURES
• Interchangeable back-strap
• MIL-STD-1913 Picatinny rail for accessories
• Rignt and left handed user magazine release
• 10 rds. magazine
• Front and rear cocking grooves on the slide
• Lanyard swivel
The pistol will be available in black, desert, green and gray frames.
It is expected to be available in 3-4 months with a Canadian MSRP of $729.