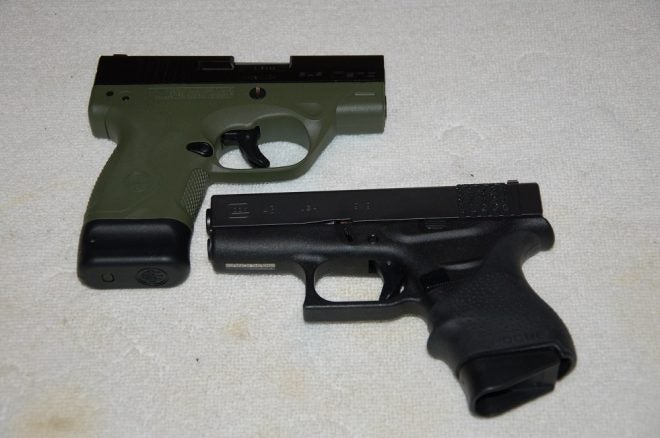 You're looking at all the specifications, histories, run data, driver profiles, and track ratings. So, then tell me: which NASCAR team is best? No can do huh? It's impossible regardless of how much information you have. Sometimes it is about the chemistry and how everything works on any given race day.
It is the same for picking one really good pocket handgun for concealed carry personal protection… much less five of them. There are simply too many choices. Even so, after looking at two dozen or more handguns, here are the ones we settled on.
They are not the only ones. Buy one or more of these, then keep shopping around.
SIG 365
The boys of summer are back. SIG keeps rolling them out like pizzas and they are good. The latest iteration is their Model 365 a Nitron finished pistol in 9mm rated +P. It is striker fired, has X-Ray night sights, stainless frame, stainless frame, 3.1 inch barrel, 17.8 ounces weight and ready to handle 11 rounds. Yep, eleven.
Glock 43
The world wanted a single stack 9 more than a Wendy's. Glock accommodated with the 43. This sub-compact pistol is rather super compact with a 3.39 inch barrel, at 17.9 ounces. It manages 6+1 rounds in a regular magazine. The 43 points naturally, handles well and shoots better. It is one dandy prepper pocket pistol.
Beretta Nano
The Nano is a dark horse, but it should be a stable. This striker pistol in 9mm holds 8 rounds in a base magazine. The 3 inch barrel makes this one a micro-compact with low combat sights, changeable grip frames by color that are thermoplastic. The Nano weighs in at 19.8 ounces and is pure Beretta quality.
Ruger LCR
Semi-auto pistols are not for everyone. Revolvers like this LCR take care of that. The LCR is a 5 shot, 38 Special rated for +P ammunition. The Hogue soft grips take care of the recoil. Sights are a U-notch and ramp front, all finished in matte black. This revolver weighs only 13.5 ounces. It will carry well all day with a 1.87 inch barrel.
Another DA only 38 Special +P with a 1.875 inch stainless barrel. The cylinder takes 5 rounds. Sights are designed for point and shoot. The polymer grips handle the recoil from the alloy frame. This will slip into an IWB holster and never be noticed until it needs to be.
There a lot of teams in NASCAR. There are a lot of choices for a prepper pocket guns. If you want to cut through the chaff, pick one or two of these five.