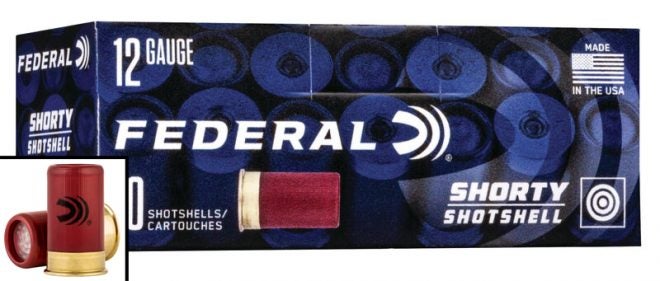 Editor's Note: we had a misdirected link in our email blast on 9/23/19. If you are looking for the article regarding Colt, please click below:
here https://www.alloutdoor.com/2019/09/20/colt-clarifies-decision-suspend-civilian-msr-sales/
Federal Ammunition has announced their own answer to the Aguila Minishell, and they're calling it the Shorty Shotshell.
Who wants little bitty shotgun shells? Lots of folks, apparently. Minishells have gained serious traction in the marketplace. I for one was pleasantly surprised at how many clay targets I broke with them at the SHOT Show, as I enjoyed their reduced noise and recoil. And as far as I know, Aguila has had that market all to themselves until now.
From the press release:
Federal unveils its new Shorty Shotshells, which deliver similar full-sized performance without the length of standard shells. Shipments of Federal Shorty Shotshells have been delivered to dealers.

Great things really do come in small packages. Although just 1 ¾-inch long, new Shorty shotshells offer similar patterns, energy and accuracy as full-size counterparts. Now available in 8 shot, 4 buck and rifled slug loads perfect for fun at the range.
Federal's Shorty lineup currently includes three loads, No. 8 bird shot, No. 4 buck shot, or rifled slug:
Part No. / Description / MSRP
SH129 8 / Shorty 12 gauge 1 ¾-inch No. 8 shot, 1145 fps, 10-count / $5.95
SH129 4B / Shorty 12 gauge 1 ¾-inch 4 buck, 1200 fps, 10-count / $11.95
SH129 RS / Shorty 12 gauge 1 ¾-inch rifled slug, 1200 fps, 10-count / $11.95
How do They Stack up?
Let's compare the Shorty with the Minishell, per the manufacturer specs:
No. 8 Birdshot
Federal: 15/16 ounce payload, 1145 fps MV
Aguila: 5/8 ounce payload, 1200 fps MV
Buckshot
Federal: 15/16 ounce payload, 15 pellets No. 4 buckshot, 1200 fps MV
Aguila: 5/8 ounce payload, 11 pellets total (7xNo. 4 and 4xNo. 1 buckshot), 1200 fps MV
Slug
Federal: 1 ounce slug, 1200 fps MV
Aguila: 7/8 ounce slug, 1300 fps MV
Is Bigger Better?
It's clear that Federal is upping the ante as far as charge size, offering a full one-third (33%) increase in charge weight for both the birdshot and buckshot loads, and a slug that's slightly heavier as compared with the Aguila's Minishell.
Another factor: Federal ammo is made in USA while Aguila is made in Mexico.
As far as I can tell, the jury is out on whether the market for these small shells will stand the test of time. After all, the trend has been for standard shotshell length to steadily grow over time.
What do you think about these little short shotgun shells? What uses do you think they are suited for?