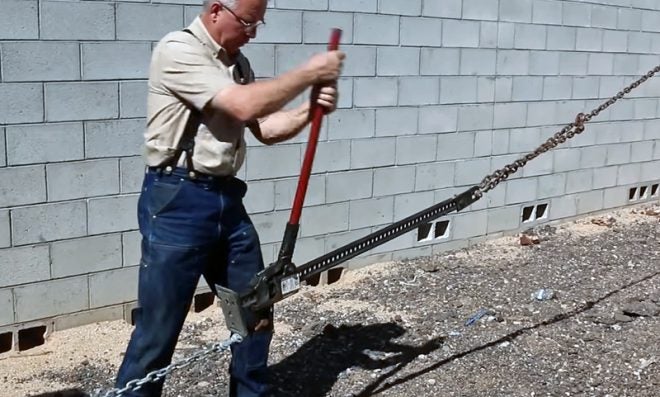 Essential Craftsman is a YouTube channel hosted by a real "man's man," that is an old timer who knows tools and how to use them. And this time, he's educating viewers about high-lift jacks, which are sometimes generically referred to by the original brand name of Hi-Lift, the way all facial tissue is called "Kleenex." These are useful but often-misunderstood tools that can get you out of trouble — or get you hurt, if you don't know how to use them.
One reason I like this guy is that he gets right to the point. No blah blah blah, he just dives in and starts telling viewers about the parts of the Hi-Lift and what they're good for.
The biggest problem associated with high-lift jacks is right there in the name. You're lifting stuff pretty high, which tends to make things a little wonky. Also, you're lifting the object from off to one side rather than up underneath it.
One of the characteristics of these jacks is that they're not lifting straight up under the load like a bottle jack. They're on the side of the load — and the further up the bar ya get, the more squirrelly any load becomes.
One thing he could have spent a little more time on is the inherent danger of lowering a heavy load with one of these jacks. It's mighty easy for it to get away from you if you let go of the handle at all while lowering a load and/or whenever the reversing lever is in the down position. If you need to stop lowering, flip that lever up before you let go of the jack handle.
Rule of thumb: The reversing lever should live in the UP position unless you're actively lowering the jack.
From lifting, we go right to using the jack as a comealong — something you certainly can't do with a bottle jack.
We keep one of these jacks in our woods Jeep whenever we take her out into the boonies. No other jack would have a chance to lift it!
I'll wrap up with his wrap-up:
There's a lot of things you can do with these. There are a lot of things you might *have* to do someday… and so if you've got room on the truck, if you've got room in the shop… you'll never be sorry that you've got one in your toolbox.