Work boots, by the simplest definition, are any boots in which you do work. But not all work boots are created equal because not all work is the same. Work boots for some are nothing less than steel-toed, brown leather, waterproof and able to withstand anything a construction work site can dish out. Work boots for others are lightweight, ventilated and light tan in color — intended for desert combat conditions. Some work boots are stylish, pointy-toed, cordovan leather dress boots meant more for the boardroom than the field. Whatever boots and work are your type of boot and work, most of us will benefit from having a versatile boot in our wardrobe.
I've been wearing these Apex 6" Wedge boots for several weeks now — not for any one particular work activity but for many, actually. This has included all kinds of work, from going to a job that requires some time in a manufacturing facility to working around the yard to wearing for casual outings. And therein lies the versatility of the Apex. Besides being supportive and protective, these boots are also comfortable for all-day wear and stylish enough for a night out.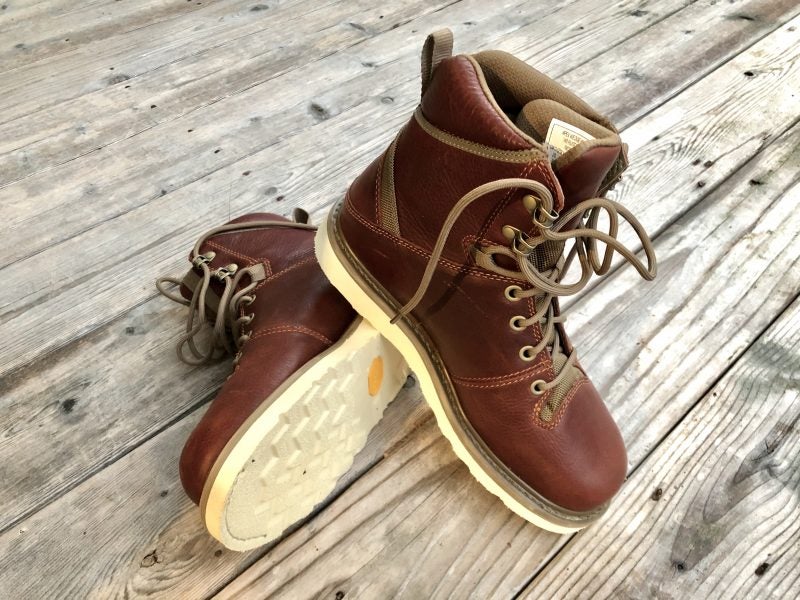 A few points about how they're made: A D30(r) support footbed absorbs whatever shock would like to travel into my foot from my stomping around, while the Vibram Christy outsole provides a comfortable, stable platform. And not only is the outsole resoleable, it also features Vibram Newflex for maximum grip. All the surfaces and places I traversed felt like. Well, I'm not sure I actually remember. But that's what good boots do; they don't get in the way of the work you're doing. Not once have they ever registered as uncomfortable in my mind. But more than that, they've proven very comfortable and supportive.
Made from premium leather, the Apex boots lace up and wrap around my foot and ankle, providing a definitive layer of support and protection. What's more: Each boot has a unique covert pocket built into the side, suitable for storing some extra cash or perhaps an extra folding knife.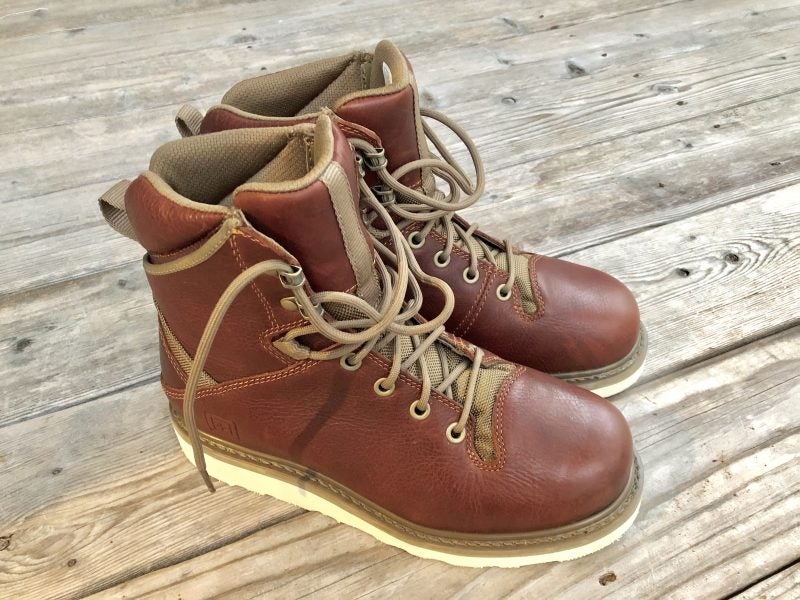 Break-in took just a couple weeks of consistent wearing and some natural creases would eventually show in the leather. It didn't look bad at all, but a quick treatment with a leather conditioner or mink oil brought them right back to looking like they just came out of the box from the store.
Wear them enough and the sole will likely be the first thing to wear to the point of needing repair. Hence the resoling capability of the Vibram outsole. But that's the sign of a quality boot: Publishing the capability of resoling. The laces may eventually wear out but the rest of the boot likely won't.
5.11 Apex Wedge boots come only in the color you see here: Rust. Retailing for $149.99, they might be the only work boots you need for a long time.