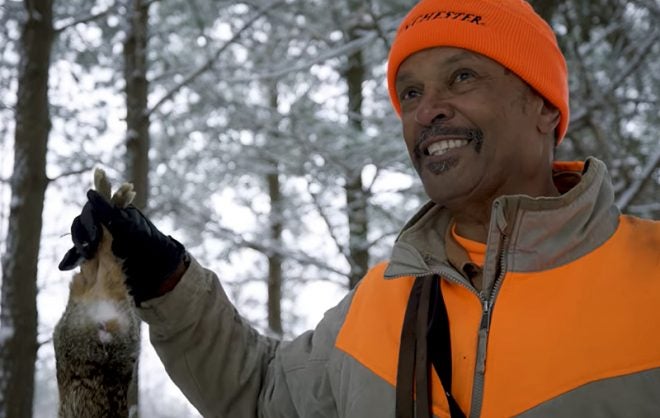 "They call me the rabbit hunter," says Louisiana native Charles Rodney in the opening line of this video. It was made by Winchester Ammunition, and although it's not even 10 minutes long, they consider it to be "a short film.
It's of great quality, with some superb camera work and lots of cool scenes (I especially enjoyed seeing the snow shaken off a shotgun as a hunter fired at his quarry). Here's how they describe it on YouTube:
Charles Rodney's relationship with his dogs, passion for field-to-table living and connection to the land make his love for chasing rabbits contagious while the heritage of Winchester's small game ammunition makes this beloved pastime accessible for generations to come.
Rabbit hunting is the only kind of hunting he does, so the name is apt. Charles is an active Creole fellow who began hunting rabbits at age 8 — 61 years before this video was made. That's impressive. It's hard work, but he loves it.
You can't measure the enjoyment. My hand is scratched, my clothes get tattered, but I go back — because it's my passion and it's my joy.
Hank, Rattler, Bozo, Blue, and Sam are the names of his beagles, which do the work of finding the rabbits and getting them out of the proverbial briar patch.
Rabbit shooting isn't easy, he attests.
I tell people a rabbit will make the best hunter and the best shot look bad on your best day. He's a tricky devil.
Charles likes to shoot a 20-gauge twin-stacker (that's an over-under to the uninitiated) with 26″ barrels, loaded with high brass shells containing No. 6 bird shot.
He sums it up in a way any true hunter can understand:
Even after sixty-some years, my heart still races.
He's also a writer, who says he's probably written 80 rabbit-hunting articles over the years to help spread the good word about hunting — especially rabbit hunting.
Charles's answer when someone asks how long he's going to keep hunting?
Until I can't do it no more.
Me too.