CatTongue Grip Tape to Keep Your Gear in Place
Russ Chastain 12.06.19

Most outdoor activities involve motion… you're riding or driving an ATV, UTV, or truck to your hunting area, you're boating across a lake to get to the best fishing or skiing, or whatever. While all this movement is happening, you want things to stay where you put them. But many things we take afield — your phone, for instance — are slick and tend to slide around. What to do?
One company thinks they have the answer, and it's called CatTongue Tape. They say you can use it to "transform any surface into a non-slip surface and get a better grip on anything."
Near as I can tell, their first product was the CatTongue Grip, a peel-and-stick item you can stick to mobile phones or similar items, to provide a non-slip surface.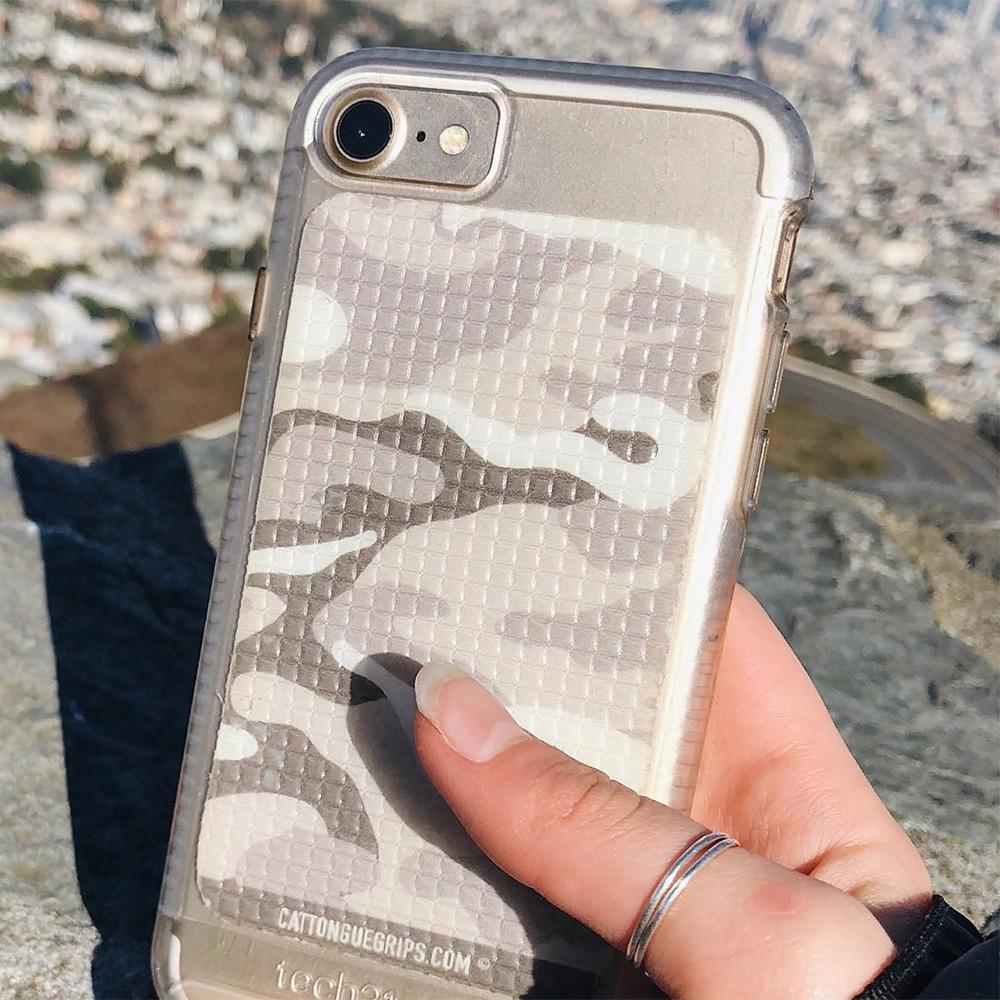 The reality is better than my perception when I read the name "CatTongue;" because I expected it to be rough in one direction just like a cat's tongue, which might be tough on the hands. Turns out, I needn't have worried. Unlike a cat tongue, it's not rough; they say it's soft and comfortable — but it "keeps itself clean, resisting hair, dirt, and lint."
The big difference between this and other grip tapes is that CatTongue is non-abrasive. It appears to be kinda rubbery. It simply makes things a bit more grippy — by adding what they call "gription."
The video below demonstrates the CatTongue Grip, and I thought it was pretty cool when the guy working on a vehicle was able to set his phone on the windshield and it stayed in place. Nice.
Like it or not, many hunters rely heavily on our smart phones while afield. I use mine as a sort of crutch more than I should, passing the time between deer sightings by playing games, reading, writing, or keeping notes. It's nice to know that when I set my phone down to pick up my rifle, it will stay where I put it.
The video below shows the tape being used on electronic devices, knives, axes, pet food bowls, cameras, sports gear, and more. They show it being applied to a chainsaw handle, but it didn't appear to have adhered well…
But how much does it cost? Well, it's not cheap at $12.99 a pop for a decorative CatTongue Grip to apply to your phone. You'll get more mileage by ordering a roll of the tape, which is semi-transparent so you're not decorating your gear, just making it less slippery.
A roll of CatTongue Grip Tape is $19.99, and for that you get a 10-foot strip that's two inches wide. They charge that much for their "phat cat" 5-by-8-inch size of grip intended for tablets.
If I can get my hands on some of this for testing, I'll be sure to let y'all know how well it does in the long term as far as adhesion, etc. I see it used on truck beds, on bumpers, and on chainsaw handles, but I have my doubts about how well it will stay stuck down in those locations.
Meanwhile, check them out at their website: https://cattonguegrips.com/
Happy hunting.