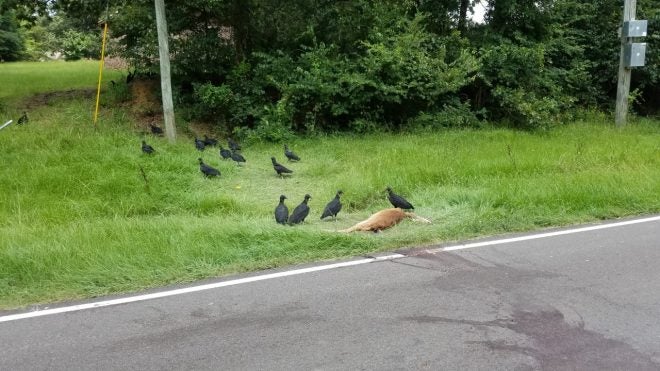 One of the very first signals of deer hunting season is the sighting of dead deer lying on the side of the road. This past week alone, I saw two such deer carcasses on the shoulder, one in town just outside my residential neighborhood.
I never enjoy seeing road kill deer or any dead wildlife on the roadways for that matter, but it is just a matter of reality. It is a sign though that deer are starting to move about and that means even though we may be in the throes of a hot summer, fall is quickly approaching. It should give pause to fall hunters and in particular deer hunters that preparations thinking needs to be underway.
Local contacts have already started many forms of summer and pre-season deer habitat preparations. Work projects among some have included opening new forest canopies to create fresh wildlife food plots. Some of these will be allowed to regrow in natural cover thus providing new foods and browse for deer. Later these opened areas will make great spots to hang a tree stand or hide a ground blind back in the woods.
One handyman deer hunter I know has already completed building two new shooting houses with fancy sliding glass windows. These stands will be overlooking newly cleared woodland areas designed specifically for deer hunting a new property acquired last year. It won't be long before he is disking the soil for a fall wildlife planting.
Which brings up the subject of what wildlife foods to plant this coming season. Deer need a lot of nutrition. The best supplemental food sources will provide ample protein to help keep deer healthy going into winter. Though it is cheap and provides a "green field," old fashioned rye grass is not particularly beneficial to deer. Like corn, i provides some carbs but little else.
It might be the season to try something different. This warrants a bit of browsing around a farm co-op or outdoor store that sells food plot seeds. I have tried some different blends before that are not the high dollar commercial seeds you see advertised on hunting television. Buy a bulk bag of wheat, rape, turnip greens, radishes, or something else. Mix the tiny seeds with play box sand to make them spread further. Cover well and pray for rain.
Road kills this time of year means deer are on the move. Just around the corner we'll be hoping they're moving across our hunting lands offering another challenging season. Time to plan for all that now.