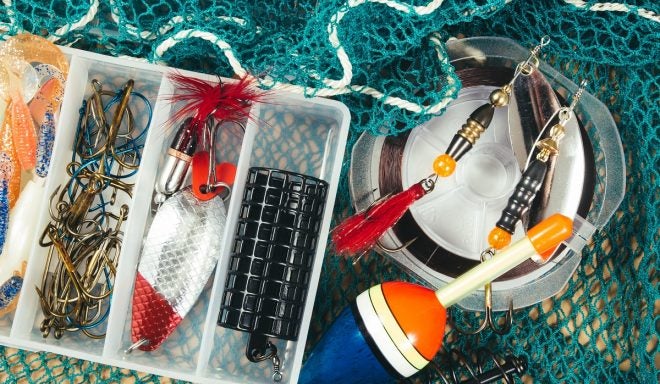 Do you have any family or friends who are avid fishermen (or fisherwomen)? If so, and with Christmas season right around the corner, you'll want to read on. That's because we're going to go over the top ten gift ideas for anglers that are available for under $100, presented in alphabetical order:
Camillus Sailing Knife
Why would an angler or fisherman need a 'sailing knife' if their boat doesn't even have sails on it? Well, a quality sailing knife would be a great thing for a fisherman to have even if they don't have a boat that has sails on it, or even if they don't have a boat at all. Sailing knives are designed primarily for cutting rope and fishing lines, and as a result they have a thin and hollow ground blade.
The Camillus Sailing Knife is an excellent option for a sailing knife because of its built-in marlin spike, which is one of the most useful tools that a fisherman can ever have because of how effective it is for poking into and loosening up tight knots in rope or fishing line. It can also be used to open up soda or beer cans when your fingers can't get the job done.
Columbia PFG ODX Hybrid Jacket
The Columbia PFH ODX Hybrid Jacket is an excellent option for fishermen who would like to stay dry but without feeling so hot inside that they begin to sweat. The PFD ODX is a 100% nylon jacket that utilizes Columbia's trademark OutDRY Extreme Technology, which consists of a waterproof membrane for the outside to help keep rain at bay and a soft wicking fabric for the inside to help keep you warm.
Cuba Telescoping Nets
No fishing kit is truly complete without a net of some kind. The Cuda Telescoping Nets are available across a wide variety of different sizes, but each feature a replaceable net system and corded non-slip grips. To change the mesh, all you will need to do is unzip the net using the waterproof zipper.
The body of the nets are built out of aluminum, and are available in sizes from just under five feet to just under eight feet, with a variety of net depths.
Eagle Claw Flats Blue Rods
One of the best fishing rods, and for beginner fishermen especially, will be the Eagle Claw Flats Blue Rod. Suitable for both freshwater and saltwater fish, the Eagle Claw is available in both baitcasting and spinning models.
The Eagle Claw features a cork split handle design, which drastically reduces weight, and a zirconium guide that makes casting much easier (hence it's a god option for beginner fishermen especially). The rods themselves utilize an S-curve technology, which will maximize both balance and power.
Goal Zero Venture 30 Solar Power Storage Recharger
The Goal Zero Venture 30 Solar Power Storage Recharger is a small battery pack that charges itself via solar panels; you'll keep it out under the sun while the user is fishing by the water. You can use this solar recharger to keep your phone charged up even when you're far away from an electrical outlet.
Morakniv Fishing Knife Multipack
The Swedish-made Morakniv knife is an excellent knife to use for cleaning fish, and the multipack comes with a Fishing Comfort Fillet 155, a Fishing Comfort Scaler, and a diamond sharpener all in one. The cost of buying the pack altogether is less than if you were to buy each product in the pack separetly.
Rapala Mag Spring Pliers
A pair of pliers is also an essential item for a fisherman's kit. One of the best pliers to get on the market today is the Rapala Mag Spring Pliers, which utilizes a magnetic mag spring system to keep the jaws open and ready to go. These pliers are built out of stainless steel, and feature soft handles and a pivoted sheath as added features.
SpiderWire Stealth Smooth Fishing Braid
The SpiderWire Stealth Smooth Fishing Braid is designed to whisk through guides to provide a very quiet cast over the water. This eight carrier line is coated with microcrystalline polymer with a green color. The braid is available in spools ranging from 125 to 3,000 yards.
Tak Logic's Lure Lock Lure Locker
The Tak Logic's Lure Lock Lure Locker is a fully customizable tackle storage system. If you're looking for a practical and quality storage box for your lures and other tackle equipment, the Tak Logic represents a great option.
Yeti Rambler Stainless Steel Vacuum Mug
Finally, the Yeti Ramber mug is one of the most durable camping mugs in existence and is designed to accommodate gloves or mittens, which you may need to wear if you're fishing in colder weather. The double wall vacuum insulation ensure that your cold drinks will be kept cold and your hot drinks kept hot.
Conclusion
Any one of the above ten products would make a great Christmas or birthday gift for any angler or fisherman.