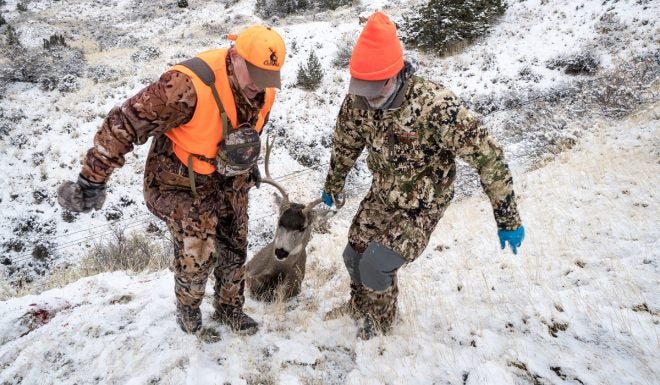 Do you have any hunters in your family or circle of friends who you need to buy gifts for as the Christmas season approaches? If so, you've come to the right place.
Here are the top ten gift ideas for hunters under $50, presented in alphabetical order:
Balaclava
The Balaclava is designed to keep your face, ears, cheeks, and nose protected and warm during cold inclement weather. This is important, because your face is often he most exposed region on your body to frostbite while hunting.
The balaclava is manufactured out of polyester fleece and is comfortable, breathable, windproof, and very soft. It has two adjustable draw straps to tighten it around your head and face if necessary, and can replace the scarf, hood, and face mask all at once.
Camelbak Mil-Spec Antidote Reservoir
Staying hydrated while hunting out in the woods is vitally important, and the Camelbak Mil-Spec Antidote Reservoir is an excellent way to ensure that you remain so. This bladder hydration system will fit into just about any backpacking system, with the drinking tube traveling through the shoulder strap and directly to your mouth, so the hunter can take small sips throughout the day while on the march.
Carhartt Men's Arctic Wool Heavy Boot Socks
Wool socks are vitally important for any hunter to keep their feet protected from moisture (and therefore gangrene). Wool is not only very soft and warm, it's also far better at resisting water than other sock materials are, such as cotton.
The Carhartt Men's Arctic Wool Heavy Boot Socks have 60% merino wool and are quite comfortable. Any hunter would be wise to have a pair on their feet while out in the woods and then an extra pair in their pack.
Coleman Deluxe PerfectFlow Propane Lantern
Coleman is known for making some of the highest quality propane lanterns in existence. The PerfectFlow Propane Lantern in particular utilizes one pound propane tanks, and each tank will provide over seven hours of continuous light. This will be an invaluable item to have at any hunting camp.
Game Hoist with Gambrel
Few things will make it easier to skin and butcher a deer than a game hoist and gambrel, which can come with dozens of feet of rope, in addition to the streel gambrel and pulley system and lift several hundred pounds into the air. There will be few simpler solutions for hoisting an animal up from the ground for skinning and butchering.
Hoppe's No. 9 Gun Bore Cleaner
Any true hunter knows the vital importance of keeping his or her firearm clean after a day out in the woods, in order to keep the gun protected from rust and moisture. The No. 9 gun bore cleaner has been one of the most popular gun cleaning oils since 1903, and is very effective at eliminating everything from lead to rust to metal fouling and powder.
Outdoor Edge Field Butchering Kit
If you're going to go butcher your own meat, you need more than just a game hoist and gambrel, You're also going to need a butchering kit, and the Outdoor Edge Field Butchering Kit is one of the highest quality budget options on the market. This kit comes with a bone saw, sharpener ,and three high quality stainless steel knives. It can be used on anything from elk to deer to bear and other kinds of wild game.
Smith's PP1 Pocket Pal Multifunction Sharpener
Any hunter or outdoorsman knows the importance of keeping a sharp knife on hand, but it's impossible to keep a sharp knife without a sharpener of some kind on hand. The PP1 Pocket Pal comes with two V-shaped sharpening slots for setting and then honing the edge of your knives. As an added benefit, it can be easily carried around in your pocket, so your gift recipient can take it with them on their hunting trips.
Thermacell Mosquito Repeller
If your gift recipient hunts in the southeastern United States especially, they understand full well the annoyance of having to deal with mosquitoes while waiting in their tree stand. Fortunately, they won't have to worry about that any longer with the use of Thermacell Mosquito Repeller. This is the perfect gift for any hunter who hunts in an area where the bugs get bad.
Quake Claw Rifle Sling
The Quake Claw Rifle Sling is one of the best slings on the market for ay rifle or shotgun. This sling is effective because it distributes the weight of the gun across your shoulder, but is still not wide enough to get in the way. It also comes with a polymer pad that keeps the rifle from slipping off of your shoulder.
Conclusion
Each of the items that we have covered here today are high quality and affordable at under fifty dollars each, and will be an excellent gift item for any relatives or friends of yours who are into hunting.