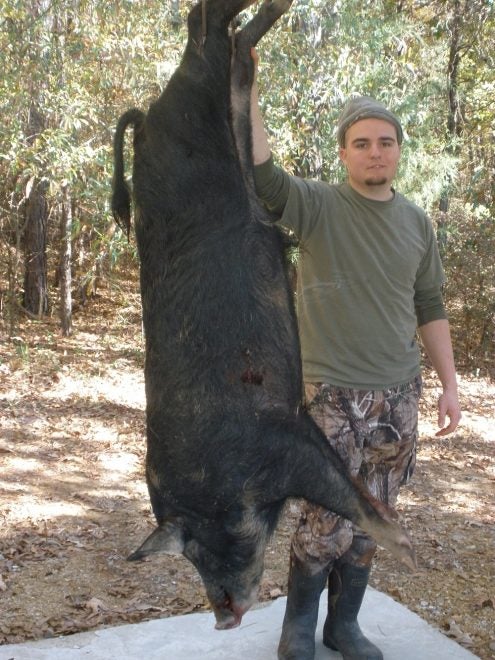 Each year in the USA wild hogs destroy tens of thousands of acres of croplands and tillable fields by literally rooting up every plant into rutted raw dirt. It takes farmers, ranchers, and livestock growers days to plow up such fields to have them back in shape for planting crops or seeding for pasturelands once again.
Wild hogs are a plain and simple nuisance — and most state wildlife departments classify them as such. Hog hunting seasons are liberal often with no set season all year long. Usually there is no bag limit on them either. This makes for great hunting sport for those willing to get into the pork killing game.
Hunting and killing hogs is not easy. They are primarily nocturnal, only foraging and feeding at night. Those seen during daylight hours are far and few between, but it does happen. Many highly dedicated hog hunters use night vision equipment to pursue the hogs at night. This equipment is expensive, so few can afford to do it.
Also taking down a hog is tough business. They have a thick tissue plate that shields them from shots in vital areas. Only the most powerful cartridges can take them down with impunity. Among some of the favorite rounds currently in hog killing service are the 450 Bushmaster, the 460 Smith and Wesson, and the 45-70. Big, heavy, bonded bullets inflict the most damage, but then range can be limited with the big bullets weighing 300 or more grains.
A good number of hog hunters do use the same rifles they use for deer or elk hunting. The 30-06, 300 Winchester Short Magnum, 300 Winchester Magnum and even the 6.5 Creedmoor are not too much to knock down a big pig. Practically any deer or elk rifle can harvest hogs, if the well-made hunting bullets are targeted to the proper kill zones. Some of these hunters mount a night vision scope on these rifles and carry on at night.
A good number of hogs are killed with lesser guns, even AR-15s in 223/5.56, 300 Blackout, and 6.8 SPC among others. These shots should be made with a higher degree of precision in the neck and brain areas. Careful aiming and time taken for a good shot are the secret if there is the opportunity for this.
Hog hunting remains very popular and necessary in states with huge populations of hogs. Anytime you are hunting deer or other game, if a hog happens on the scene, then take them out. Even then, I'm not sure hunters can get ahead of the curve.