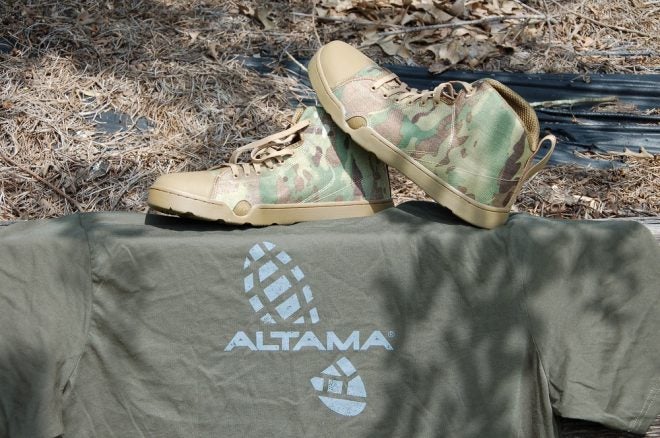 One never knows where a story will start, or where it will lead you. Discovering new products for outdoors people, hunters, anglers, preppers, and survivalists is that way. Usually it all just happens by sheer accident, as in this case.
During a recent trip to Nashville, we drove by an old-school military surplus store. You just don't see those much anymore. I was amazed at all the stuff they had, war surplus, new gear, camping equipment, prepper supplies, all of it.
Then I noticed in the school department a pair of canvas "sneakers" but they weren't. After an inquiry with a store clerk I learned the shoes were made by ALTAMA. The shoes were soft sided mid-height boots that were actually designed for wearing inside swim fins worn by military frogmen. The clerk said they were used by U.S. Navy Seals. That piqued my interest.
Unfortunately, they were out of my size. So, the search ensued. After a curious ordeal of finding the shoes on Amazon, ordering them, receiving the wrong size via some glitch in barcodes, and getting great help from the customer service ladies at The Original Footwear Company in two different countries, I finally got the right size.
This Altama shoe is officially called the Maritime Assault Boot. They have a low top and high top versions. These boots come in tan trim in black, coyote, or multi-cam which is a camo mix of green, brown, tan, and black. The other version has black trim in black. Altama terms these boots as their Elite Division, designed for special ops, worn by the elite. They have been in business since 1969.
This boot has multiple features that not only make them combat ready for water operations, but also for civilian wear. It has an air mesh lining that wicks away moisture. The full length ABS shank provides extra support. The soles have an aggressive non-slip tread. The lace hardware is no-shine and rustproof. The Ultron insole does not absorb water. The boots only weigh 13 ounces.
The exterior boot panels are made of 1000D Cordura for high abrasion resistance. Special to the design are non-metallic drain ports to drain water as the boot is flexed. There is a grab loop on the back of the boot. Sizes run from 5-14 in D and EEE width. Retail prices go $85-95.
So far these boots have several miles on them. The fit is snug, but fine. Wear thin walking socks. I like these boots for ATV riding as the Cordura panels repel low growth brush protecting the ankles. If you wear them in over ankle-deep water, it just runs out the ports. I can tell already, the wear of these boots is going to be excellent. Check them out at www.altama.com.