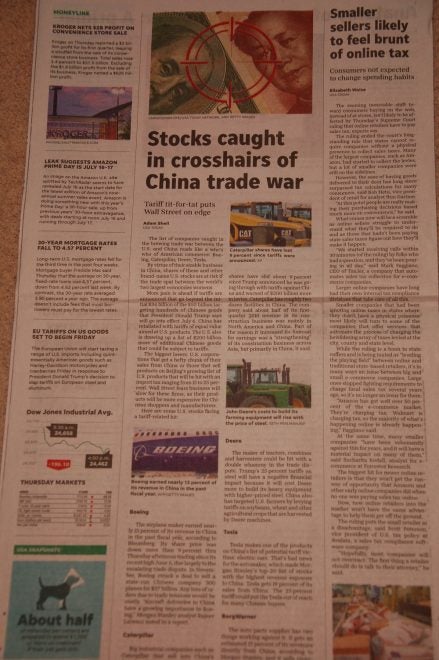 The Trump Administration is waging another type of war trying to get America back on equal footing with other trade countries around the world. Some believe for far too long the United States and our consumers have been paying a premium by us not getting the same trade cost equity for our products, while we take in way too many foreign goods competing against our own products and jobs.
Putting higher tariffs on foreign-made goods will cause us to pay more for these products. For the outdoors people in this country, how is this trade war and tariff battles going to affect what we pay for the goods we want and need? That is the big question.
Most consumers do not spend a lot of time looking at labels on the products they buy. If they want it, they buy it if it fits their budgets. Do you ever look at the country of origin of manufacture for the hunting, fishing, camping, hiking, or prepping products you buy? Start looking at the label, you might be shocked at what you see.
So, if for example these tariff wars contribute to rising prices for Chinese goods sold in the USA, what products might we expect to be paying more for? That list is incredibly long and complicated because tariffs don't just apply to manufactured goods; some are raw products, parts, or components made offshore and imported to complete "American made" products here.
Just off the top of my head I came up with this list. It includes hunting, fishing, and outdoor clothing, boots and shoes (ever buy Rocky boots?), camping gear of every description such as tents, sleeping bags, packs, coolers, and so much more. What about electronics such as trail cameras, GPSs, rangefinders, fishing depth finders, and fishing sonar, plus communications gear? Optics including red dot scopes, traditional optics, binoculars, or spotting scopes.
Fishing equipment would include baits, rods, and reels. It might be the PFDs on board, cushions, fire extinguishers, and more. What about flashlights, lanterns, and other lighting equipment. Tree stands. Then there are guns. Those made in China or elsewhere such as Europe may increase in price, too. Steel tariffs may also cause domestically-built firearms to become more expensive, too.
I do not fault Trump for trying to get things back on a level playing field. Past American presidents have played the game far too long. How much more are we willing to pay to take this stand? Time will tell, but expect one thing: Prices are going to go up.