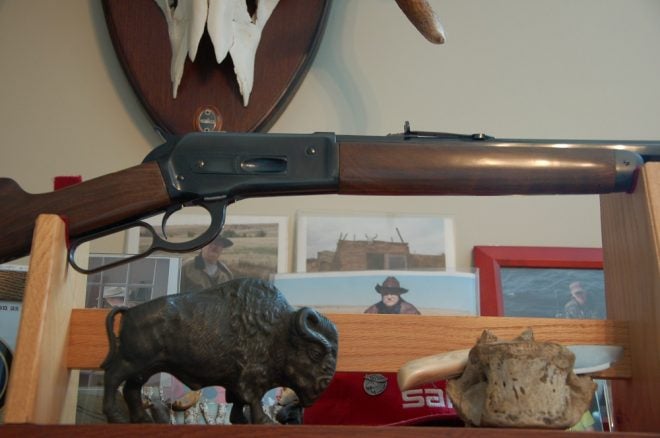 Some long gun enthusiasts point to the Winchester Model 70 as the true "rifleman's rifle," but I beg to differ. When it comes to true classics with the ability to take care of business, few rifles across history fill the bill like the 1886. In my mind's eye, the 1886 is a real man's rifle.
Pick one up. It is hefty and fills your hands well. The weight feels just right; not overly burdensome, just steel and wood molded into a form that spells serious results. When cocked, the hammer clicks like a smooth Colt SAA with sweet sounds to soothe the soul.
Shoulder it, look down that long barrel. Balance it with your off hand open palm for support under that walnut forearm. Satisfies like a sip of smooth bourbon and a good hand-rolled stogie. Oh sure, it's only a rifle, but it's an 1886. It's not just another rifle.
When Winchester's VP, T. G. Bennett took the idea, some sketches, and models of the rifle that would become the 1886 to the Browning Brothers in Ogden, Utah, history was set to be made. Riflemen on the prairies and woods of the expanding American West needed more horsepower. With big game abounding and herds of bison running the grasslands, hunters and meat suppliers wanted to shoot bigger bullets and lots of them. The day would soon come when the lever action could finally overshadow the big Sharps single shot rifles for production results.
Previous lever action designs incorporated a toggle and link configuration. The 1886 would introduce a whole new action. This new model would handle the bigger cartridges of the day like the 45-70, 45-90, 40-82, 40-65, 38-56, and the 50-110. Others were added later including the 40-70, 38-70, and the 50-100-450 Express and then the 33 WCF in 1903. Cartridges came and went during the years.
Many models and variations of the 1886 can be found. Get a good reference book and make a study of it. Barrels ran from carbine length of 22-inches to a super long 34-inch model. The standard rifle barrel length settled at 26-inches. Many were round, some octagonal. Sights varied from open buckhorn sights to tang mounted target sights.
Production of the Winchester 1886 ended in 1922 with 159,337 manufactured. Years later, Browning brought out an 1886 made by their Japanese connections, then others were produced bearing the Winchester name. Prudent shoppers can still find these.
The Winchester 1886 rifle in 45-70 became a quintessential hunter's heavy duty lever action. It was later replaced by the Model 71 which was made by minor changes in the original 1886 action.