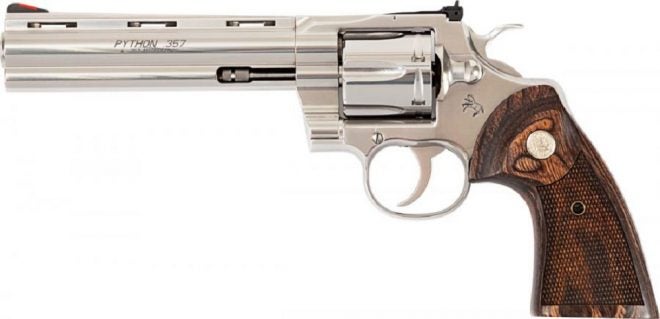 In just about anybody's mind that knows anything about fine firearms, the Colt Python is a legendary double-action revolver. The base model was made from 1955 until 1969 and many other versions were brought out including the standard blued finish from 1970 until 1996. The Python was also produced in nickel finish and stainless steel in 1985. Clearly, the Colt Blued models were the most desired and still sought after today.
The original Colt Python was chambered for the 357 Magnum primarily, but also there were 38 Special only models. Offered in barrel lengths of 2.5, 4, 6 and 8 inches with the vent rib bring a prime characteristic of this gun, Pythons are today coveted collector's guns spiking the used gun markets to the tune of several thousand dollars. I am still sad that I missed out on an 8-inch blued one many years ago in pristine condition for $800. Shame on me.
Recently, Colt Manufacturing Company announced the comeback of the famed Python, at least in some limited capacity. These new Pythons will be made of stainless steel and will be certainly welcomed, but alas disappointing that there will be no blued models. Still it is good news that the Python will be available again.
The new "Snakes" will be offered in barrel lengths of 4.25 and 6 inches. Another prime change will be an enhanced rear sight by adding 30 percent more steel in that area of the handgun. The front sight will be user-interchangeable.
Target grips will be made of walnut with the famous Colt gold medallion to reflect back on the history of the original Colt guns. I note, too, the contour of the grips appear to be changed slightly but they still appear to be a beautiful and fully functional set of handgun grips with plenty of checkering for a firm grip on the powerful handgun.
The stainless steel finish of the new Python is characterized as "semi-bright." This finish is not really satin or glossy, but something in between. I think shooters and owners will appreciate the beauty of this new Python as do owners do of the original models.
Chambered for the same 357 Magnum as the original in a six-shot cylinder, it will also handle 38 Special rounds to allow more-affordable shooting with lower recoil. The overall length goes from 9.75 inches to 11.5 inches for the 6-inch version. Weights are 42 and 46 ounces respectively by barrel length. The suggested retail price will be $1500.00. Anticipation for this new revolver will be high.