[SHOT Show 2020] New Hearing Enhancement/Protection From Howard Leight
Russ Chastain 02.03.20

When it comes to hearing protection in the shooting sports, the name Howard Leight by Honeywell has gotten pretty widespread in recent years. Their Impact Sport line of electronic earmuffs has been a particular success, and in 2020 they are expanding that line with the Honor Collection.
What I like best about the Impact Sport is the auto shutoff. I'm like y'all: I sometimes forget to turn off my electronic earmuffs — or else they get bumped or jostled in my shooting bag, which turns them on. In most muffs, that means dead batteries next time you need them. But Impact Sport will turn itself off after 4 hours, so you only have to switch them off and back on to resume enjoying amplification along with protection.
The Honor Collection features three new versions of Impact Sport hearing protection muffs, designed to honor first responders, police officers, and military personnel.
From the press release:
Now, this proven performer celebrates veterans and active-service military, law enforcement, firefighters and other first responders in the pride-inspiring new colorways of the Impact Sport Honor Collection.
The patterns, or "colorways," are Real Blue, One Nation, and Smoke.
Here are the manufacturer's specs of the Impact Sport:
Built-in directional microphones amplify range commands and other ambient sounds to a safe 82dB, providing more natural listening and enhanced communication.
Actively listens and automatically stops amplification when ambient sound exceeds 82dB.
Features low profile earcups for firearm stock clearance; adjustable headband for secure fit; compact folding design for convenient storage.
Includes AUX input and 3.5mm cord to connect with your music device or radio scanner or another audio source.
Includes 2 AAA batteries; automatic shut-off feature after 4 hours increases battery life; approximately 350 hours of battery life.
Noise Reduction Rating (NRR): 22dB.
These new Impact Sport Honor Collection models should be available at Howard Leight Shooting Sports Dealers and online at howardleightshootingsports.com in June of 2020. MSRP is $79.99.
Impact Sport Bolt
Howard Leight also has a new "Bolt" version of the Impact Sport, with a digital processor which allows faster response to changes in volume. Bolt has a reaction time of half a millisecond — and this applies both before and after a shot. They say this will help make sure you can hear more conversation (including range commands) by restoring electronic amplification more quickly after blocking the sound of a shot.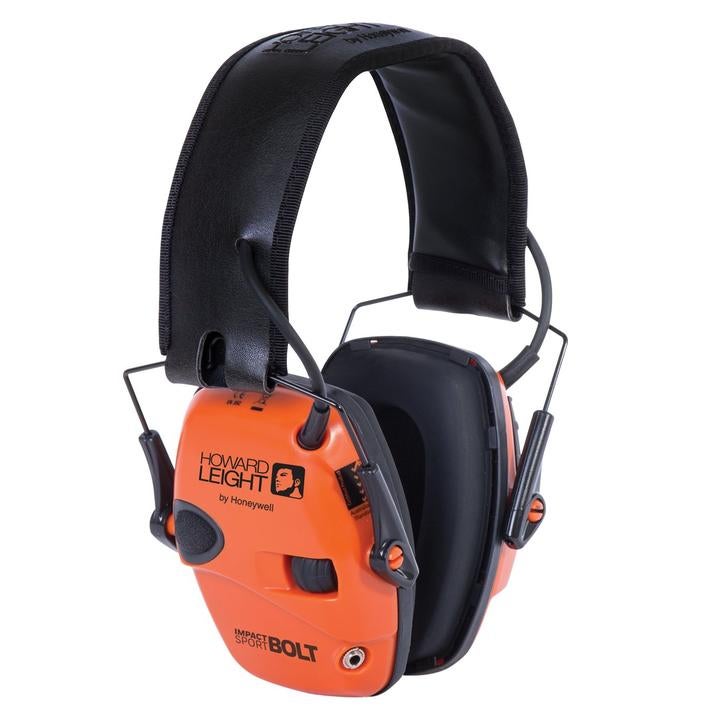 In addition to working 250 times faster than other Impact Sport models, Bolt comes with a belt clip and two extra ear pads.
Noise reduction remains at 22db, but battery life suffers — Bolt is rated for 150 hours of battery life from the included pair of AAA batteries, vs. 350 hours from standard Impact Sport models.
MSRP on the Howard Leight Impact Sport Bolt is $90, and you can order it today at the following links in black, gray, or (my favorite) orange.