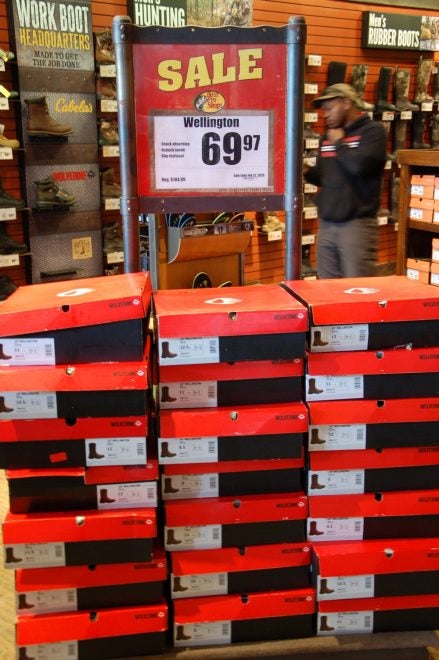 The after-season sales are on hot and heavy. Now is definitely the time to cash in on big box sales flyers, in-store sales and online buying, too. If you need new gear of any kind, the time to buy is now.
Go through all your hunting gear, clothing, and support gear and assess what needs to be replaced. Perhaps some of the items are simply worn out from several seasons of hard use, or maybe you just need to add a couple of fresh items to spice up the hunting wardrobe or whatever. Make a list and start hitting your favorite local stores to see what goodies have been marked down.
During the season whether it is deer hunting, waterfowling, small game, or whatever I try to make mental notes on what is getting worn out, damaged, or is simply missing from my inventory. I lost two trail cameras to camp floods this year, so I will need to replace them. Hope some are on sale. I could use a few boxes of shotshells in various shot sizes, so I'll be checking the aisles for that.
How is your primary hunting clothing working? Maybe you need a couple new tough-wear shirts, or maybe a warmer hunting coat. Could be it is time to add a dedicated rain suit or a lightweight one that could be packed away in the dry box on the ATV. I like a good wool coat for warmth, but when it rains, I sure want a pull-over rain jacket or even a poncho to keep me and my rifle reasonably dry.
Boots? If you don't own a pair of rubber bottomed, neoprene top knee boots, then you have to add a pair. Shop for Muck, Bogs, LaCrosse, or Redhead brands. Try a heavy insulated pair that will serve you well in water and cold weather. Add a new pair of wool socks. How about a boot dryer?
Gloves? Seems like hunters go through gloves like a goose goes through a soybean field. Warm hands are essential to hunting comfort. If the sale price is good, pick up a couple pairs. Get some for all types of seasonal weather, too, lightweight and heavy insulated ones. Can't have enough gloves in camp.
Waders leak? Replace them. Ammo stocks short? Buy a couple boxes and watch for rebates. Gear bag too small or zipper ripped out? And what about general supply items like waterproofing spray, bug spray, duct tape, first aid items, tire repair kits, shop cloths, or consumable items you simply use up.
Replenish your hunting gear now and save some money, too.