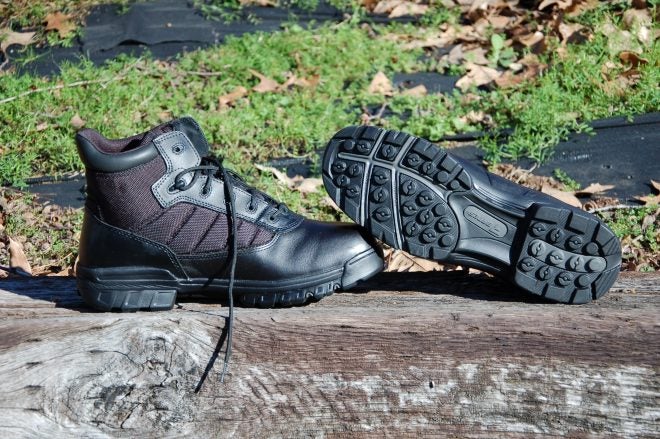 If ever there was a version of a universal outdoors boot, the Bates Tactical Sport boot is it. After working with a pair of these for more than a year, it's easy for me to recommend it for anyone conducting work or recreation outdoors. If you need a good outdoors boot, this may be the one you have been looking to buy.
The Tactical Sport Boot is not a specialty boot per se, but more of a do-it-all pair of heavy duty shoes that can provide service for a wide berth of outdoors activities such as hunting, hiking, fishing, boating, exploring, scouting, camping, or endless other outdoor tasks. Professionally, this boot is used by law enforcement and other first responders, ambulance personnel, aviators, and other high-performance jobs.
The Bates Tactical Sport shoe is a 5-inch high model just right for ATV riding with enough protection to keep briars off ankles. These boots can also shield the bumps and bruises that come from working outdoors regardless of the specific activity. I use them for everything work and play in hunting camp and while hunting on mild temperature days. These are not insulated cold weather boots and were not intended to be.
The boot is constructed of leather and nylon uppers. The nylon panels with an inner mesh lining provide breathability. These boots will not sweat your feet unless you wear too heavy a sock for the task. I recommend a mid-weight cotton sock for knockaround wear or lightweight wool or synthetics on cool to cold days, but not freezing. These shoes are comfortable and lightweight to wear all day long. They are sturdy boots and wear hard. A periodic wax shine with a waterproofing treatment will prolong their usefulness.
The soles are slip resistant with an aggressive tread to grip soft terrain or traverse rocky grounds. I like that they do not slip and slide on wet pavement, gravel, or mud. The cushion inserts provide extra comfort. These boots come only in black, in sizes from adult 7 to 15 in medium and extra wide. They are touted to wear well from sidewalks to mountains. I concur with that assessment.
The best part is that this Bates boot model is not over-priced at all. You can shop online, but if you want to try them on in person, check them out at Academy for about $65. I used a store coupon to get mine for $49 and feel they are worth every penny.