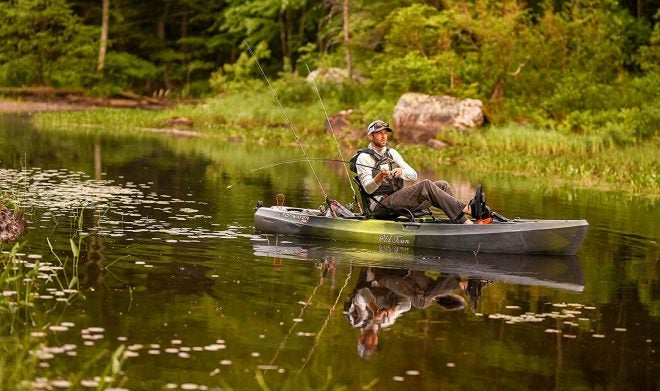 If you've never tried fishing from a kayak, you're missing out. Kayaks are silent, maneuverable and inexpensive, allowing you access to fishable waters that you'd otherwise never get to fish, and for less money than you might think. The popularity of fishing kayaks has really taken hold, bringing more options to you. There are even professional kayak fishing leagues and tournaments springing up, if you needed any more inspiration to buy one. We use them ourselves and are very confident in telling you about five of the best fishing kayaks available now.
Vibe Yellowfin 120 Kayak
The Vibe Yellowfin 120 Kayak is pretty amazing. It boasts one of the most stable platforms on the market and matches that with speed and a smooth ride. This combines to give you a kayak that will paddle easily and get you to where you want to go extremely fast. The Yellowfin has a 400lb capacity and what may well be the most comfortable seat available on a fishing kayak. Vibe could have stopped there, but they also added extremely adaptable storage options, including slots of Plano 3600 tackle trays. It is rudder and transducer ready and even includes a matching paddle. If you want to be able to do a lot of stand-up fishing, this is the kayak for you.
Perception Pescador Pro 12


This is a fishing kayak we have a lot of experience with. This 12-foot sit-on-top kayak from Perception has a very comfortable lawn-chair style seat that is adjustable for height and tilt. It is extremely stable on the water and has plenty of storage for your fishing gear, coolers and more. Accessory rails allow for adding rod holders and fish finders. The Pescador Pro 12 has a 375lb max capacity. It tracks straight and true in the water, and does well when the chop picks up. The weight is 57lbs, so it can be portaged when needed. Carry handles help with that too.
Old Town Topwater 106 PDL Angler


Olt Towne has been making fishing kayaks for a long time. Not long ago, they combined knowledge gained from their trolling motor arm of the company, to develop a pedal-powered, prop-driven fishing kayak. The Topwater 106 PDL Angler is 10.6 feet long with a max load capacity of 450 pounds. It has a pontoon-style, double-U shaped hull for stability and an adjustable, mesh seat that is comfortable and doesn't hold water. You steer via an easy-to-use rudder system. The kayak holds 3-4 rods easily and has a transducer mounting system unlike any other brand, making installing a fishfinder easy.
Sun Dolphin Journey 12
One of the best fishing kayaks for anglers on a budget, the Sun Dolphin Journey is a 12-foot sit-on-top kayak with a max capacity of 395 pounds. It is a great, basic fishing kayak that comes with a lot of storage capability and three rod holders, two flush-mount and one swivel mount. It is UV protected for long life. At under $500, it is a great buy for any angler.
Lifetime Tamarack Angler 100 Fishing Kayak – 2 Pack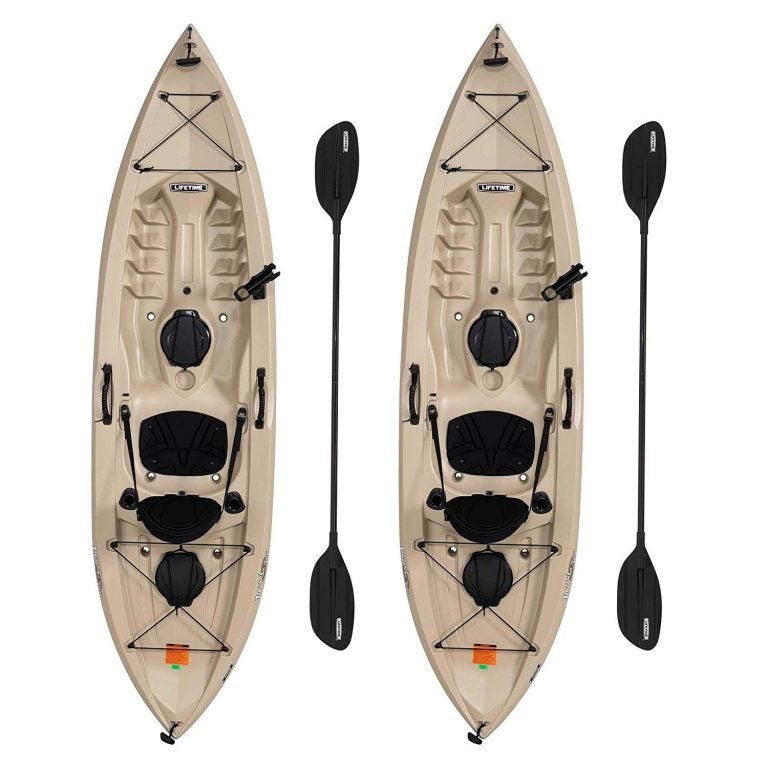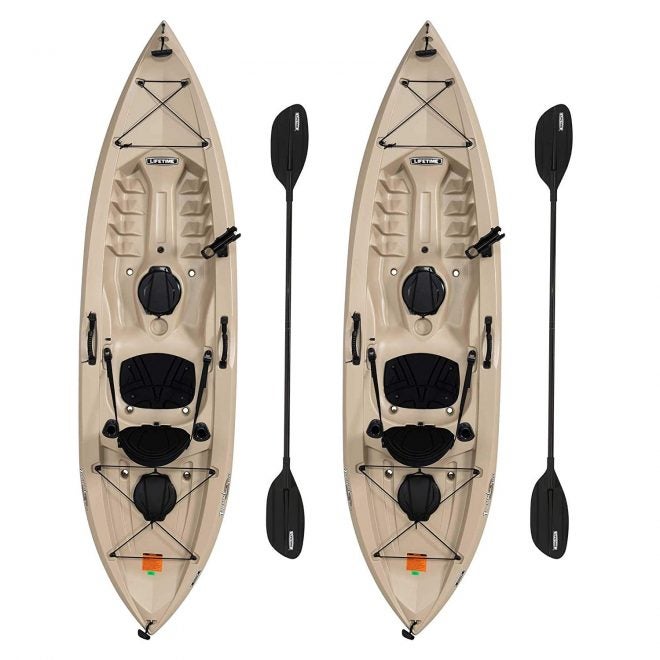 Fishing is a lot of fun, but it is even more fun when you can share the experience. That's one reason we included the Lifetime Tamarack Angler 100 Fishing Kayak in this list. Another reason we did is because of what a stunning deal there is available on it. For what you'd expect to pay for one fishing kayak, you get two – with free shipping! These stable kayaks have storage capacity and padded, adjustable seating. They come with a moveable rod holder and additional rod carry capacity. These fishing kayaks also include the paddles, making this an even better deal; perfect for family fishing adventures.
ONYX Kayak Fishing Life Jacket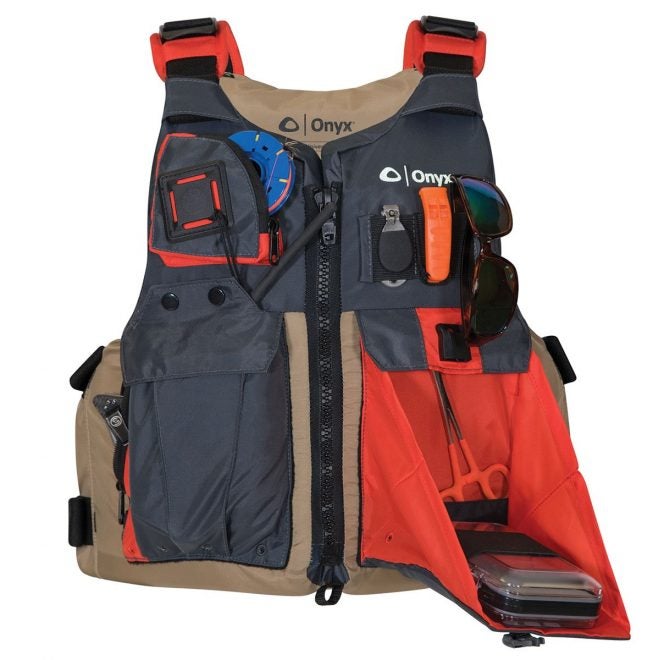 If you're going to kayak, you need a life jacket. For kayak fishing, we really like the ONYX Kayak Fishing Life Jacket. It has pockets and fold-out platforms making it easier to change lures, re-tie line and more. Plus, it is very comfortable, as it was designed for fishing from a kayak.