Most of us remember the first fish finders we used. For many of us, it was a simple sonar unit that showed us basic numbers of fish and the depth, all with graphics that barely made the standards of the first Game Boys. Times sure have changed. Today's fish finders do so much more than simply find fish. They have multiple types of advanced sonar, with high resolution bottom imaging, water temperature, boat speed and direction, GPS positioning and advanced mapping. Oh, and they find fish, too. Some even estimate the fish size and shape, helping you target specific species. How can you tell which is the best fish finder for you? Here are five of the best fish finders that we like, across the range of price points.
Raymarine Element 9 HV Combo – Editor's Pick
One of our editors has this unit on his own boat. The Element 9 CHIRP sonar/GPS combo has one of the sharpest views of the underwater world with HyperVision 1.2 megahertz super high-resolution sonar. HyperVision technology takes DownVision, SideVision, and Raymarine RealVison 3D sonar to the next level of precision imaging and fish identification, letting you see structures, vegetation, and fish with photo-like clarity. It also has an onboard quad-core processor for instant chart redraw, fast response, and smooth RealVision 3D imaging. The Element has oversized waypoint keys that put you on your favorite spots, and Element's RealBathy personal depth map generator lets you make your own high definition bathymetric maps on the fly. It has a 9-inch screen and set-up is simple. We can easily name this one of the best fish finders on the market.
Garmin ECHOMAP UHD 74cv Fish Finder/Chartplotter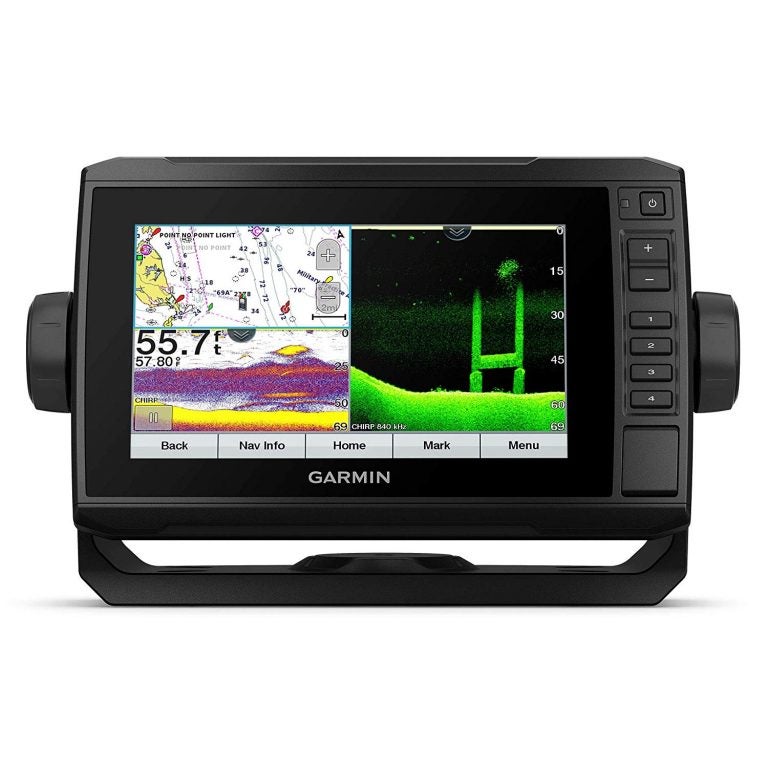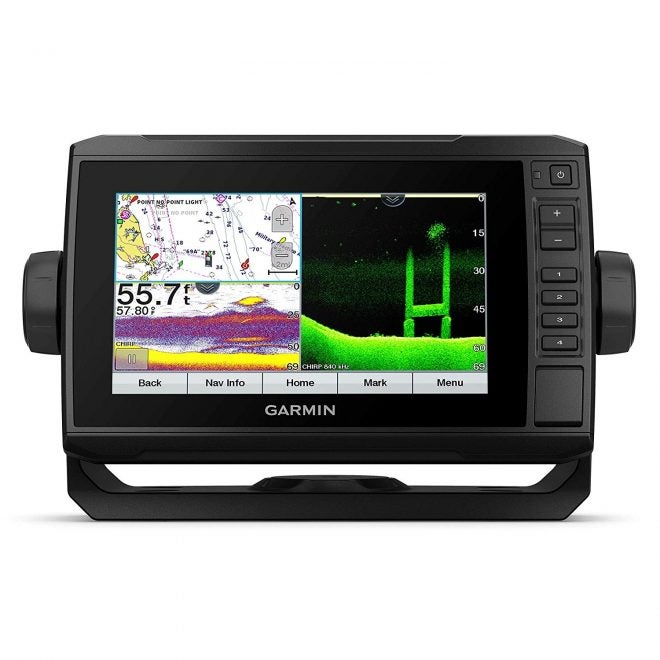 Garmin has become one of the top names in marine electronics and with good reason. The ECHOMAP UHD 74cv Fish Finder/Chartplotter Combo with a bright, sunlight-readable 7″ touch screen with keyed assist is one of the best fish finders available. The included GT24 transducer provides Ultra High-Definition ClearVü scanning sonar for clear images of everything under and around you in the water, along with Garmin high wide CHIRP traditional sonar for remarkable target separation. It comes preloaded with BlueChart g3 coastal charts based on data from Garmin and Navionics. The Garmin ECHOMAP UHD 74cv Fish Finder/Chartplotter Combo comes with a quick-release bail mount, making it easy to remove. This unit is compatible with some of the latest trolling motors, allowing you to chart a course and then focus just on the fish.
Humminbird PiranhaMAX 4 DI Fishfinder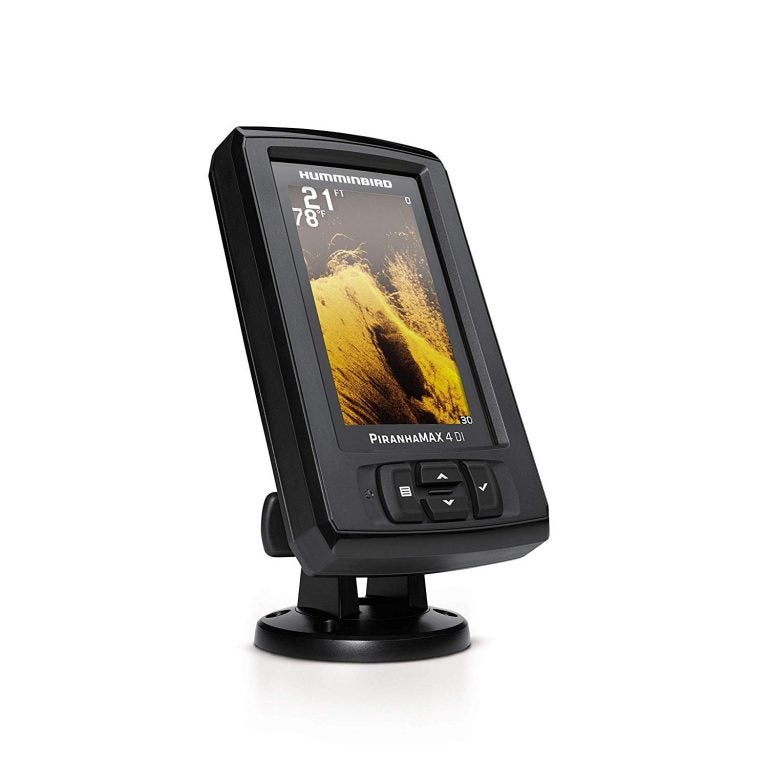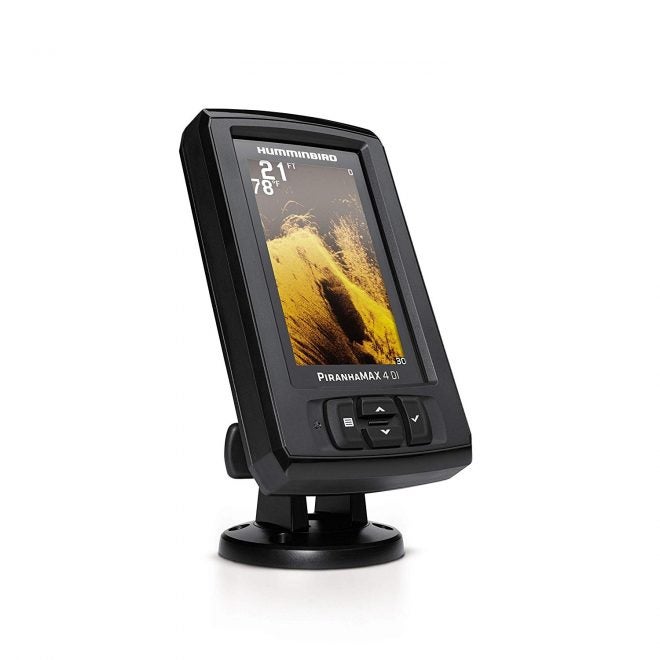 For most of us, our first fish finder was a Humminbird. The company is still at the forefront of fish finding technology, so you can find models from them that have all the latest trends in sonar and chart plotting. If you're in the market for an inexpensive, simple fish finder that performs, you will want to check out the PiranhaMAX 4 DI Fishfinder. It has a 4.3-inch color LCD with a redesigned, easier-to-use interface. It has Down Imaging, Fish ID+, fish alarms, depth alarms and zoom, all in an easy-to-use package. It has dual-beam sonar and comes with a swivel mount. All at a price that'll hook you.
Lowrance HOOK Reveal 5 Fish Finder
Lowrance is well known for their marine electronics, and for making some of the best fish finders. Their HOOK Reveal 5 Fish Finder brings affordability and function to a new level. Lowrance added FishReveal, a powerful fish-finding tool that combines the target identification of Lowrance CHIRP sonar with high-resolution images showing bottom detail and structure from DownScan imaging. The Lowrance HOOK Reveal 5 Fish Finder is loaded with functionality, including automated sonar settings and a 5-inch SolarMAX display that is visible in any light condition. Lowrance added in new fish-finding color palettes, and an optimized keypad with one-touch access to the key features of the HOOK Reveal 5. It also includes Genesis Live Real-Time mapping to let you map your favorite fishing holes, down to .5-inch contour, all in real time while you're fishing.
iBobber Pulse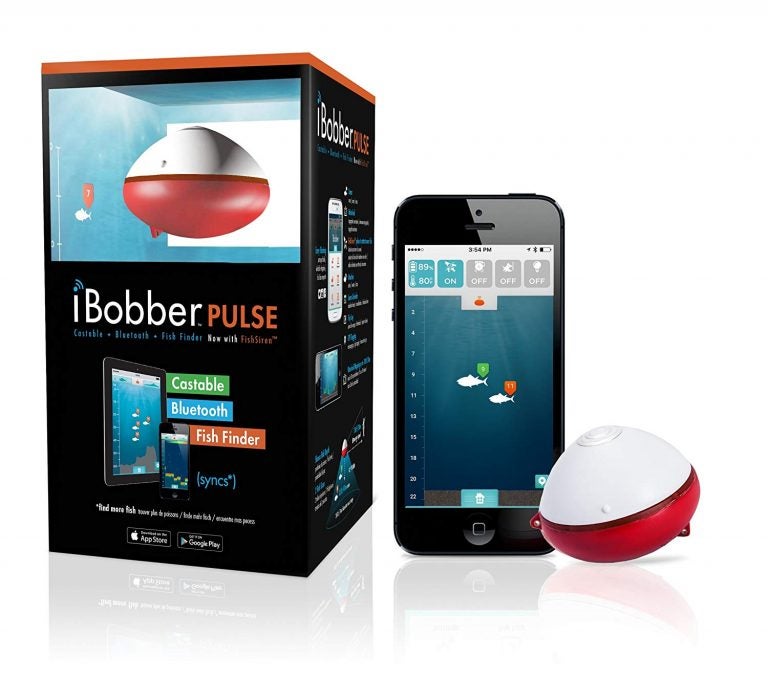 If you're like us, you carry a fishing rod or two in the truck all the time, just in case you find a spot you need to fish. It is usually a small lake that you've never fished before, so a fish finder would be handy, but you're fishing from shore or a kayak. The iBobber Pulse is the ultimate tool for shore fishing, or kayaking. It is exactly as it appears – a castable sonar unit that connects to your smartphone or tablet, even without a cell signal. It reads from up to 100-feet away and reads down to 135-feet of water over a 243-feet area. The Pulse unit can emit a pulse into the water that can trigger fish to feed. It even GPS tags and maps using the free app. For less than $80, you can have an amazing tool for fishing.