Next to your everyday carry knife, your fillet knife may very well be the most versatile knife in your possession. Not only is it perfect for getting your catch ready for cooking, but also it will prove handy for every delicate cutting job you have around the kitchen. Here's our picks to help you find the best fillet knife for you.
Rapala Fish N Fillet Soft Grip
If you fish, chances are, you've got at least one Rapala fillet knife in the drawer. If not, well, you need one… maybe two. Rapala is one of the most recognizable names in fishing, and the craftsmanship their lures are known for carries over into their fillet knives. A flexible stainless steel blade allows you to work the contour of your fish, making clean, quick work of getting your fillet. The handle is hardened thermoplastic covered with a soft, grippy compound. This gives you a sturdy, yet non-slip grip on the knife, very helpful when your hands get slimed up. This is a knife everyone needs.
Kershaw Clearwater
Bigger fish require bigger knives. Kershaw's Clearwater 9-inch fillet is perfect for filleting larger fish like big pike, walleye, salmon and more. The blade is made of Japanese 420J2 stainless steel that flexes just enough to make the job easier. The blade is highly corrosion resistant, so exposing it to fresh and salt water won't ruin it. The handle is made of a co-polymer material It is durable, contoured for comfort and textured for a firm grip with enough flex to keep the knife from slipping. The handle design has a central contour with hand protectors at both ends, all there to help keep the knife right in the sweet spot of your grip. This helps make the job of filleting a lot of fish easier and less tiring. The Kershaw Clearwater Fillet comes with an ABS sheath that the knife "locks" into for secure carrying.
Bubba 6-Inch Whiffie Extreme Flex Tapered Fillet Knife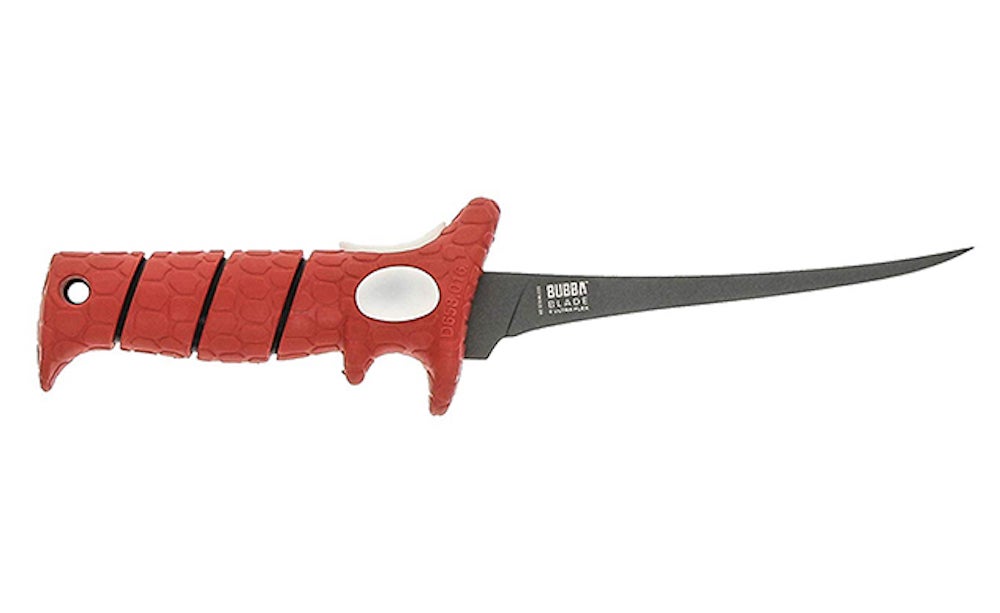 When you've got delicate cuts to make, like when you're trying to make a bony fish produce a boneless fillet, you need a precise, flexible blade that is narrow enough to make those perfect cuts. For this task, there is no better knife we've found that the Bubba Whiffie. It starts with the famous Bubba handle that is has the perfect amount of grip and is designed to fit your hand perfectly for working on fillets. The ultra-thin contoured blade is surgical stainless with a Titainium-Nitride coating for durability. This knife can handle any environment and will hold an edge. Get one of these and start planning your fish fry. Don't forget to invite us.
Buck Knives Mr. Crappie 6-Inch Slab Shaver
They had us at Mr. Crappie. Who doesn't love a mess of slab crappies dipped in breading and fried up. Serve it with a cold beverage of choice and you just about have the perfect dinner, my friend. I don't know about you, but my mouth is watering just thinking about it. This knife from Buck has an ultra-flexible, 6-inch blade stainless steel blade that is ready to carve the perfect fillet. It is mated to a non-slip handle that is bright yellow so it's easier to find. Of course, it's a Buck knife, so it's quality made in the USA.
Gerber Controller 8 in. Freshwater Fish Fillet Knife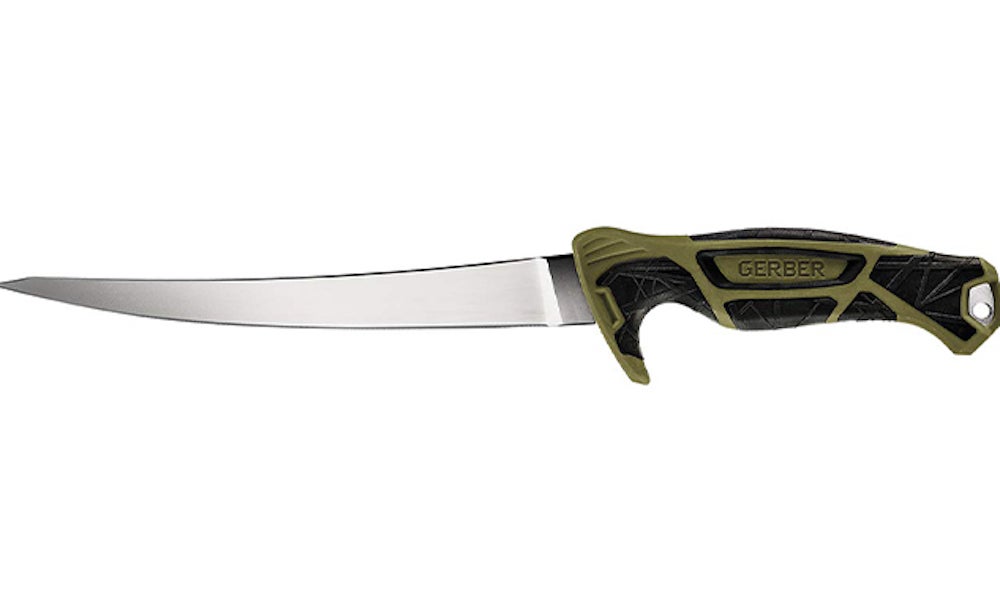 Most of us probably have a Gerber knife story or two. The company is well known for high quality and the Controller Fillet Knives are no exception. Gerber designed this knife, not with a preconceived notion of what they thought a fillet knife should be. No, they went out and talked to hardcore anglers from all over North America about what they wanted to see in a fillet knife. This knife is the end result. It has a contoured non-slip grip and a blade that holds an edge while being able to withstand a serious beating. Gerber uses 9Cr steel, widely known for being tough and corrosion resistant. The blade holds a serious edge too.