'Thunderstruck' Revolver Fires 2 Rounds at a Time
Dr. John Woods 03.10.20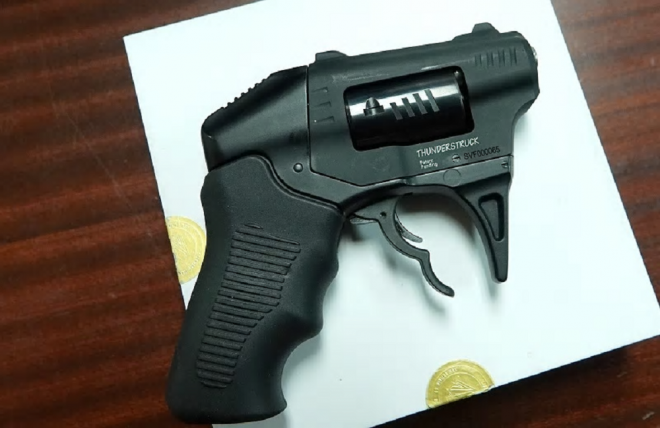 There are plenty of unusual firearms in this world, and Standard Manufacturer's S333 just joined those ranks. Oh, I forgot to add their namesake to the title — this outside-the-box handgun has been named the Thunderstruck. That name seems appropriate for the sensation this gun likely offers when the trigger is pulled.
The SM S333 is a small handgun designed, one presumes, for close-quarters self-defense. It is in true function this is a revolver that holds eight rounds of 22 Winchester Magnum Rimfire (WMR) in its cylinder. That's right, the 22 Mag. Quite an unusual choice for a handgun made for self-protection at tight ranges.
But, that alone is not the real twist to this handgun. Designed with twin barrels, each pull of the trigger fires two rounds of the magnum rimfire. The entire eight rounds can be fired in roughly three seconds. In consideration of that fact, one can grasp the utility of the S333 for self-defense. Let's not discuss the merits or not of the 22 Rimfire Magnum for such uses.
The Thunderstruck can be loaded with a mixed offering of ammunition including soft lead bullets, hollowpoints, and even birdshot. Recoil is reportedly very light and controllable, which would certainly be a desired feature of such a gun. Other features enhance its usefulness, too.
A double action handgun, the S333 has no true trigger guard; just a downward extension below the twin barrels to provides a minimal protection to the trigger. The trigger itself has a built-in articulated safety. In use, the shooter places two fingers on the trigger to offer better trigger control.
The rudimentary open sights are "molded" into the receiver providing aiming grooves to align the twin barrels to the target. Remember, this is a gun designed for very close-range work. In fact the gun's model number was themed from the national crime statistics reports that show most close encounter shootings happen at 3 yards, in 3 seconds, with 3 shots fired, hence the 333 in the gun's model. I have to admit, that is pretty cool.
The Thunderstruck's barrel is 1.25 inches long. The entire gun's length is only 5 inches. Compact indeed. Weight is 18 ounces. The exterior finish is a black matte hard coat anodized finish. The grip is made from a high strength polymer with gripping grooves molded in.
The Standard Manufacturer's S333 Thunderstruck is certainly something different. Without a doubt it has its uses. Retailing for $429, check local dealers soon.