Dick's Pulling Out FIREARMS from ALL 440 Sporting Goods Stores
Adam Scepaniak 03.11.20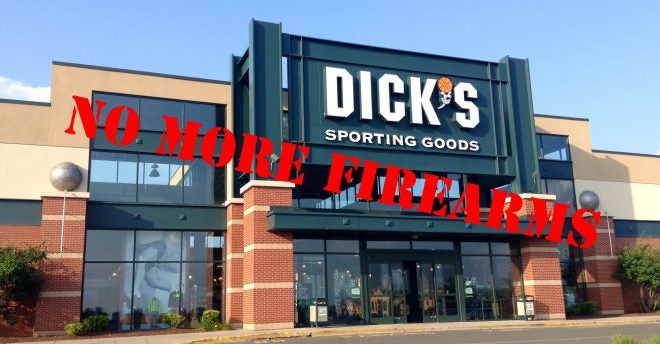 Some news that was buried in the 4th Quarter Earnings Report for Dick's Sporting Goods, which they likely did not want consumers to easily find, is that they intend to eliminate the hunting department from 440 of their stores this year. This means many shooters, hunters, and outdoor enthusiasts will need to find their hunting gear and firearms elsewhere.
Interestingly enough, on the day this was announced (March 10th, yesterday) their stock exhibited a 10% surge in value. This might not be so indicative of their choice to eliminate firearms as it was a response to their overall positive 4th Quarter Earnings Report which exceeded expectations.
In order to restructure 440 of their stores, Dick's Sporting Goods is estimating it will cost them $48.8 Million to re-model those stores, remove inventory, bring in new inventory, and pay their employees to accomplish all of this for them. This news was first broken yesterday by Fox News, and for those who haven't already heard about it, it is about a 50/50 divide between those who are surprised and those who are not.
With many companies trying to distance themselves from firearms and taking an imaginary moral high-ground, large retailers are pulling out of the firearm market leaving many consumers to wonder where their allegiance really lies. Wal-Mart is another colossal company to have already made a departure from selling modern sporting rifles, but Dick's Sporting Goods is going whole hog and getting out of the gun game entirely.
Some shopping communities only have large-chain stores to rely on for their firearm purchases, but hopefully most guy buyers will begin to acknowledge their smaller, local gun shops who are not going to play silly games with their access to firearms.
With much of the United States breaking out of winter and ushering in spring hunting seasons, it's possible that Dick's Sporting Goods could feel a bigger hit to their pocket book than they apparently believe. What do you think? Are you going to support Dick's when they pull stuff like this? Let us know all of your thoughts in the Comments below! We always appreciate your feedback.