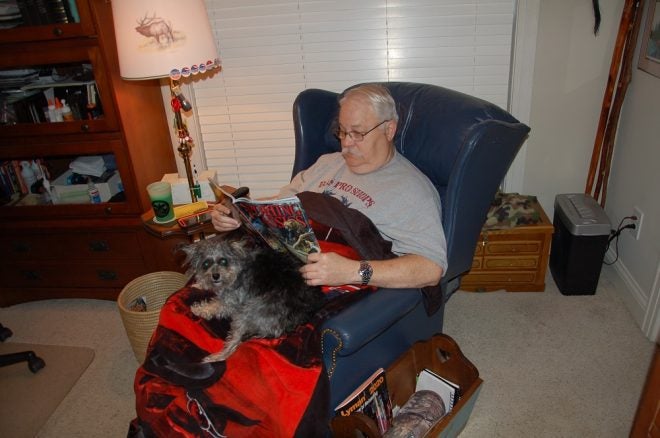 The coldest, wettest, worst weather in late winter before the spring thaw is a great opportunity for some serious recliner time. Hunting gear has been put up, and some thoughts have been given to dragging out fishing and turkey hunting gear. But first, sit back by a warm fire with pup in the lap or beside you to read a good book or to ponder the season just past. Think how blessed we are to be able to enjoy the great outdoors.
The famous outdoors writer George Reiger once wrote in his book The Wings of Swan, "People who prefer watching a sport to playing it — who, therefore, extract no meaning from hunting and fishing as it is depicted on television — may never realize that the greatest value of outdoor recreation is in the time it gives us to think, to dream. If imagination is buried beneath routine, wisdom is buried with it, for both are products of leisure."
And I contend that those products are best found in the all outdoors.
February will be over by the time this post is published. Outside it is a windy, raining, and cold day. I'm curled up in my man cave recliner under my NASCAR throw with pup Abby laid across my lap. In the magazine rack beside me is a good selection of hunting and gun magazines, a 2020 calendar, notepad, and a couple of outdoors gear catalogs to peruse.
This setup is my favorite on Earth besides a seat in a deer blind, a crappie boat, or back against an oak behind my turkey blind. Here, I enjoy the great opportunity to ponder the state of the world and my place it in. A writing pad and pen are used to jot down good story ideas that pop up from nowhere. Ah, blissful time home or afield.
In my home blind, weary eyes close for a minute to think about the deer I just could not make out hidden behind some brush. It never came out but melted away. Thoughts cast back to a fishing trip last spring, when I slipped on a wet rock getting out of the boat and nearly cracked my head open. I recall those times around the camp fire trying to solve the problems of the world with hunting partners that held no better answers.
So, let me encourage you to take some down time right now during the calm of early March. Soon crappie will be spawning, bass will be hitting by the stumps, and big woodland gobblers will be thundering away just out of eyesight. Time now to think of the past and the future. Every new season brings new adventures to ponder next February.