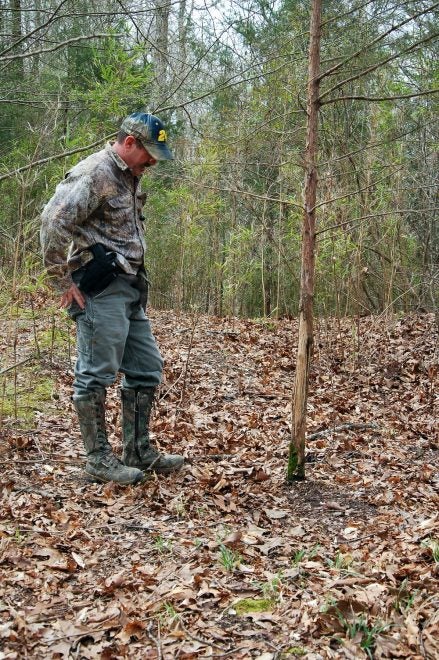 Okay, the Superbowl is over, the impeachment trial is over, 2019 is already mostly forgotten, and a new year is ahead of us. Deer seasons are over, but the work should be starting again. Now that the guns and gear are cleaned and put away, it's time to plan for next season.
Right now is the perfect time to get back out there to record what evidence you can find of the season past before it greens up. Once the spring leaves and pastures wake up from a long winter, the sign of fall & winter deer movements and their habits will be mostly lost. Scout now for hunting deer next fall, before it is too late.
Take out a map of your hunting property or make one. It can be a simple affair with the major terrain features depicted; trails, roads, food plots, hunting stands, and anything else of note. Use this as a guide on which you can record deer sign as you encounter it. You may know where some rubs and scrapes were during the season, but a thorough investigation now will expose a whole lot more information than you ever imagined.
Plan to cover as much of the property as possible. It will be easier using an ATV or UTV to get from one major area to the next and maybe to creep along the edges of trails or plots, but eventually you will need to get boots on the ground to walk around to get a closer look.
Taking photos is a good way to keep records of what you found and where. Many signpost rubs will be repeated in subsequent hunting years. I have seen rubs on the same trees for a decade or more. Scrapes are different, but likely they will be nearby some of the old locations. Talk about patterning bucks, this is one way to set the record straight.
If you come across a well-used travel route popping out of the brush into an open food plot, open area, or trail, that is the time to get out to walk it back to where it originates. It may be coming from a food or bedding source. Good to record such things now.
Post season scouting can yield a lot of valuable deer hunting information for next year. So, get out there now while the sign is still pretty fresh. Review those notes later this fall.