AllOutdoor Review: Boyds Spike Camp Gunstock on a Savage Mark II
Adam Scepaniak 03.23.20


Leading into SHOT Show 2020, Boyds Gunstocks, the South Dakota-based hardwood gunstock manufacturer, unveiled a new, more-affordable replacement thumbhole stock dubbed the Spike Camp! I personally had the opportunity to see this gunstock at SHOT Show 2020, and came away impressed by it for its very affordable price-point of $99 at full MSRP. As always, it is available in a rainbow of wood laminate color combinations that every shooter can pick from on the Boyds website. What I was most curious about with this stock, though, is whether a sub-$100 replacement gun stock could actually improve your accuracy? So Boyds sent us one of their Spike Camp gunstocks in a Forest Camo laminate for a Savage Mark II, and we set out to test that very idea! Let's dive in and see how the Boyds Spike Camp performed!
Specifications
The new Boyds Spike Camp thumbhole gunstock shape is designed with simplicity in mind, and looks to cut into the stock market (ha) at a value price other competitors simply cannot reach. It is nicknamed the "essentials-only" gunstock, and for good reason. The specifications for the Spike Camp can be read below as presented by Boyds Gunstocks:
Large, Ergonomically-Designed Thumbhole
2 Sling Studs for Accessories
Free-Floated Barrel Channel
Short Monte Carlo Comb
13 1/2″ Length-of-Pull
Weight: 2.5 Lbs
Available in all 13 of Boyds' Color Combinations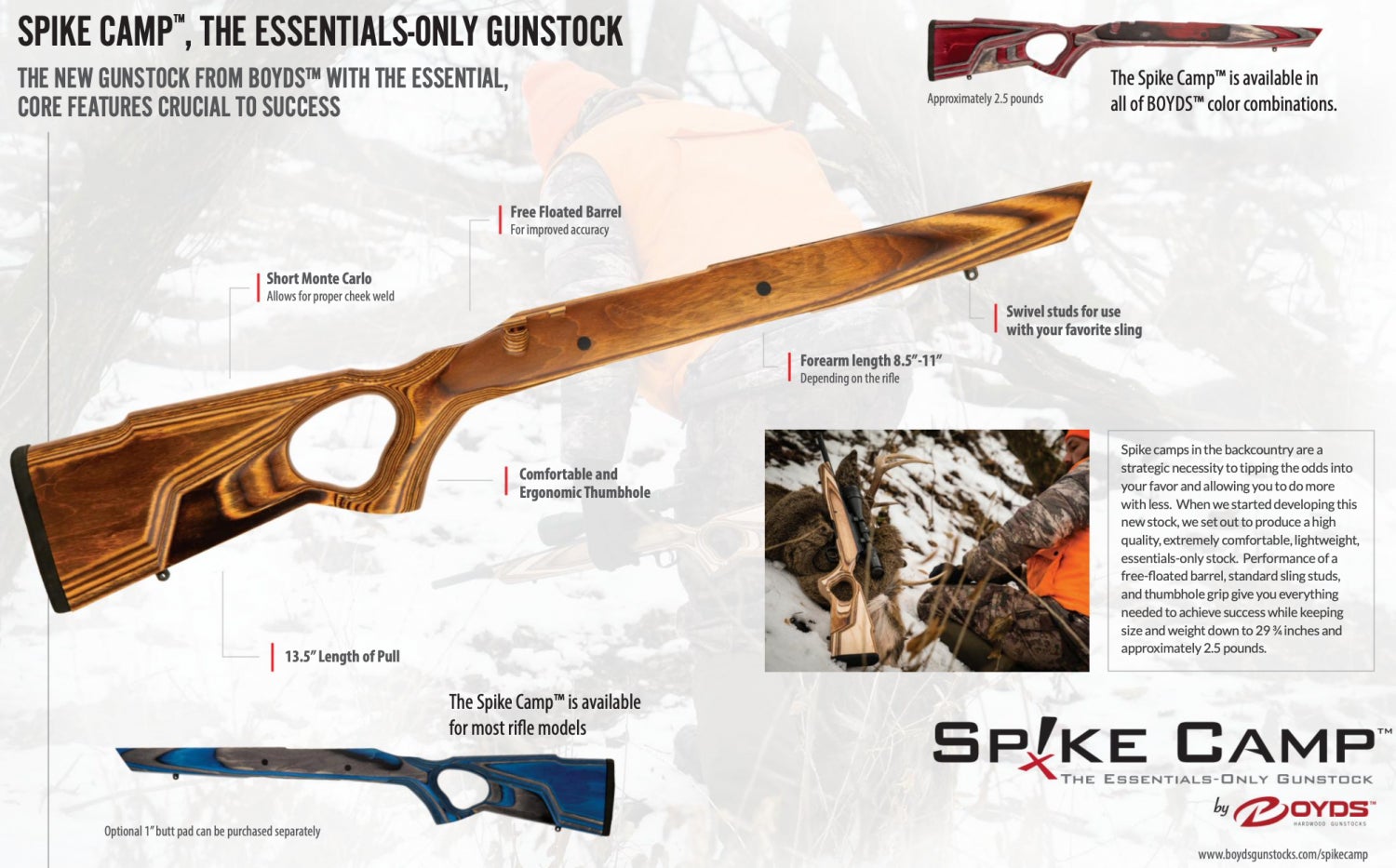 As mentioned earlier, this stock has an extremely attainable price-point of $99 at MSRP. There is an overabundance of expensive stocks on the market, but what shooters are lacking are affordable ones. That is why it is nice to see something like the Spike Camp come to market. For some additional information about this stock, Boyds shares this Press Release statement below as well:
Spike camps in the backcountry are a strategic necessity to tipping the odds in your favor and allowing you to do more with less.  The Spike Camp thumbhole stock is a high-quality, extremely comfortable, lightweight, essentials-only stock.  The performance of a free-floated barrel, standard sling studs, and a thumbhole grip give you everything you need to achieve success, and all while keeping weight and size down.
Unboxing
The Spike Camp gunstock that I had requested from Boyds for testing was for a Savage Arms Mark II 22 Long Rifle with a heavy contour barrel. This rifle I borrowed from my fellow writer, gunsmith, and aficionado of fine arms, Samuel Schaust. He was looking to upgrade his plain-Jane, factory stock so I saw this as a perfect opportunity to put the Spike Camp to the test!
While unboxing this new gunstock from Boyds, I had a few first impressions. For one, it has all the aesthetics and appearance of a Boyds product. You have a nice blending of colors in the wood laminate with clean edges and contours. The one I received for testing was their Forest Camo laminate which will pair well with all the deciduous forests in Minnesota.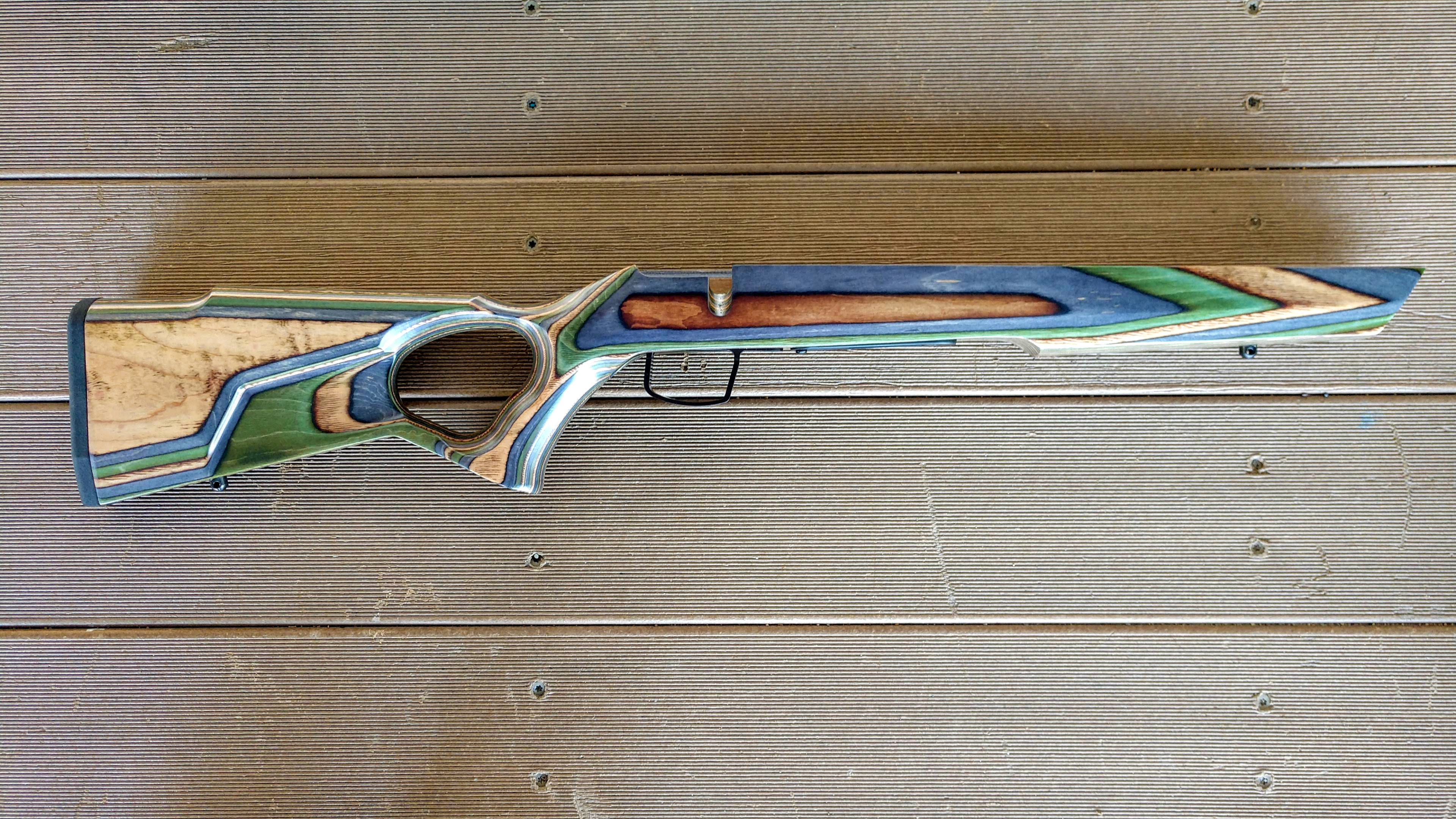 Another impression I had straight out-of-the-box was how light the stock is. It is advertised as being 2 1/2 pounds, and while I did not take the time to throw it on a scale, it felt much lighter than that. As an avid hunter and outdoorsman, this is something I appreciate a lot because the less weight you tote into the woods means less fatigue (and errors made) by the end of the day.

One minor roadblock I ran into while looking over the Boyds gunstock and the Savage Arms factory stock was the trigger guard. On the Savage Arms factory synthetic stock, the plastic trigger guard is integral to the stock. So when I popped the Savage barreled action out of its original stock and dropped it into its new home in the Boyds stock, I had no trigger guard. This was unexpected. To alleviate that, I ordered a DI Products Inc set of Bottom Metal. Problem solved and it paired nicely with the aesthetic of the Boyds stoc.

Once that one hiccup was overcome, I was ready to head to the range! While most people who purchase a Boyds gunstock undoubtedly appreciate the strikingly good looks of the stock, the pragmatic side of myself would never purchase anything for a firearm unless it can help you in some way other than curb appeal. This can be accuracy, an easier ability to manipulate the functions of a firearm, improved safety, or a multitude of other things.
I will be the first one to say that "no one wants an accurate gun that is ugly," but I am also practical and firearms, more often that not, are tools and should have high utility. With all that being said, we will test to see if the Boyds Spike Camp can shrink our groups for better varmint elimination and overall accuracy!

Range Time
For testing of the Boyds Spike Camp gunstock, some additional variables I threw into the equation were the ammunition, optic, and silencer. For ammo, I used Federal American Eagle as warm-up or sight-in rounds to establish some baseline accuracy and to get the rifle zeroed. Once zeroed, I switched over to Gemtech Sub-Sonic ammunition paired with a Gemtech GM-22 .22-caliber rimfire silencer. The riflescope I used was a straight 4x Bushnell scope. The biggest variable in this simple accuracy testing, as always, was the individual behind the gun (me). I consider myself a decent shooter, but I have never been able to "outshoot" or "outperform" my equipment.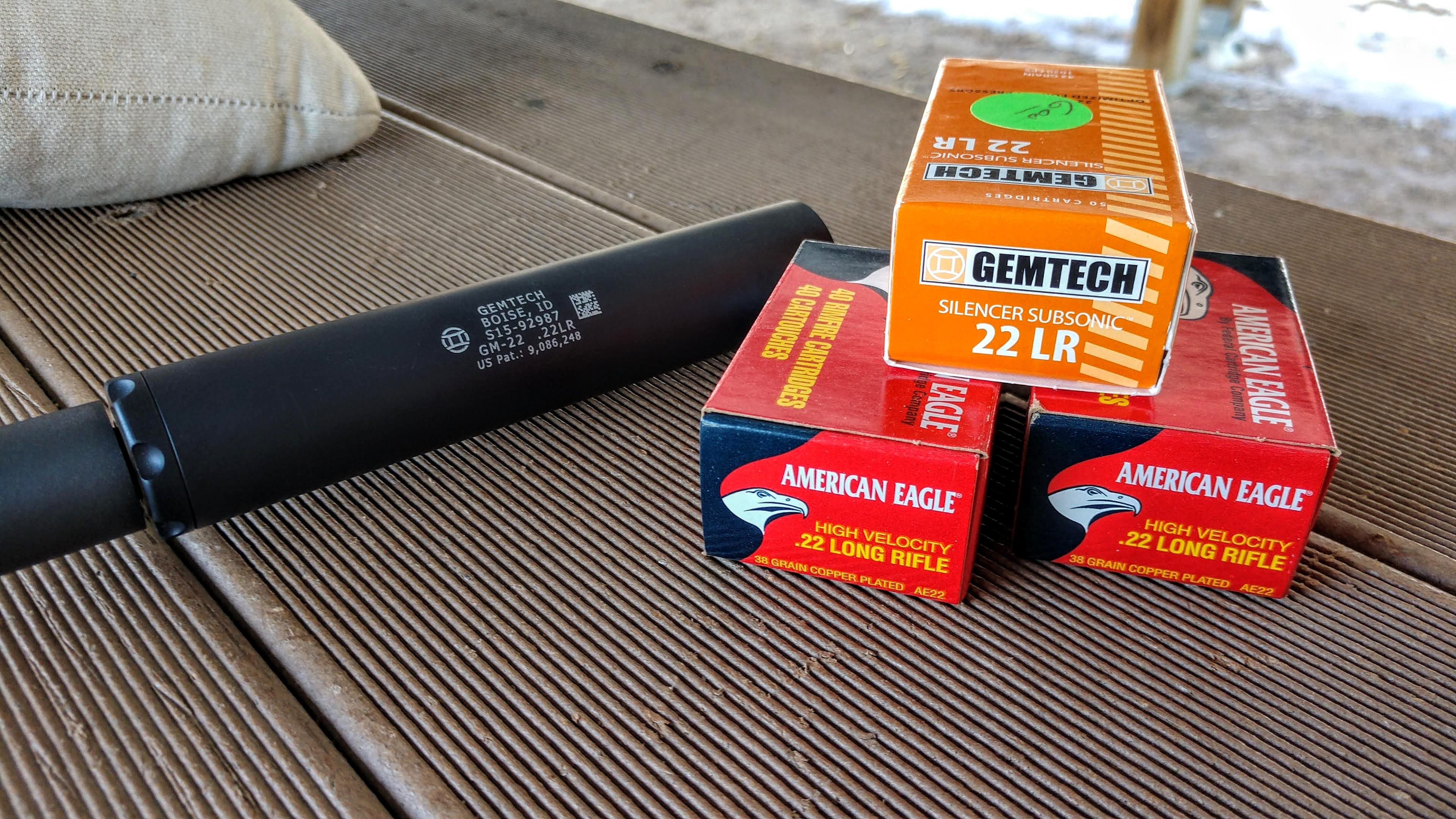 On the day I was shooting, it was roughly 20°F with on-and-off gusty winds. Once my zero was firmly established at 50 yards and reconfirmed out at 100 yards, I tried my darnedest to send off some of my best 5-shot groups possible in both the Savage Arms factory stock and the Boyds Spike Camp gunstock. While shooting the Savage Arms factory stock at 100 yards, my groups varied from 1.600″ at worst to 1.051″ at best.
Try as I might, I could not shoot under 1″ with the gun as supplied from the factory. There are a lot of variables at play between the low-powered 4x scope, a mildly windy day, the ammo I chose, and my ability as a shooter, but on this day, those were the results achieved.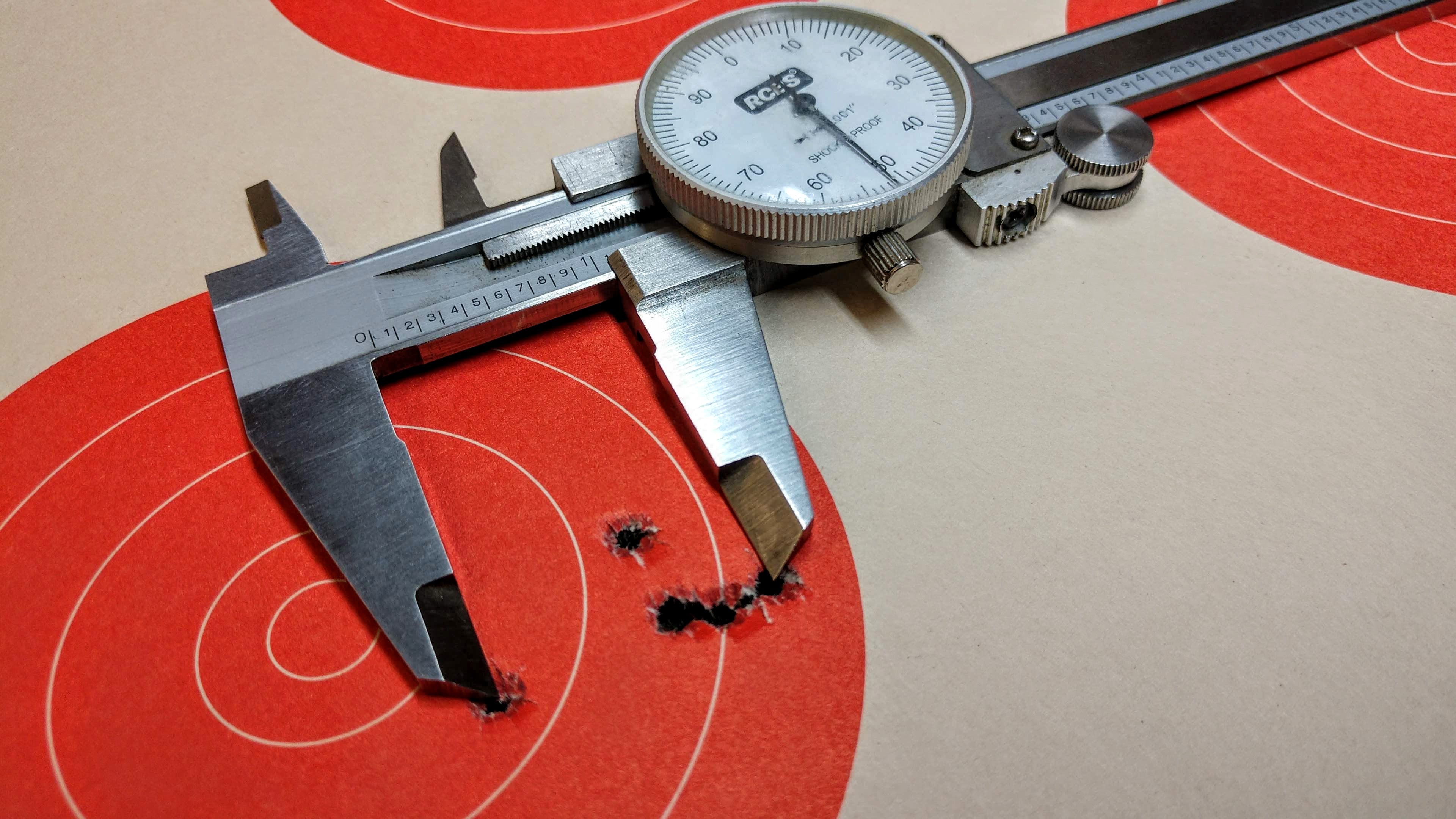 Next, I re-stocked the barreled action into the Boyds Spike Camp stock and took another run at accuracy out at 100 yards. For all of the testing I attempted, I did 5-shot groups purely because I was working with a 5-round magazine. No further scientific, secret explanation than just that.
While still shooting the Gemtech sub-sonic ammunition, my group sizes ran from 0.915″ to 0.726″ at 100 yards with the Spike Camp stock. This, personally, made me a happy camper with the Spike Camp!
Every group I shot was under 1″ although I could not get any group that small with the factory stock, and I even squeaked all of my little shooting prowess into one group I achieved under 3/4″ at 100 yards on a rimfire gun on a windy day. For a hunter by trade, those results would work for me if this was my personal rifle!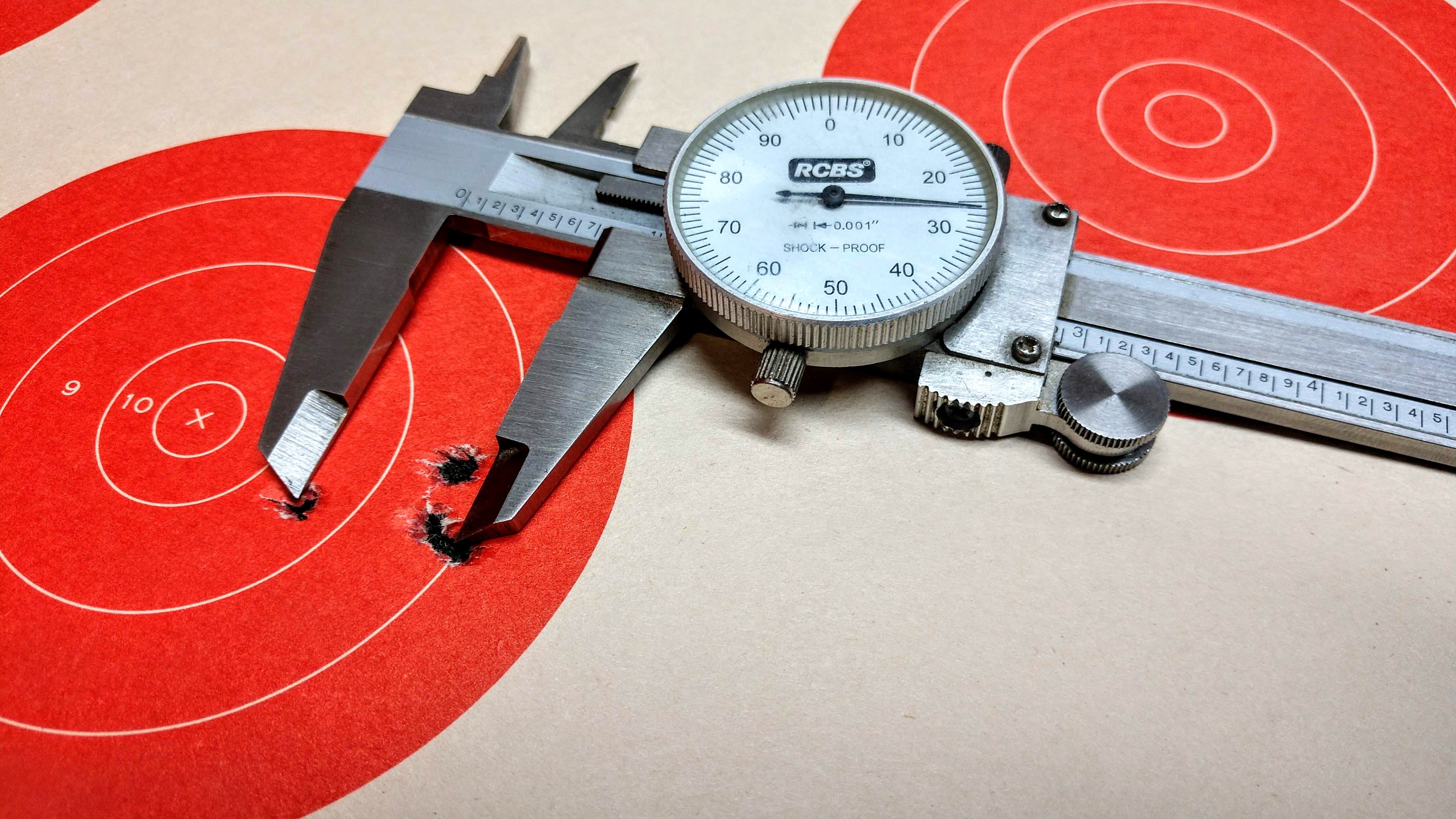 Once again, this is a sample size of one (one rifle, one stock). Maybe I stumbled upon a secret formula of accuracy with my Gemtech silencer and Gemtech ammunition. Maybe this pairing of a Boyds Spike Camp and a Savage Arms Mark II could shoot even better with different ammo and a different shooter. Regardless, this is exactly what I have come to expect from Boyds. Striking curb appeal in their gunstocks and the practicality of improved accuracy to match.
Conclusion
Some people might wonder why you would even bother to change the stock on your rifle in an attempt to improve the accuracy? As our results proved, the devil is in the details — and a good quality gunstock like the Spike Camp from Boyds can, in fact, improve your accuracy without draining your bank account.
For those unfamiliar, a "spike camp" while adventuring or hunting in the outdoors is an essentials-only camp site. That is exactly what Boyds wanted the aptly named Spike Camp gunstock to be; an essentials-only stock at a price-point everyone can afford.
Besides the dramatic improvement in aesthetics, this gunstock does a lot to improve accuracy even though these changes may go unseen to the naked eye. The Savage Arms factory stock could not shoot under 1″ and only gave us a 1.051″ 5-shot group at best while the Boyds Spike Camp gunstock never fired a 5-shot group larger than 1″ with the best one being 0.726″ at 100 yards.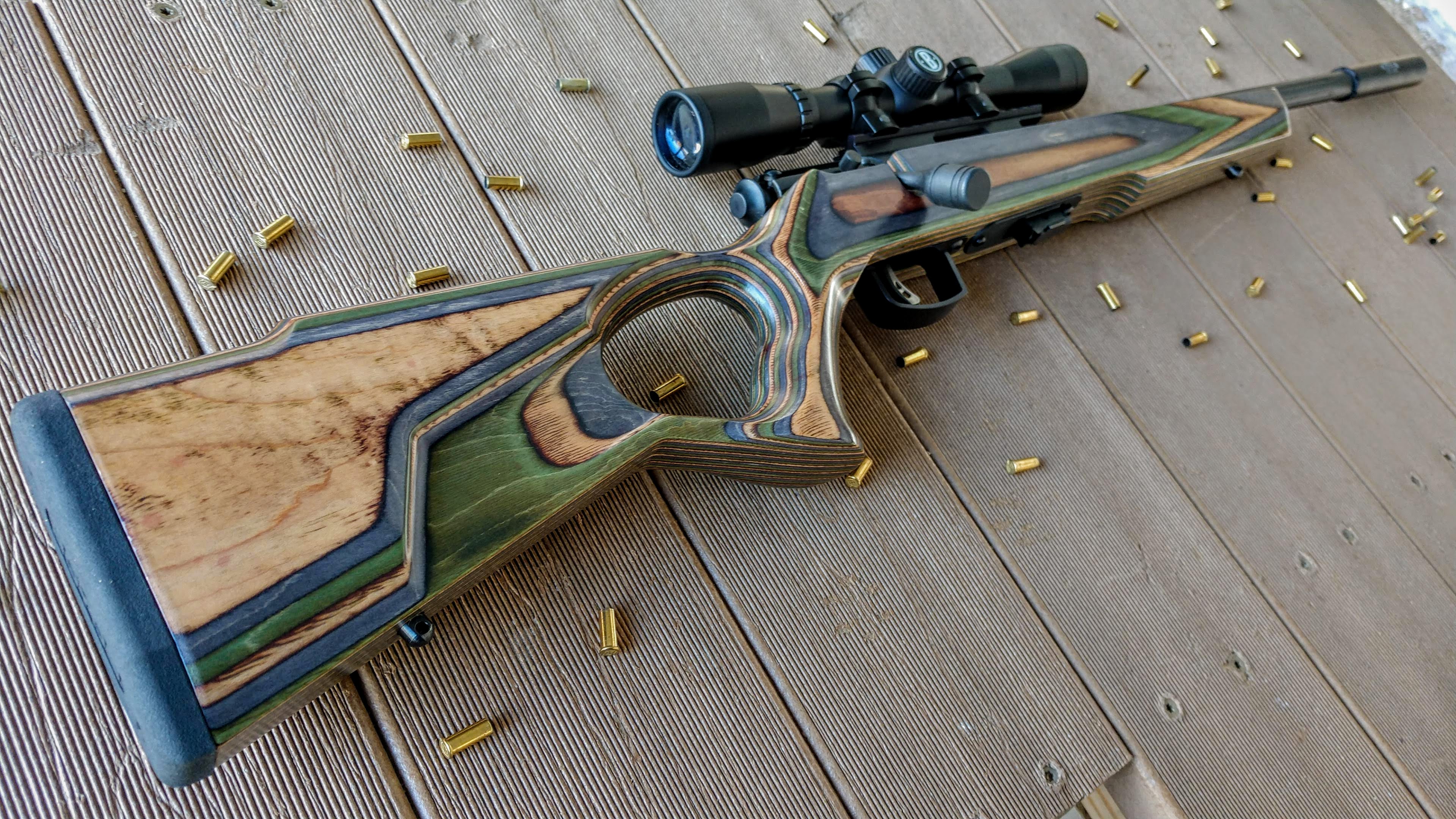 While I have a lot of praise for the Boyds Spike Camp, one sour note while reviewing this gunstock was sadly finding out I needed to purchase bottom metal. This is by no means Boyds' fault. In this rare situation, Savage Arms had a cheap stock where the trigger guard and bottom "metal" were plastic and fused to the factory stock.
In most other rifles, the bottom metal are separate from the stock and can be removed as you see fit. That said, it would be nice if Boyds included a tiny disclaimer or warning on their listing for this stock to help goofballs like me, because that hiccup delayed my testing an additional week while I waited for the DI Products Inc bottom metal to arrive.
In closing, I want to say thank you to Boyds for allowing AllOutdoor and myself the opportunity to try out their Spike Camp Gunstock! That is greatly appreciated.
Also, we would like to know what all of you guys and gals think? Do you believe the Boyds Spike Camp is something worth spending your money on? Would you put it on a camping rifle? Shoot a league with it? Hunt with it? Let us know all of your thoughts in the Comments below! We always appreciate your feedback.