TFB Behind The Gun Podcast Episode #2: Chuck Rossi – OpenSourceDefense.org
Ben Ryder 04.09.20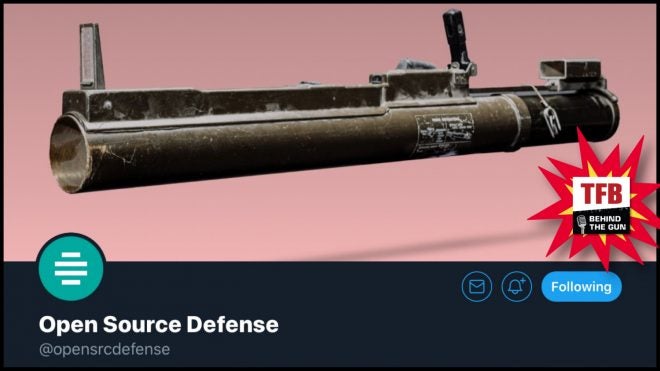 Last week, our partners over at The Firearm Blog launched the "Behind The Gun Podcast. Their brand new podcast gives you a behind the scenes look at the firearm industry and it's inner workings. Episode 1 kicked off with James Reeves, the Executive Producer of TFBTV and a former FFL. Today TFB is excited to launch episode 2.
Here is more from TFB's Editor in Chief and host, Pete:
Hello world and welcome back to the latest episode of TFB's Behind The Gun Podcast. This week we are bringing you an interview with Chuck Rossi from Open Source Defense. Chuck is a hyper intellectual with years of experience in the social media world where he actively advocated for the gun rights movement and openly promoted the ownership and appreciation of firearms.

I really enjoyed speaking with Chuck and believe people like him are the way forward for true freedom and individual liberties. Along with a small but talented team, Chuck runs www.opensourcedefense.org, a resource for news and information geared towards gun owners in a modern landscape that can be misunderstood and discriminatory, even in the face of legal protections. Is there hope for promoting gun ownership on the internet? I'll let Chuck wring out all the details.

TFB Behind The Gun Podcast Episode #2: Chuck Rossi – OpenSourceDefense.org

Hello everyone and welcome to TFB's Behind The Gun Podcast. I'm Pete and I'll be your host.

Today on the show we have Chuck Rossi. Chuck is a long time Silicon Valley tech entrepreneur with a string of 6 successful startups. Chuck spent two years as an SME for Facebook working to improve and clarify firearm policy for Ads and Content on the platforms. Chuck is a consultant to the NSSF on social media issues for the organization and its members. 

He is also the co-founder of Open Source Defense, a pro-2A organization dedicated to advocating for the Second Amendment in a culture-war free way. Last year Chuck helped TFB restore its Instagram page when it was deleted without warning. Please welcome Chuck Rossi.

Listen right here at TFB:

Listen on Apple Podcasts:

Listen on Spotify:

Please support our sponsors:

Davidson's Gallery Of Guns – https://www.galleryofguns.com

Davidson's stocks a vast inventory of firearms, possesses over 50 years of firearms industry experience, and has a reputation as both a "deal maker" and an "innovation leader." In November of 1998, GalleryofGuns.com was launched by Davidson's to give firearms consumers a convenient way to buy firearms at great prices from the convenience of their homes. By utilizing Davidson's nationwide network of over 5,000 firearms retailers and its huge firearms inventory, GalleryofGuns.com allows consumers to buy from a huge selection of firearms from the firearms industry's top manufacturers.

Silencer Shop – https://www.silencershop.com

If you've said that buying a silencer is too expensive, too long of a wait, or that the paperwork is too confusing, you're not alone. Buying a silencer is a big deal, and we don't take it lightly either! But it's the easiest it's ever been!