Doc Said 'Get ready to Die' so he Went Turkey Hunting and Got His First Gobbler
Russ Chastain 04.15.20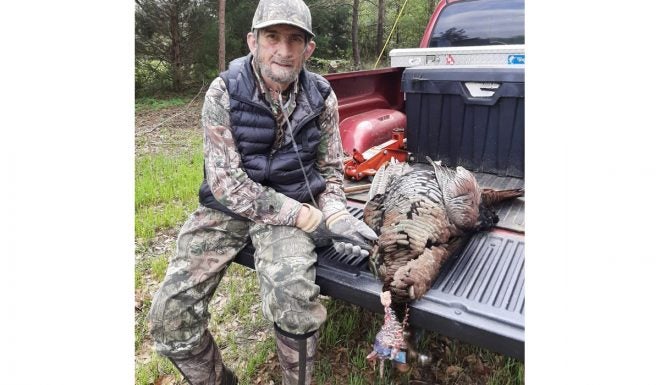 In a recent article titled, "A Gobbler For Brother Gibbs," Georgia Outdoor News told the story of a 64-year-old hunter who is very ill and who finally got a wild turkey in 2020, after 14 years of trying. When I read this tale, I was sitting in the Georgia woods utterly failing to even lay eyes on a mature gobbler, much less slay one. And the more I read, the smaller my problems became.
When Raymond Gibbs took a notion to get himself a gobbler 14 years ago, he started reading all he could find on the subject and buying turkey calls as well. But things just never worked out for him.
'I think I have every kind of turkey call ever made,' said Raymond.
Raymond suffered from 'turkey fever,' a condition in which a hunter infatuated with turkey hunting utterly fails to function properly while actually hunting turkeys.
"'Every time I would hear one gobble, I would panic,' said Raymond. 'I wouldn't know what to do, even though I had read it. I didn't know how to set up. I had one coming one time and I set up on the wrong side of the road. He came in behind me. I've made a lot of mistakes, but I've learned a lot.'"
Things got worse for Raymond in 2016, when he was diagnosed with nonalcoholic cirrhosis of the liver and pulmonary fibrosis of the lungs.
Doctors said Raymond would likely need a liver transplant at some point, so they established a good relationship with the doctors at Emory in Atlanta. That way, when it came time for the transplant, his name would already be on the list. From first being diagnosed in May 2016, Raymond's condition continued to worsen.

'I get so tired physically sometimes,' said Raymond. 'Not being able to get up and go outside, it's hard. I look out there, and it's so sunny and pretty.'

One of Raymond's symptoms is a shortness of breath. He must be on oxygen full time, which made for another challenge in his continued quest for his first turkey.

'The shortness of breath has gotten worse lately,' said Raymond. 'I have a little small tank I can take with me hunting. I can walk fairly well, not a long distance. There's good days and bad days. Some days I can't hardly get up and I have to lay around all day, and some days I can get up and do fairly well…'
In early 2019, Raymond received another diagnosis.
'In the first of 2019, they told me I had a rare lung disease called short telomere syndrome,' said Raymond. 'They know very little about it. We've been throwing medicines at it. Most of them I can't take because of my other conditions. There's not really a treatment or anything they know to do for that particular lung disease.'
He also was taken off the liver transplant list due to concerns that he would never survive transplant surgery. Then, last December, doctors basically told Raymond to go home and get ready to die.
'It was Dec. 27, I'll never forget it. We went to Emory to the lung doctor and did a lung test,' said Raymond. 'We went over all the blood work and the CT scans and X-rays. This doctor is a good Christian man, and he said, "All I can tell you now is go home, fill out your will and get everything in order and get prepared for death."'

Raymond and his wife thanked the doctor and made the long drive back to Cordele.

'I didn't tell anybody for a while, just family,' said Raymond.
After he shared the news with his church family, wheels began to turn to get Raymond his first gobbler. The hunters' grapevine went to work, and on March 27, 2020, Raymond was hunting in a blind with experienced turkey hunter Ken Pittman. Ken set up a blind in a grassy field near a clearcut, and drove Raymond right to the blind before dawn, so he wouldn't have to walk.
Daylight was silent.

'Between 7:30 and 8 we had a hen go to clucking. She clucked and clucked, but there was no gobbler that we could hear. The morning went on, and I'm guessing around 9:30, Mr. Pittman said there was a turkey on the edge of the clearcut.'

The tom was probably 80 to 100 yards away.

'He stands there I guarantee you 20 minutes in one spot. He finally starts coming toward us and then turns around and goes back to the clearcut.'

The cautious gobbler was looking for a hen in the field and was reluctant to come much closer.

'Mr. Ken had called a little bit that morning. He called very little, just to let them know we were there.'

A few minutes later the gobbler showed right back up in the same spot where they first saw him, but this time he started to close the distance a little more.

'He was coming right toward us. He got just out of gun range, and he turned and went in the woods.

'Then about 80 yards down from us, he pops out of the woods. Mr. Ken said, "I'm going to give him something to think about," and he did a gobble with a box call.'

The gobbler went into immediate strut and started gobbling.

'This was about 10:30, and that was the first gobble we heard all morning,' said Raymond. 'So here he comes down the edge of the woods just like he is supposed to. But again, he stops just out of gun range and goes in the woods. We listen to him gobbling, and he goes back into the clearcut.'

By 11 o'clock, it looked like Raymond's bad luck with turkeys would continue.

'By that time we're both getting kind of tired and ready to call it a day, and Mr. Ken said, "Let's have prayer before we go. We should of done that first thing this morning."

'He prayed for me, my health, our nation, all the folks with this (COVID-19) virus, our leaders, our churches. The prayer just touched our hearts. We were out in the woods, there was nobody around, it was a beautiful day, and we just had a spiritual connection at that particular time. We said Amen, put our caps on, and [the turkey] goes to gobbling.'

The bird was still in the clearcut, but in just a few minutes, Ken could tell the bird was closing the gap and headed back to the field.

'Mr. Ken said, "He's coming, and he's coming hard, so be ready." Finally, we see him at the edge of the woods, and he steps out, and Mr. Ken says, "When he sticks his head up, you shoot him."'

At that point the bird was at 40 yards.

'He sticks his head up, I pulled the trigger, and that 3-inch magnum knocked the snot out of my shoulder. I've lost so much weight and muscle tone that I got bones sticking out on my shoulder.'

Even amongst the impressive recoil from the 12 gauge, Raymond was looking to see if his 14-year dry spell was finally over.

'I saw that head drop back, and he dropped like a sack of rocks. He did not flop. After maybe 10 seconds or so, I guess his reflexes kicked in and he may have flopped his wings three times, but that's it,' said Raymond.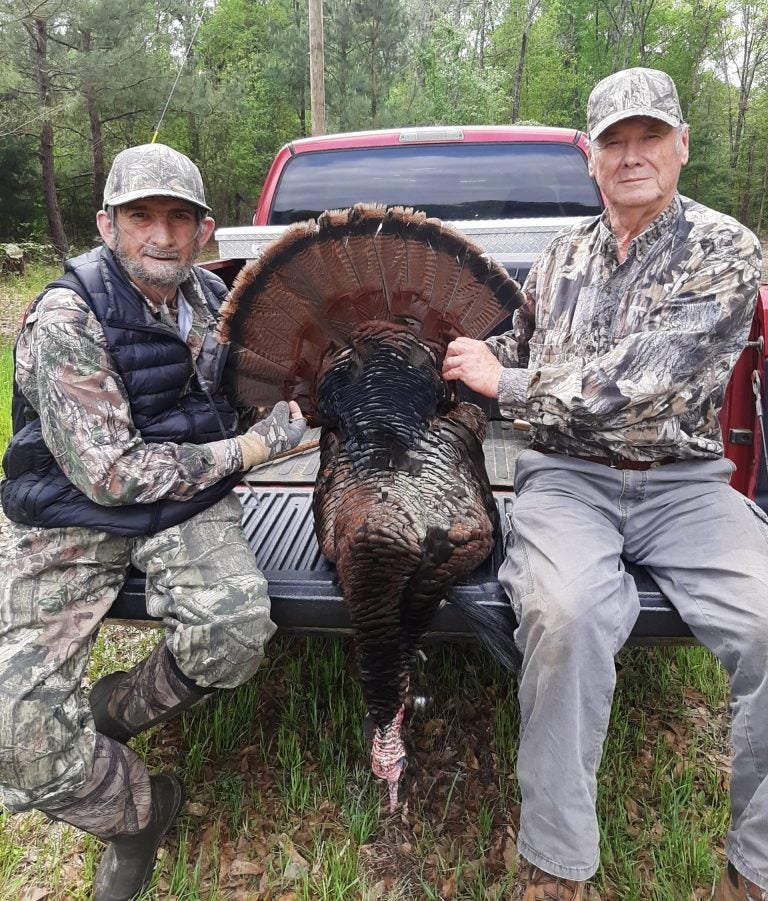 Congrats to Raymond!
Stories like this remind me to be thankful for what I have, and not to feel down in the mouth when I go hunting and can't even hear a bird. If you'll excuse me, I think I'll go count my blessings now.