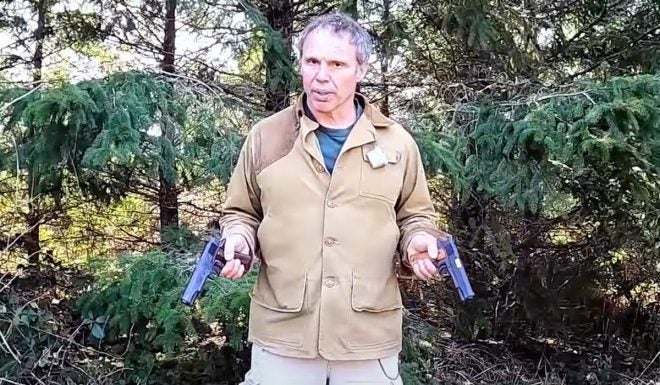 In this pistol review video, Paul Harrell takes a look at a Rock Island Armory (RIA) 1911 pistol, and shoots it right alongside a Colt 1911. Both are chambered for 45 ACP, but the RIA costs a lot less than the Colt.
After a brief intro, he gets right down to business, shooting them at 15 yards to compare accuracy. The results when he fired slowly were comparable, but he did note that the RIA's trigger was a lot worse (I'm assuming this means heavier/rougher/longer, either/and/or). So he fires them again, more quickly this time and at 10 yards. Results were again comparable, and the groups he fires could have been fired out of either gun.
Good accuracy, check.
The RIA comes with an 8-round magazine with extended floor plate, unlike the standard flush-fit 7-round mags that came out with the Colt 1911. So he tests it with genuine Colt magazines, and it runs just fine.
Mag compatibility, check.
Then he goes into teaching mode, explaining and demonstrating that the RIA 1911 lacks the firing pin block found in many 1911s, including the particular Colt he's using. This means there is an itsy-bitsy chance that the RIA 1911 could fire the round in the chamber simply from the inertia of the slide slamming shut — or from being dropped on its muzzle, I suppose.
Next comes the grip safety. He had some trouble with the RIA in the short time he'd used it, which lends some credence to those who don't like grip safeties for carry guns because, when under duress, you might not have a perfect grip on your firearm when it's time to fire in defense of your life. So if you plan to carry the RIA, you might consider replacing the grip safety with an extended model.
He tries some hollowpoint ammo in the RIA, and right off the bat he has some problems. He loads several magazines with a variety of defense ammo rather than hardball (FMJ, or "ball") and runs them through the RIA 1911. The ammo that gave him trouble was Federal HST, which he said has never given him any trouble at all in his Colt 1911.
In the end, he sums things up by saying that if he did have a top ten list of "best handguns for the buck," this Rock Island Armory 1911 would be on it.
Enjoy the video.