AllOutdoor Review: Ruger American Predator 350 Legend – Davidson's Exclusive
Adam Scepaniak 04.19.20

There are constantly new cartridges being invented by both firearm and ammunition manufacturers alike. The most notable one as of late was the 6.5 Creedmoor which was not so much invented as it was re-birthed by Hornady roughly 10 years ago. Aside from that recent wonder cartridge there have not been many new rounds that have piqued my interest. That is, except for the .350 Legend that was introduced by Winchester. In fact, we broke the news of that cartridge being unveiled at SHOT Show 2019 on our sister-site of OutdoorHub. Fast forward a little over a year later and now we have the opportunity to test fire one ourselves. The firearm distributor Davidson's was kind enough to hook us up with one of their "Davidson's Exclusive" Ruger American Predator 350 Legend rifles! This Special Make-Up (SMU) product we will test for you here today to see if this is something you might want to invest in for next fall's hunting adventures. Let's dive in!
Specifications: Ruger American Predator 350 Legend – Davidson's Exclusive
The Ruger American Predator chambered in the newly popular .350 Legend is an exclusive rifle only available through Davidson's for all of your local gun shops to source for you. While the Ruger American Predator is a common rifle in the marketplace and the .350 Legend is gaining more traction every month, this is a truly unique marriage from Davidson's. The complete specifications for this rifle can be read below as presented by Ruger:
Stock: Black Synthetic
Magazine: AR-style 5 Round
Sights: None – Scope Rail Installed
Barrel: 20″ Stainless Steel w/ 1″16″ Right-Hand Twist Rate & 1/2″-28 x 0.4″ T.P.I. (Thread per Inch)
Overall Weight: 7.1 Lbs
Overall Length: 40″
Length-of-Pull: 13.75″
The Ruger American Predator 350 Legend comes with all of the normal accouterments that you would come to expect from Ruger. You have a Cable Lock, Owner's Manual, a simple cardboard box, and a 5-Round Duramag Magazine. The full MSRP of this rifle is benchmarked at $554. This Ruger, like all of their rifles, is covered by their Lifetime Warranty in the rare event that you should ever need service work completed. Some final highlights and features of the American Predator 350 Legend can be read below as presented by Ruger:
Ruger Marksman Adjustable™ Trigger offers a Crisp Release w/ a Pull-Weight that is User-Adjustable between 3 – 5 Lbs allowing Shooters to make that Perfect Shot
Ergonomic, Lightweight Synthetic Stock designed for Quick, Easy Handling blends a Classic Look w/ Modern Forend Contouring & Grip Serrations
Soft Rubber Buttpad is crafted for Maximum Recoil Reduction.
1-Piece, 3-Lug Bolt w/ 70° Throw provides ample Scope Clearance & Utilizes a Full-Diameter Bolt Body & Dual Cocking Cams for Smooth, Easy Cycling from the Shoulder

Patented Power-Bedding, Integral-Bedding Block System positively locates the Receiver & Free-Floats the Barrel for Outstanding Accuracy
Factory-Installed, 1-Piece Picatinny Scope Base
Offers Minute-of-Angle (M.O.A.) Accuracy that can make every Hunt a Success
Heavier-Tapered, Threaded Barrel w/ Factory-Installed Radial-Port Muzzle Brake is Cold Hammer-Forged resulting in Ultra-Precise Rifling that provides Exceptional Accuracy & Longevity
Visible, Accessible & Easy-to-Actuate Tang Safety provides Instant Security
Also Includes: 1 Magazine & Sling Swivel Studs
First Look: Ruger American Predator 350 Legend – Davidson's Exclusive
When I unboxed this rifle it was everything I expected it to be. I was not foreign to the Ruger American stocks they utilize which are lightweight and streamline in their geometry. The bolt is incredibly smooth for how simple it is which is a good feeling while manipulating the action. A few things that caught me off guard were the magazine release and the muzzle brake.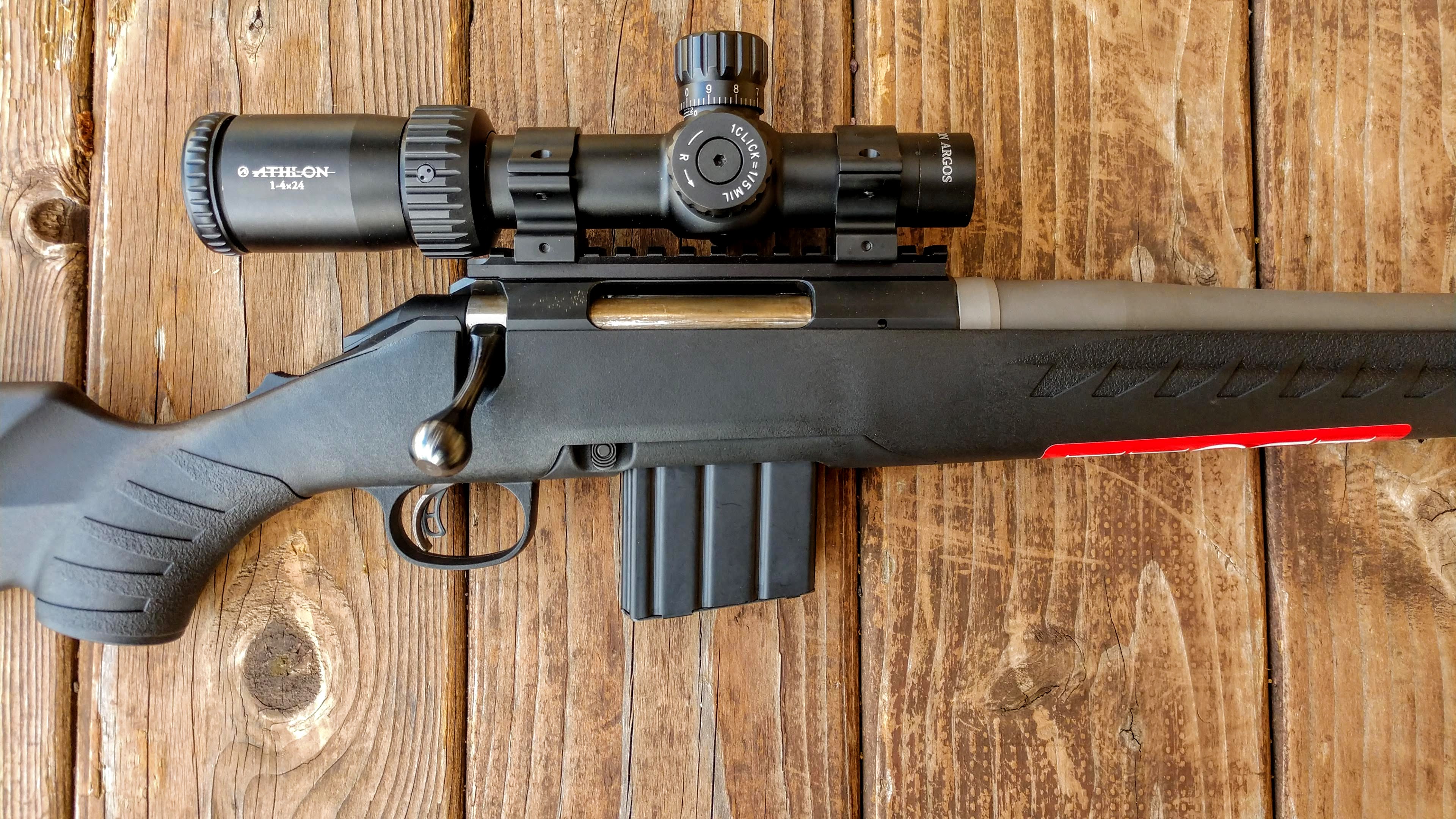 I am not a big fan of the button mag release. I would prefer to see a paddle-style magazine release like those on some of the other Ruger American rifles. Understanding that this rifle employs AR-style magazines from Duramag though, this likely was not an aesthetic or functional choice of theirs, but merely a requirement to be able to run an AR-style magazine. In regards to the muzzle brake, that is a beasty chunk of metal. I can only imagine that will help mitigate recoil tremendously once we hit the range; and conversely, be deafening if we were not using hearing protection.
The Ruger American Predator 350 Legend is outfitted with a full picatinny rail out-of-the-box, but we needed to choose our own optic to place on it. I just so happened to have an Athlon Optics Argos BTR 1-4x24mm scope that needed some range time so I settled on that. Using Leupold Rifleman 30mm Medium rings, I got the Athlon scope mere millimeters off the rail which should afford us the best alignment to the bore axis as possible.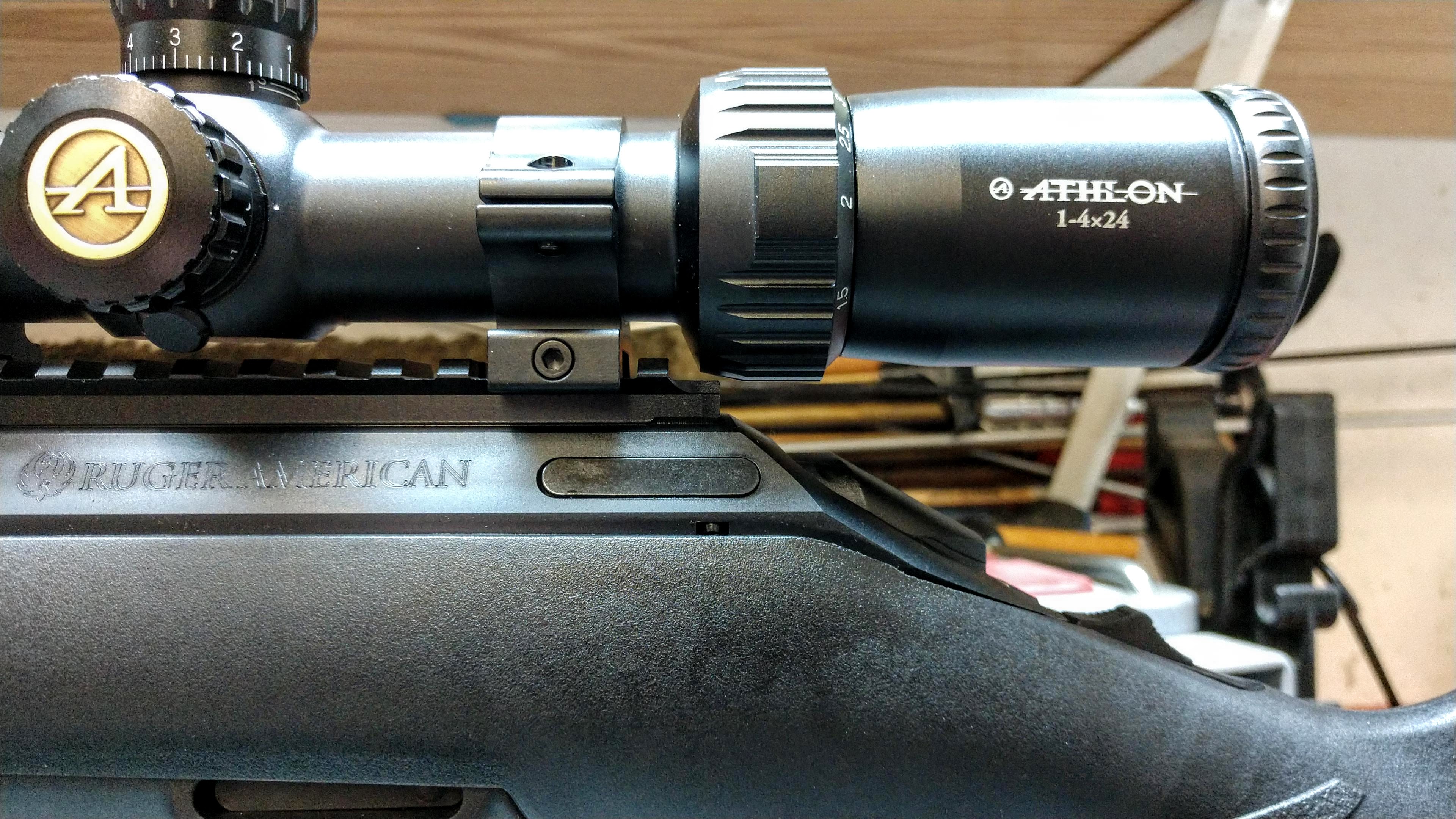 With the Ruger American Predator 350 Legend all suited up with my Athlon Optics Argos BTR 1-4x24mm scope, the last thing we needed to do was get this package out to the range to see how it performed on a firing line. The platform was bore-sighted, we had plenty of ammunition graciously provided by Davidson's to go with the rifle, and now we simply needed to put it to the test.
Range Time: Ruger American Predator 350 Legend – Davidson's Exclusive
Fortunately for us, Davidson's provided us with a good assortment of ammunition to test this rifle. Not many options are available in the way of 350 Legend ammunition at this time from large, name-brand manufacturers. Unless you look to boutique manufacturers or reload yourself, but Winchester being the company that introduced the cartridge does have a decent amount of offerings for people who buy firearms chambered in 350 Legend.
The 2 flavors of ammo we used were Winchester USA Target .350 Legend 145 Grain Full-Metal Jacket (FMJ) and some Winchester Super-X .350 Legend 180 Grain Power Point. While getting the rifle warmed up and sighted in, this rifle exhibited lighter recoil than I anticipated. It was very pleasant to shoot for a cartridge that is .35 caliber and toting up to a 180 Grain bullet.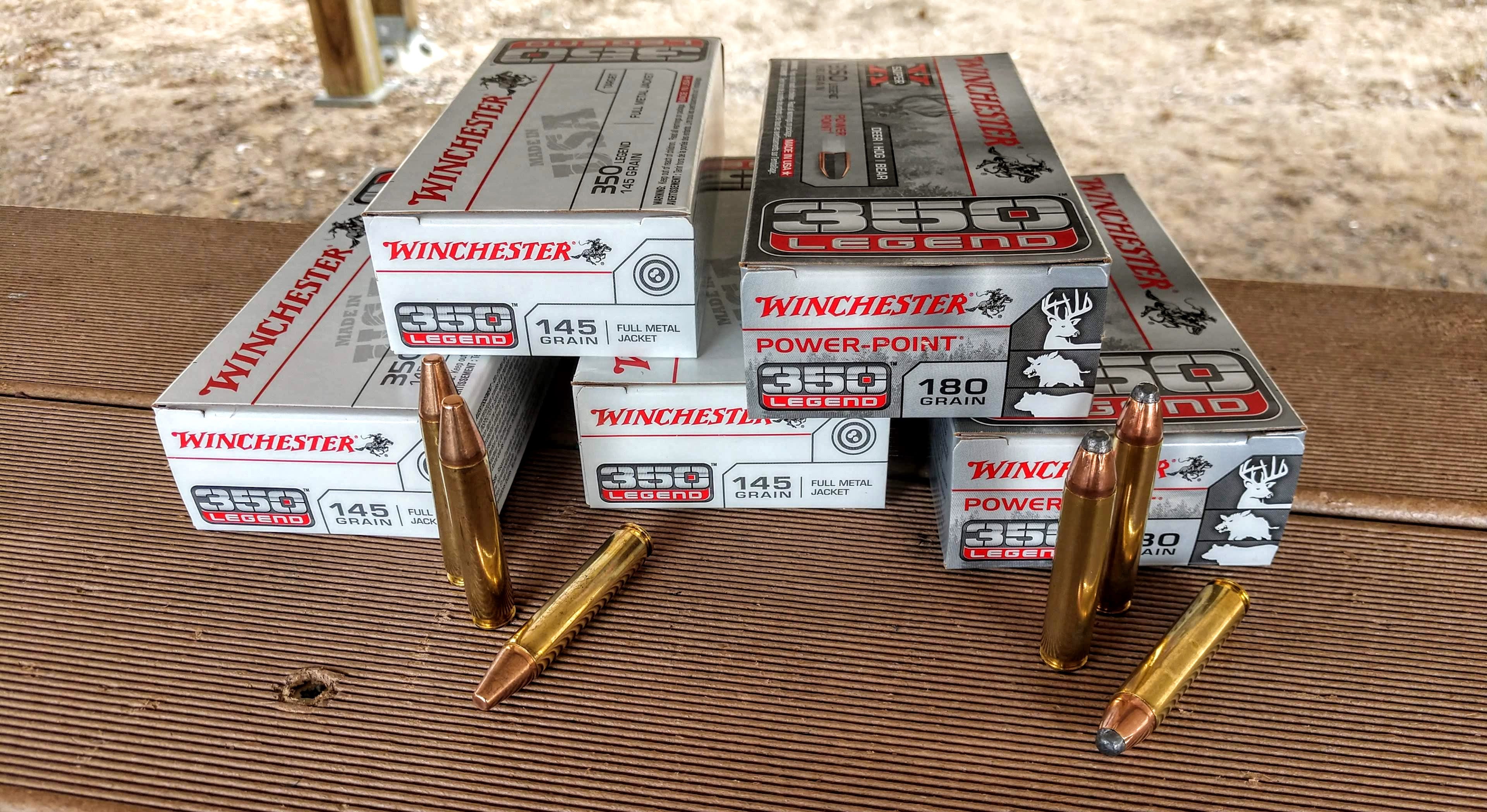 All of the rounds fed smoothly out of the magazine with the two different bullet profiles that I shot. Regardless whether it was the full-metal jacket (FMJ) or Winchester Power-Point (their version of a soft point), the Ruger bolt and Duramag magazine fed and extracted them reliably every time while methodically shooting upwards of 100 rounds.
I do wish Ruger shipped this rifle with more than just a 5-Round magazine for shooting at the range and potentially hunting, but I do understand that some states might not allow for anything higher capacity than that which Ruger is likely accounting for. For those with sentiments similar to mine, Duramag does make 10-Round and 20-Round magazines as well that are compatible with this rifle.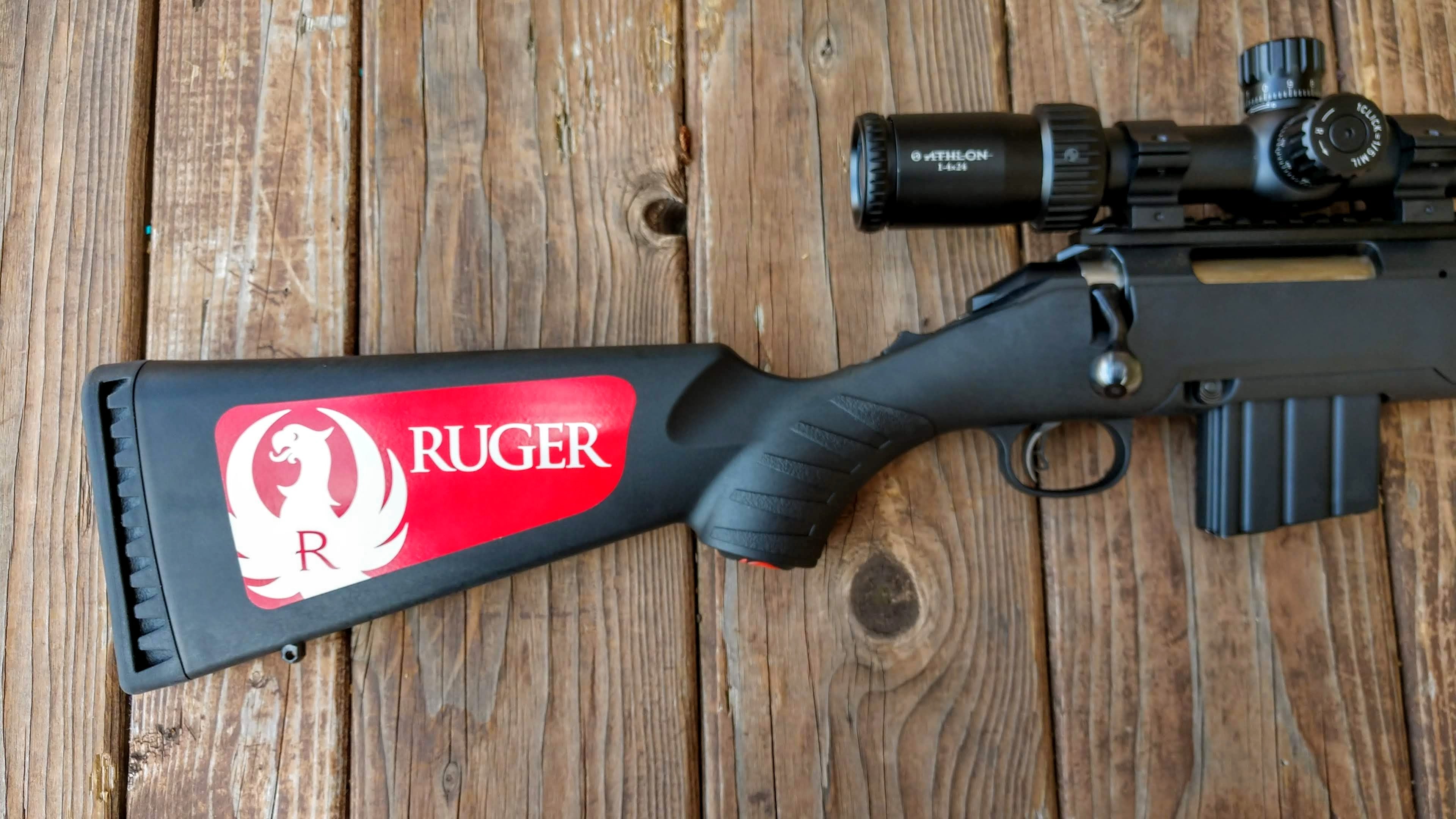 I know the one question plaguing your mind right now: "What kind of accuracy can we expect from this?" Well, that is the one somewhat sour point of this review. Most all of the 5-shot groups I achieved (decided on that number since it was my magazine size) ranged from 2″ – 4″ at 100 yards. Nothing spectacular to write home about. I am a hunter by trade, but I am still a decent shot being around firearms so much. So, I can understand that is good enough accuracy for whitetail deer or pig hunting, but I flatly expected better.
So, not feeling satisfied with those results, I hunkered down and tried to pull off the best groups possible. I bagged the rifle, controlled my breathing, and did everything I could to shrink these groups. Once the paper targets were once again punched and the dust settled, these were my best groups for each type of ammunition I brought with me to the range that day.
Winchester USA Target .350 Legend 145 Grain Full-Metal Jacket (FMJ) – 1.339″
Winchester Super-X .350 Legend 180 Grain Power Point – 1.125″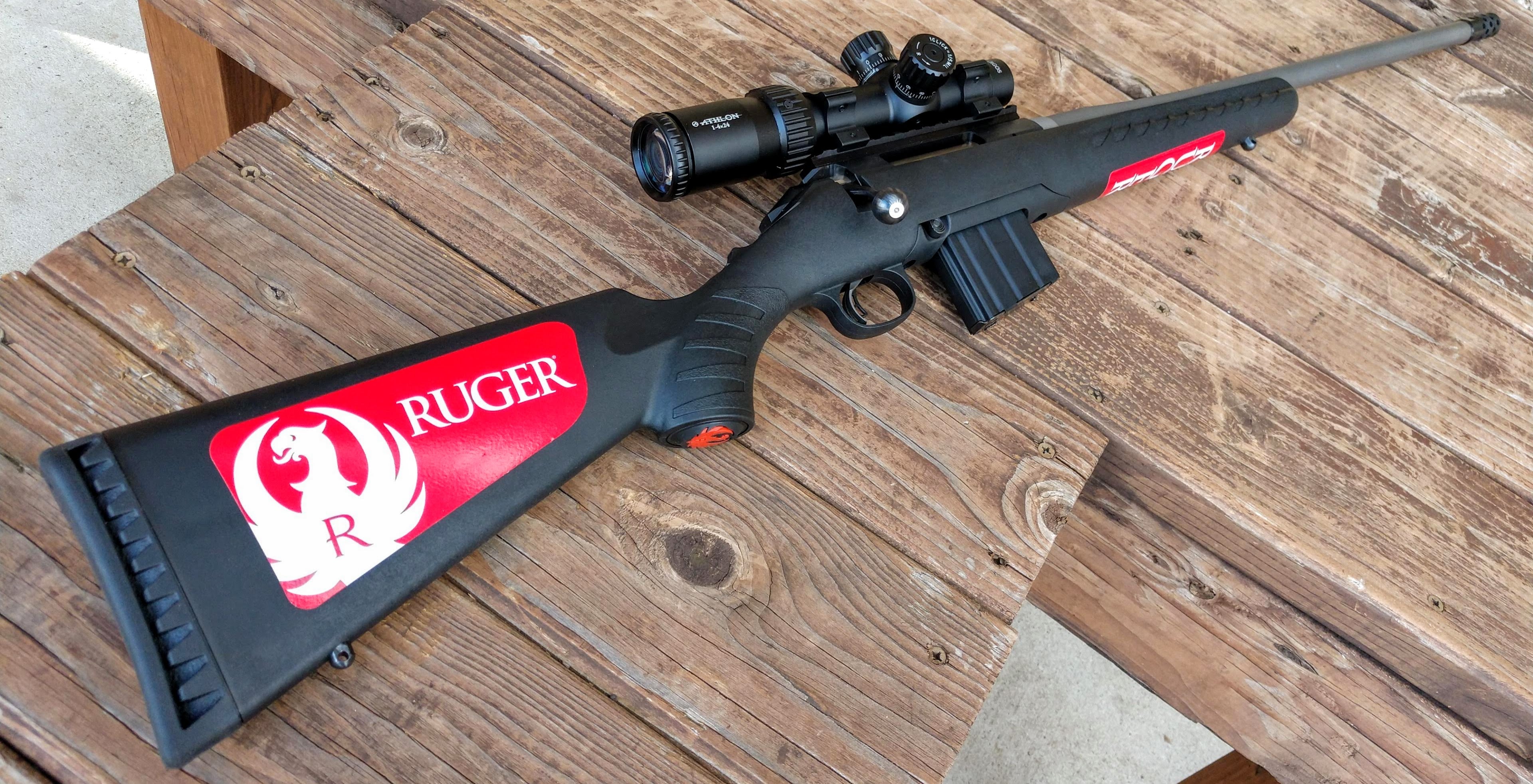 This accuracy was a lot more acceptable to me. I would now feel more confident shooting this out to 200 yards for pig or deer because in theory you have a rifle capable of shooting under 2.7″ all day long. While that will not impress many "snipers" in the reading audience, that will get you venison in the freezer every time. It is also important to note that I had to acquire a new zero for each type of ammunition. There was a change in 35 Grains and a decrease in 150 FPS (Feet per Second) to go up to the 180 Grain Power-Point so that is understandable.
Final Thoughts: Ruger American Predator 350 Legend – Davidson's Exclusive
For the "Davidson's Exclusive" Ruger American Predator 350 Legend there were some highlights and some low-lights. I could not achieve sub-M.O.A. accuracy even though Ruger advertises this rifle should be able to accomplish that. There are a multitude of factors in play here. I might not be up to snuff as a shooter to accomplish sub-M.O.A. on this gun or maybe we did non test its best grain weight for this cartridge. Maybe the .350 Legend cartridge is not a hole-in-hole round to begin with. Take it as a sample size of one, but it did shoot 1.125″ for me.
Speaking of that accuracy, in my eyes it is still plenty accurate for hunting out to 200 yards and you are launching a projectile with more Foot-Lbs of energy than .30-30 Win, 300 Blackout, and .223 Rem which are all very respectable cartridges in their own right. So, whether it is medium-sized game like antelope, whitetail deer, or wild pigs the 350 Legend round is still a "meat getter" in my mind.

When it came to the magazine release it was not as intuitive as one would hope. Functionally, it worked like a charm. No hiccups whatsoever, but there is a learning curve to it. The bolt was very smooth, all rounds fed and ejected reliably, and there were zero issues cycling ammunition. It also exhibited light recoil, and is accepting of silencers if you want to pop off the muzzle brake.
All in all, I would have no reservations recommending this rifle to someone if they enter into it with the mind of a hunter. This rifle has ample power, little recoil, and shoots well. You will never win a target league with it, but you could tag your next trophy class deer with it. At an MSRP price of $554, it is a good bargain backed by a reputable name brand like Ruger.
In closing, I want to say thank you to Davidson's for allowing AllOutdoor and myself the opportunity to try out their Ruger American Predator 350 Legend. That is greatly appreciated. Also, we would like to know what all of you guys and gals think? Do you believe that the Ruger American Predator 350 Legend is something worth spending your money on? Would you carry this rifle while camping or hiking? Hunt with it? Let us know all of your thoughts in the Comments below! We always appreciate your feedback.