Prepare for Immediate Impact! NEW Strike Eagle 5-25x56mm FFP in MOA or MRAD
Adam Scepaniak 04.20.20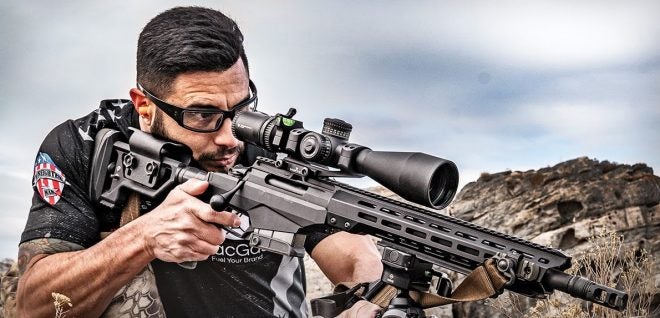 Vortex Optics has announced a NEW offering under their Strike Eagle line of scopes with the 5-25x56mm FFP in either MOA or MRAD turrets. The popularity of the Strike Eagle line of LPVOs (Low Powered Variable Optics) is in such high demand that it looks like Vortex is expanding that group out to stronger and larger glass. The Press Release for these new scopes can be read below as presented by Vortex Optics:
"BARNEVELD, Wis. – Vortex® Optics is going long, expanding on the value and reliability of their Strike Eagle® line of optics with the Strike Eagle® 5-25×56 FFP. Tactically-minded, long-range shooters can expect an incredible number of long-range tools in an incredibly affordable package.

The First Focal Plane reticle ensures accurate holdovers and ranging throughout the magnification range. Shooters will get to enjoy all that magnification even more thanks to the XD optical system, which makes for crystal-clear, edge-to-edge sharpness and high contrast images, and XR™ lens coatings for superior light transmission and optimized, low-light performance. And, to guarantee a clear point of aim no matter the lighting conditions, the glass-etched EBR-7C reticle is illuminated."

"When shooters are ready to start dialing for deeper shots, exposed, tactical locking turrets keep adjustments safe with integrated locking mechanisms. Not only that, the aircraft-grade, 34mm aluminum tube provides 110 MOA/31MRAD of travel, giving shooters plenty of space to stretch out.

And, if they need it, shooters can get from dealing close-close quarters punishment to long-range precision rapidly with the included throw lever. After all that dialing, if a shooter needs a fast, reliable return to zero, the patented RevStop® Zero System provides a fast, simple, rock-solid return.

For the shooter looking to step up their long-range game, and for those serving in the line of fire, the Strike Eagle® 5-25×56 FFP means immediate impact."

The current MSRP is set at $799.99 for the Strike Eagle 5-25x56mm FFP in either MOA or MRAD turrets – whatever the shooter may prefer. They also carry what is considered the optics industry's best warranty where if something needs repair or replacement, they do it pronto with no questions asked. This scope could be suitable for everything from a target rimfire setup to something thunderous like a .338 Lapua Magnum. What rifle would you like to put one on? Let us know all of your thoughts in the Comments below! We always appreciate your feedback.