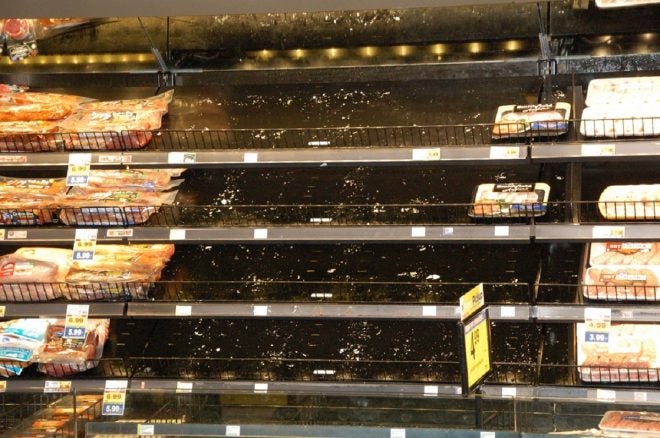 While it is certainly bad enough being under a near-total quarantine from a COVID-19 pandemic virus that could kill us, just trying to maintain a semblance of normal life is getting increasingly more difficult and frustrating. Try keeping your pantry stocked with a variety of food for instance. That is getting more difficult as the days go on. Imagine a month from now — or six months?
An investigative visit to a local big box national grocery store last weekend was a bit of a shock. I had not been out of the house for a week and had only heard stories of the lack of critical foods and supplies at local stores. They were right. This virtual lockdown has only been going on for a couple weeks, but already stores are having a difficult time keeping shelves stocked.
Upon my visit and walk-around, I found no paper products, bath or kitchen. The entire soft drink aisle was bare. There was no Coke, no Pepsi, no 7-Up or any other sodas either full bore or diet. The bread aisles were empty. There was no sandwich bread, no specialty bread, no hamburger or hot dog buns, no English muffins, and no bagels. No breads of any kind.
Only a small section of milk cartons were left. In the meat department all packaged lunch meat was gone. Zippo. There was no hamburger and most of the meat department pork was gone. Common canned goods were gone, mainly vegetables and fruits. The situation certainly makes for a challenge to formulate enough daily recipes to make it through the long haul. Hopefully things are better where you are, but I get reports across the country otherwise. So what do you do?
For starters, begin to think outside the box on how to fix meals without the usual ingredients. You may not be able to find a reliable supply of the heat-and-eat foods or frozen dinners only needing heating. You're going to have to cook, which may not always be convenient. Think in terms of soups, stews, pasta options, whatever fresh veggies you can find, dry beans, and peas, and so forth. Bake frozen bread or rolls. Try to keep milk and cereal on hand which still seems to be available. Oatmeal is a good breakfast option. Chickens are still laying eggs.
Remember to rummage your own freezers to use up whatever is left. Same for the pantry. It is a good time to rotate out any of the older stuff. Time to eat your less liked foods as you continue to search all the sources available in your community for fresh supplies. It is going to be a challenge, but we will make it through this. Don't forget to shop on line outlets, too, like Amazon for your food stuffs.