NEW BULK Speed-Shok 100-Packs Unveiled by Federal Premium Ammunition
Adam Scepaniak 04.22.20

Federal Premium ammunition has unveiled NEW bulk 100-count packaging for their Speed-Shok waterfowl loads for serious, season-long hunters. Most hunters who are serious about hunting geese, ducks, and other types of waterfowl will rarely ever buy only one or two boxes of shells. For that exact reason, Federal Premium has looked to create more bulk packaging for what the everyday hunter is looking to buy. This premise of "buying in bulk" will save hunters money in the long run and hopefully get more people hooked on Federal. A simple rundown of the specifications for this new offering of ammunition can be read below as presented by Federal Premium:
Convenient 100-count bulk packs
Faster-burning, cleaner propellant leaves drastically less residue in the barrel and action
Catalyst high-performance lead-free primer provides the most complete, consistent ignition possible
Optimized velocities
Some of the best attributes of the bulk Speed-Shok packs are the less residue on your firearm and lead-free primers. If you really get on some ducks or geese, or it is simply a long hunt, you may not have time to clean your firearm. So, it can be imperative to run cleaner ammunition so your firearm keeps cycling and working for you as intended. Federal Premium goes on to further explain these bulk packs in this Press Release statement below:
"ANOKA, Minnesota – Bring the velocity and power of Federal Speed-Shok to the blind in bulk. New Speed-Shok 100-packs come in the most popular payloads, delivering both the performance and convenience high-volume waterfowl hunters need. Shipments of this product have begun to arrive at dealers.

Recently redesigned Speed-Shok loads fill limits faster and cleaner than ever, thanks to the Catalyst primer and faster-burning powders that dramatically reduce residue. Each easy-to-transport 100-count case pack with handle contains four 25-round boxes."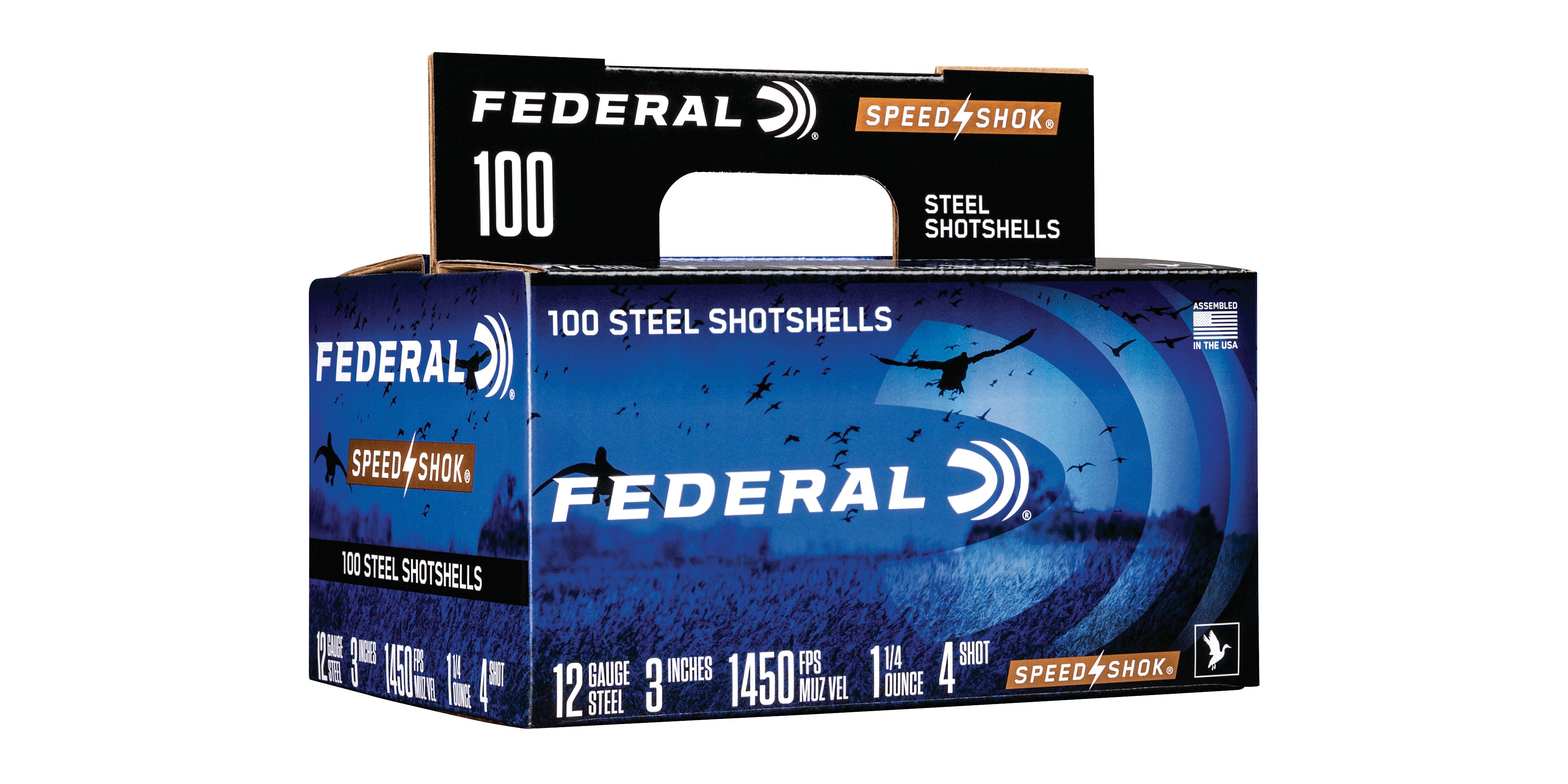 All of the intial loads that the Federal Premium Speed-Shok 100-count packs will be offered in are for 12 Gauge, but you have your choice of multiple shot sizes depending on the specific bird you might be hunting down. All of those offerings and their associated price-points can be read below:
WF142100 2 / 12 gauge 3 inch 1 ¼ ounce 2, 100 count / $64.99
WF142100 4 / 12 gauge 3 inch 1 ¼ ounce 4, 100 count / $64.99
WF142100 BB / 12 gauge 3 inch 1 ¼ ounce BB, 100 count / $64.99
For all of our waterfowl hunters in the reading audience, what do you think? Is this something you would be willing to spend more money on to essentially be set for the entire season? Or do you prefer to buy your waterfowl ammunition in smaller packaging? Let us know all of your thoughts in the Comments below! We always appreciate your feedback.