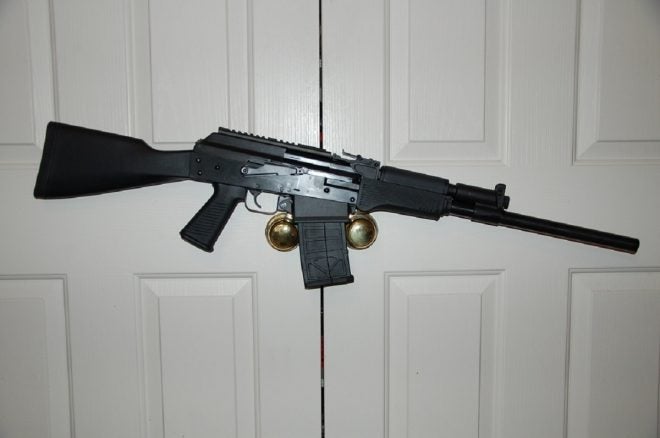 That's right: an AK shotgun. Though a bit unconventional at first glance, once you handle one you'll be pleasantly surprised at the balance and feel. Then when you shoot it, you will be totally sold despite its uncanny departure from traditional shotgun profiles.
The utility of a semi-auto shotgun is well known, but this configuration in the shadow of an AK-47 battle rifle might be a little more difficult to grasp initially. Chinese-made and imported by JTS (a buying group out of Rochester, New York of all places), the M12AK seems to be solely marketed and sold by big box Academy Sports stores from Texas.
Like it or not, the Chinese know how to build guns, having manufactured hundreds of thousands of AKs as a communist partner with the old Soviet Union and modern Russia today. They simply upsized the basic AK action, bolt, safety lever and other components to handle a 12 gauge shotshell. It can handle 2-¾-inch shells as well as 3-inch in its chamber. It is gas regulated with an adjustable 4-position gas valve up front to assure smooth cycling with a variety of loads.
Out of the box, the M12AK has all the looks of a black ops long gun. The stock and forearm furniture are black composite. The metal is a blue-black matte finish to match the rest of the gun. From the side of the action it looks like any AK-47's brother-in-law with Russian heritage. Fit and finish of the M12 is very good and the metal bluing is quite nice.
Basic specifications include a barrel of 18.5 inches with an overall gun length of 39.4 inches. It is semi-auto, so one trigger pull = one shot. The shotgun with an empty magazine inserted weighs 8.8 pounds. Magazines are 5-shot capacity, so beware if you plan to shoot ducks or other migratory gamebirds with it.
The mechanical sight on top is adjustable via a slide ramp gauged D-5 for various distances. Remember this is a shotgun, not a rifle. On top is also a section of Picatinny rail to mount a red dot or other optic. Nice feature for defense work.
The barrel is factory threaded to handle Remington Rem Choke tubes which is a real plus. A choke removal tool comes with the gun. Two 5-round polymer magazines are supplied, but this gun will also handle most Saiga magazines, too. The butt end has a nice soft rubber recoil pad.
The JTS would be a good choice for prepping as it can be used for self-defense, property protection, and hunting. Change out a choke and keep on going…