AllOutdoor Review: XS Sights DXT2 Big Dot Night Sights – Big FLOP or Big WIN?!
Adam Scepaniak 04.23.20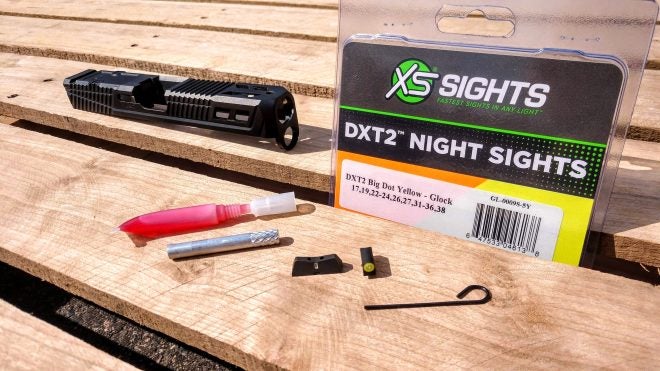 When it comes to shooting handguns proper sight alignment as well as having a good set of sights is crucial. Crucial not only for accurate recreation at the range with friends, but also for imperative and proper defense of yourself and family if the need should arise. One company who is not only high on quality, but creativity when it comes to a good set of irons is XS Sights. It might be cliche to some extent, but my dedicated home defense pistol is a Glock. So, today we will take a look at how a pair of XS Sights DXT2 Big Dot Night Sights can improve my home defense pistol and potentially yours, too. Let's dive in and review these glowing little wonders!
Specifications: XS Sights 

DXT2 Big Dot Night 

Sights
When it comes to iron sights, or upgraded ones for that matter, many shooters tend to have this laissez faire response of, "What's the big deal? They're just sights, right?" That is where most people are wrong. There is a lot more engineering, thought, and purpose built into a set of irons than most people realize. To best elaborate upon everything that is crafted into the DXT2 Big Dot Night Sights, I will leave it up to XS Sights in their specifications listing below:
Big Dot – Remains visible under stress when focus is drawn downrange. Outside diameter 0.188″
Yellow Front Sight – High-contrast color designed for maximum visibility in bright to low light
Glow Dot – Convex photoluminescent dot absorbs ambient light and glows in low light levels
Tritium Powered Front & Rear Sight – Beta Emitting lamps glow in low light to aid in sight alignment
V-Notch Rear – Low-profile V provides greater visibility of objects downrange of front sight
Dot-the-"i" Sight Picture – Straight line sight picture with differentiated front and rear sight prevents shooters from confusing the front and rear sight
Rear Sight White Outline – Aids in rear sight identification for proper sight alignment
Rear Sight Ledge – Aids in one-handed slide manipulations
CNC Machined from steel bar stock & Fits in common holsters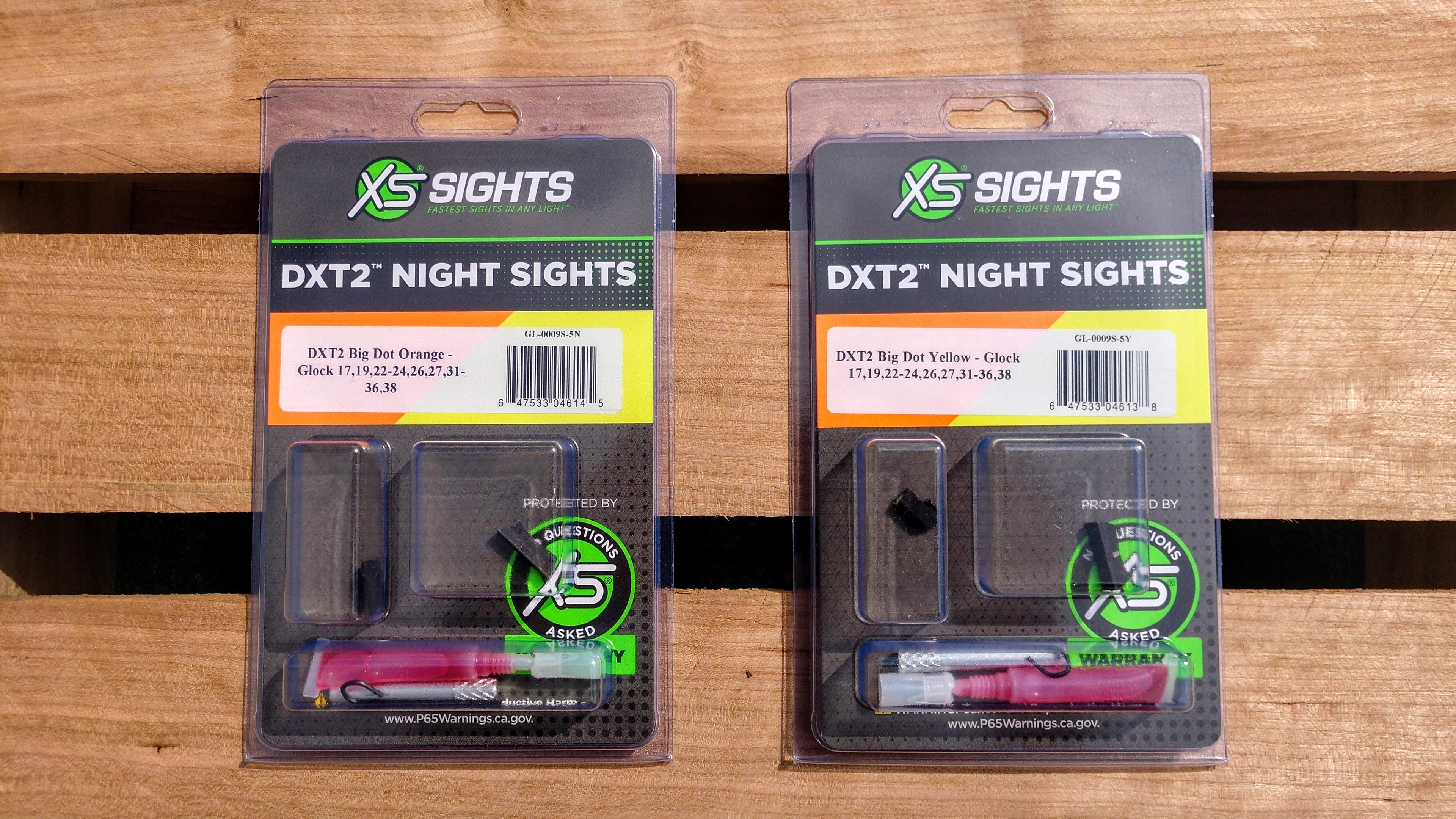 The two different color options you have with the DXT2 Big Dot Night Sights are Orange and Yellow at an MSRP of $132 each. That is a very competitive price to the market and they also carry the XS Sights 30-Day Satisfaction Guarantee as well as their "10 Year Warranty – No Questions Asked Night Sight Warranty." An expanded explanation of these sights can be read in the XS Sights Press Release below:
"XS DXT2 Big Dot Tritium Night Sights offer the best front sight visibility in all lighting conditions. DXT2 Big Dot sights drive focus to the front sight using a high-contrast front and a V-notch rear for an unobstructed view of the front sight.

DXT2 Big Dot front sights use a patent pending glow dot that absorbs light and glows in low light levels before it is dark enough to see the tritium. Optic Yellow is the best option for low light and has the brightest glow intensity. Primarily based on the white light spectrum, optic yellow is very reflective and will excite the photoluminescent properties of the dot faster than any other color. The increased surface area of the convex dot increases light absorption, intensifying the charge of the glow properties of the dot.

The dot-the "i" sight picture, with a tritium dot in the front sight and a tritium bar in the rear, prevents confusing the front and rear sight in high-stress situations. In most gunfights, the victim and attacker are both moving and the victim's focus is drawn to the threat. The wide field of view increases visibility of the front sight and of the threat downrange."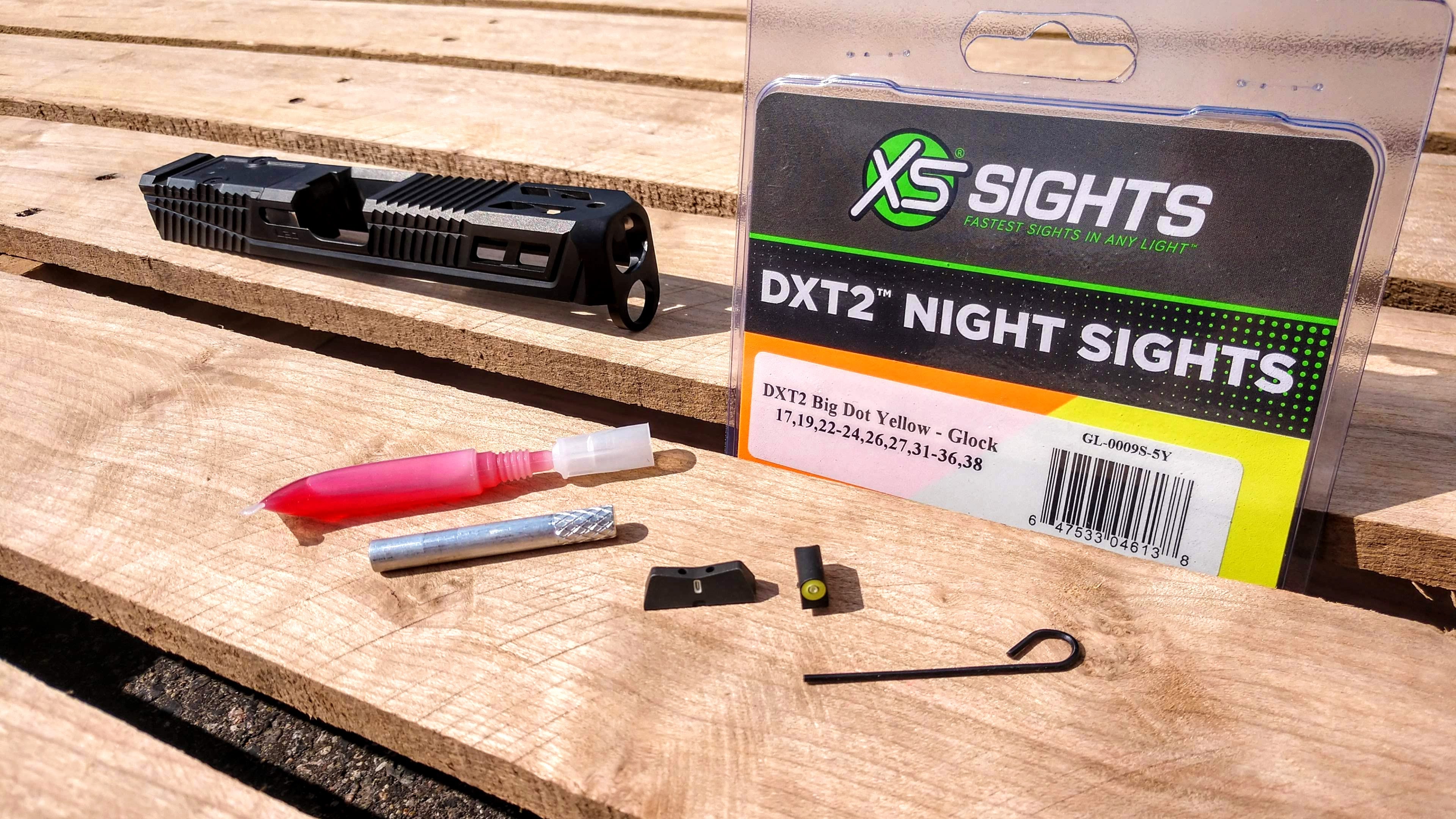 First Look: XS Sights 

DXT2 Big Dot Night 

Sights
When it came to my first impressions of these sights I would have to admit I was impressed. It had good clean packaging that was easy to read and discern what manufacturer and model these sights will be compatible for. Also, all of the extra accoutrements of a Front Sight Tool, small plastic vial of red Loc-Tite, and an Allen key for the rear sight were greatly appreciated. That is simply less money the end-user needs to spend in order to get these sights onto their pistol.
The matte black finish with rounded edges is a nice touch because it will not have glare and will not snag on clothing or a holster. I have encountered a lot of great sights in my misadventures as a gun owner, but passed on a lot of them because they ripped up my clothing or snagged so horribly I could not easily draw and present my pistol.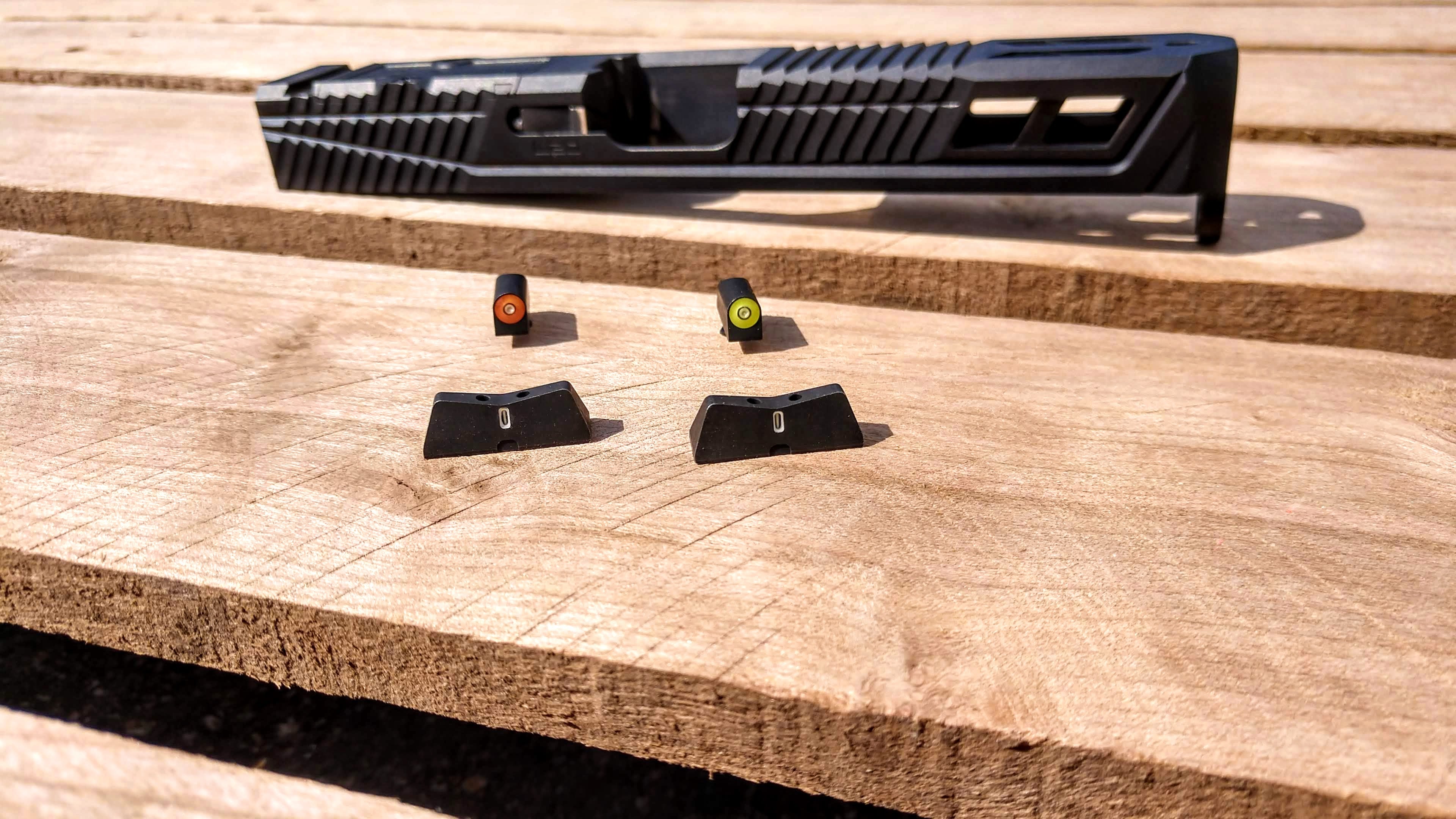 When it came to installation of the DXT2 Big Dot Night Sights the rear sight slid into the dovetail cut without the need of a Rear Sight Press Tool. I appreciated that immensely because it was significantly more user-friendly. I do own a Rear Sight Press Tool, but the average consumer may not. So, that ease of installation is a big plus in my book.
The rear sight is equipped with two Allen set screws to ensure secure placement of the rear sight into its coinciding dovetail cut. With a dollop of Loc-Tite on each screw and utilizing the provided Allen key, the installing of the rear sight took 2 minutes max when it traditionally takes me 5 – 10 minutes when they need to be pressed into place.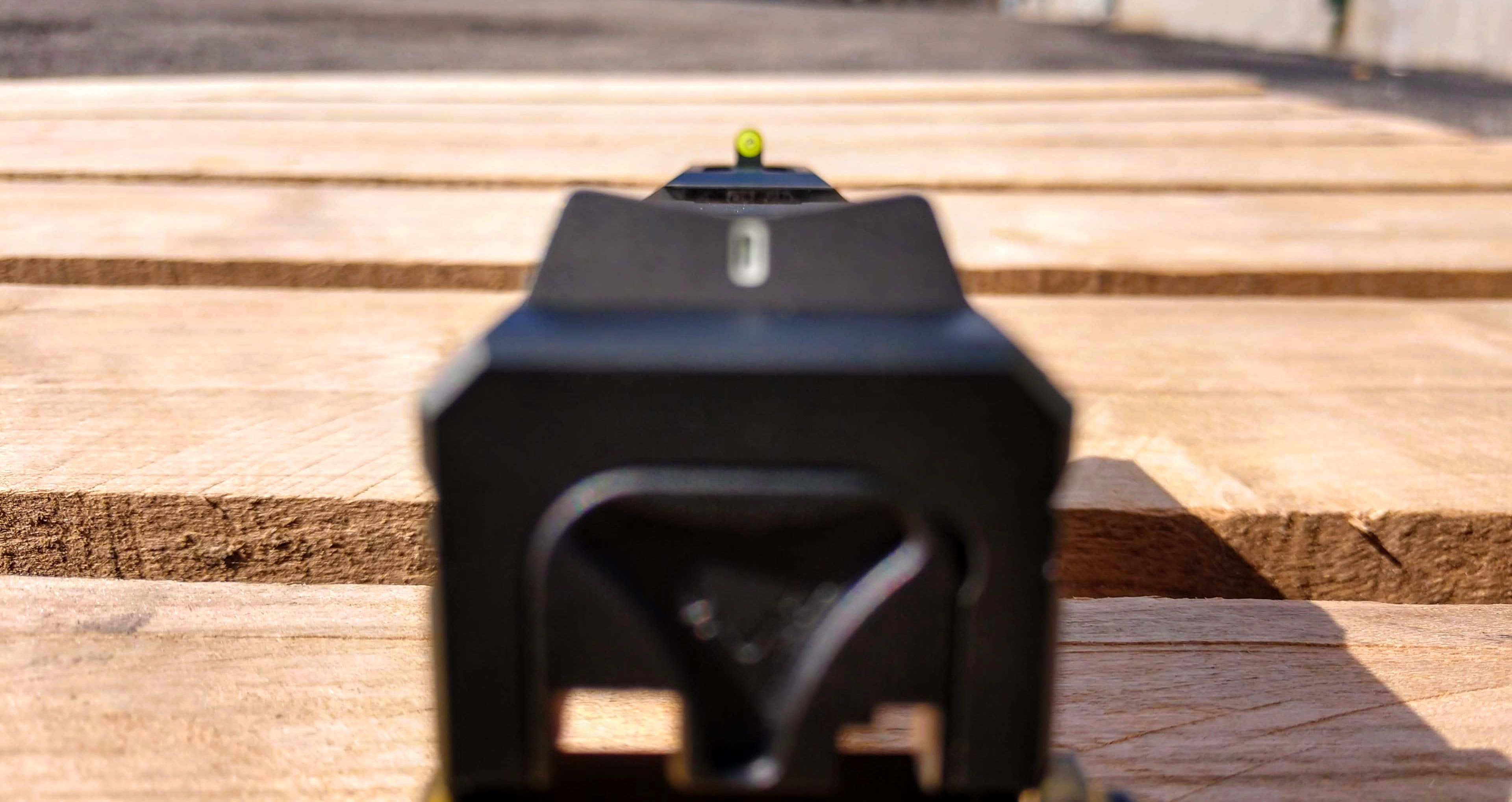 Range Time: XS Sights 

DXT2 Big Dot Night 

Sights
Once it was time to hit the range I made sure to bring a fairly random assortment of ammunition from hollow points (HP) to full-metal jacket (FMJ) to even +P loads. I did this not in some randomized attempt to test accuracy, but to put the sights through as much of a "shock test" as possible to see if they would stay in place as intended. As anyone would hope, they most definitely did so that is a non-factor in these sights.
While shooting the Big Dot Front Sight definitely draws emphasis to the front of your pistol and gives you that often talked about "front sight focus" and extra emphasis on your target (as opposed to fighting your focus between rear, front, and target simultaneously). My range session initially started with lots of bright sunshine so the strong front sight focus was very advantageous.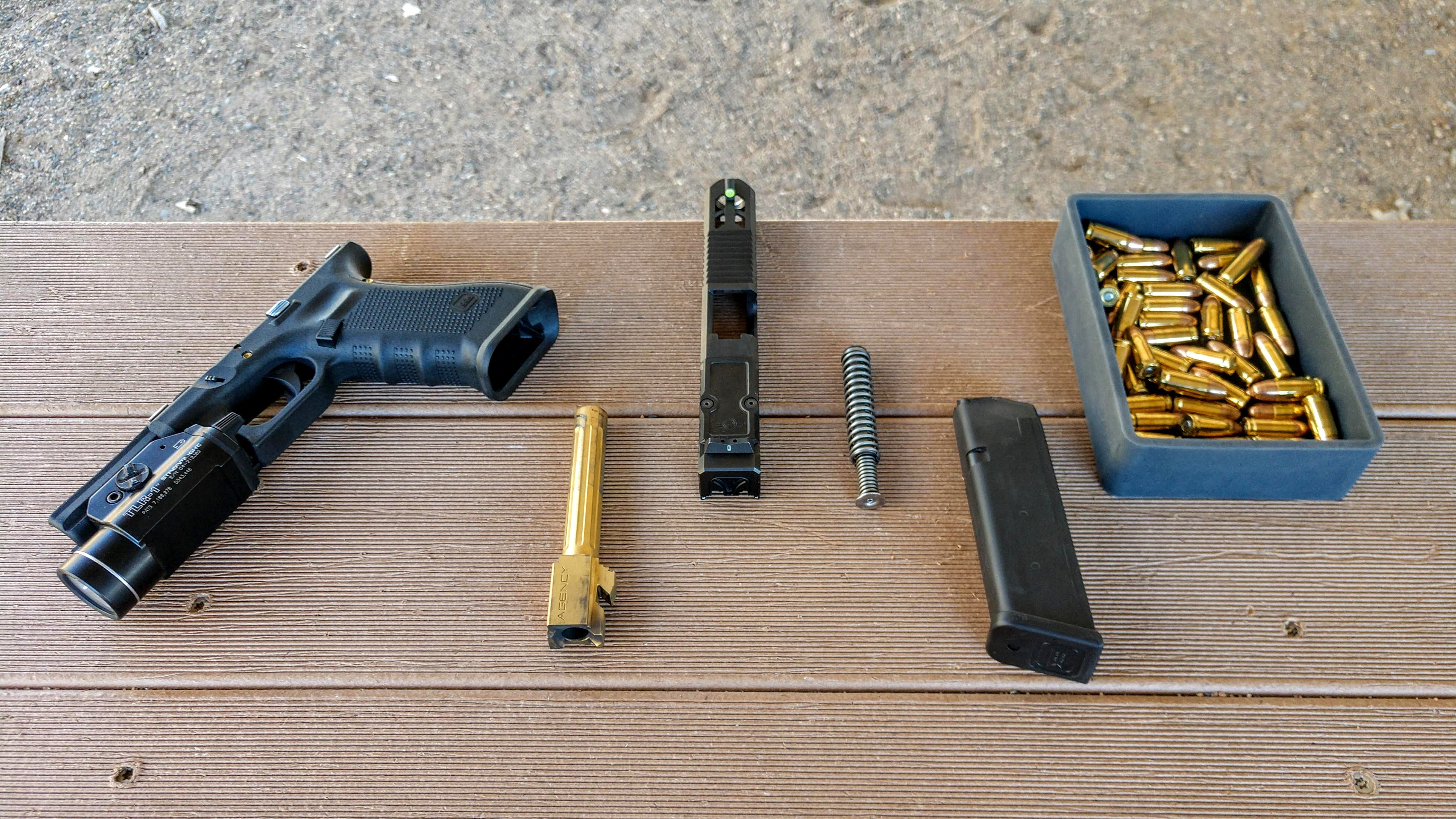 Later on the day fell into a waning evening of limited light where the Big Dot Front Sight began to shine through with its glow-in-the-dark night sight capabilities. The aptly named Big Dot and its large size made it tremendously easy to see during that awkward time of dusk; not daylight, but not truly dark yet.
The lollipop design of the front and rear sight has a little bit of a learning curve compared to a traditional 3-dot sight set, but after shooting a few magazines you pick up on it fairly quickly. In fact, after lobbing 100+ rounds of lead downrange I might actually now prefer it over a traditional 3-dot sight set.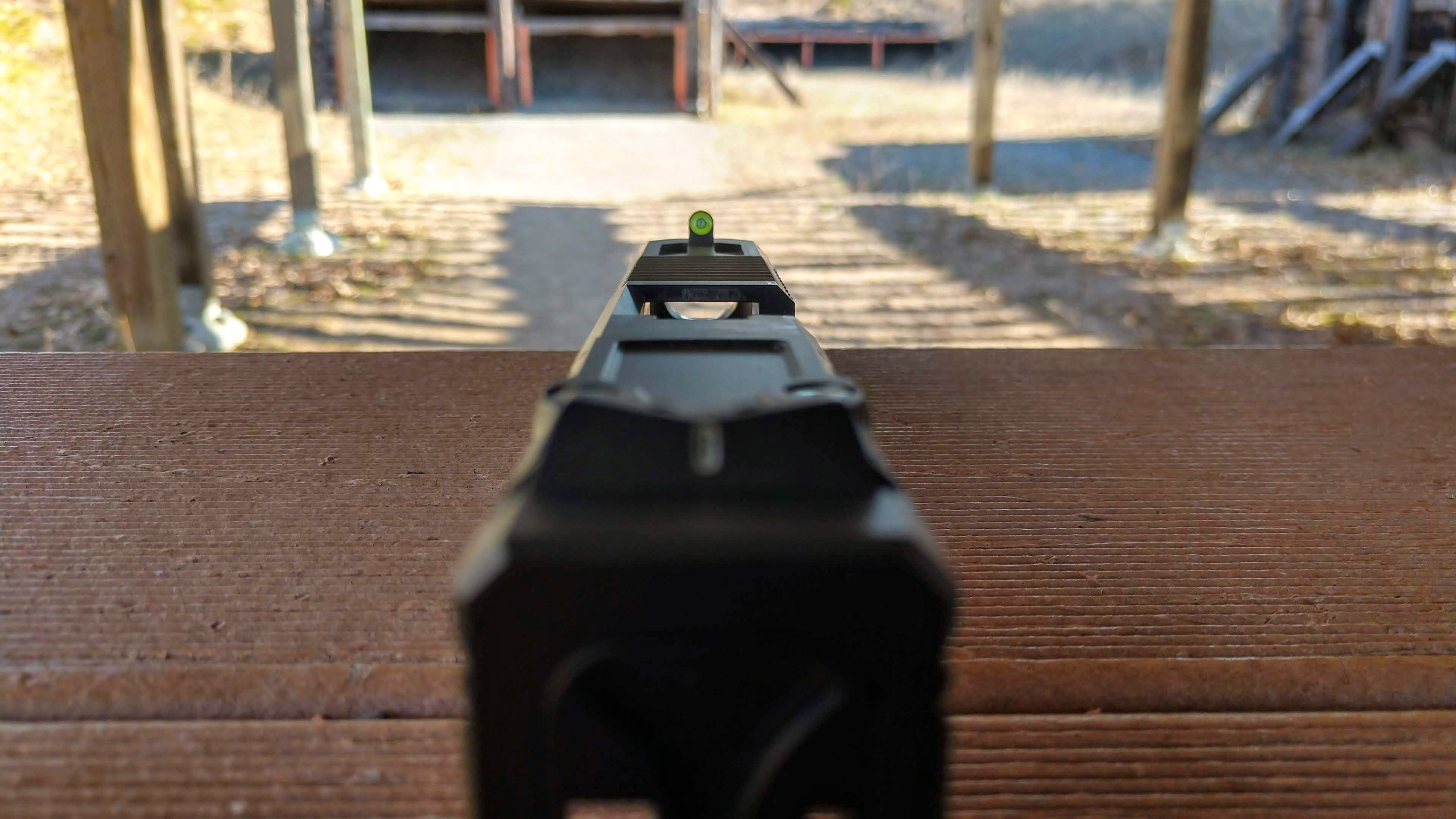 All in all, the sights were fast to acquire and they never came loose the entire time while I was shooting. I was actually a bit worried about only having 2 set screws in the rear sight, but it held tight. That simply reaffirmed in my mind that maybe more manufacturers should be trying this idea versus the old standard of needing to press them in.
Final Thoughts: XS Sights 

DXT2 Big Dot Night 

Sights
When it came to these sights there are a lot of attributes to love and some that might be a learning curve to some people. Personally, I really appreciate that XS Sights goes above and beyond by supplying you with simple accessories to help you install the sights. Speaking of which, the fact that they do not require a Rear Sight Press Tool is awesome. It speeds up the install process and again means less money invested in getting these on your gun.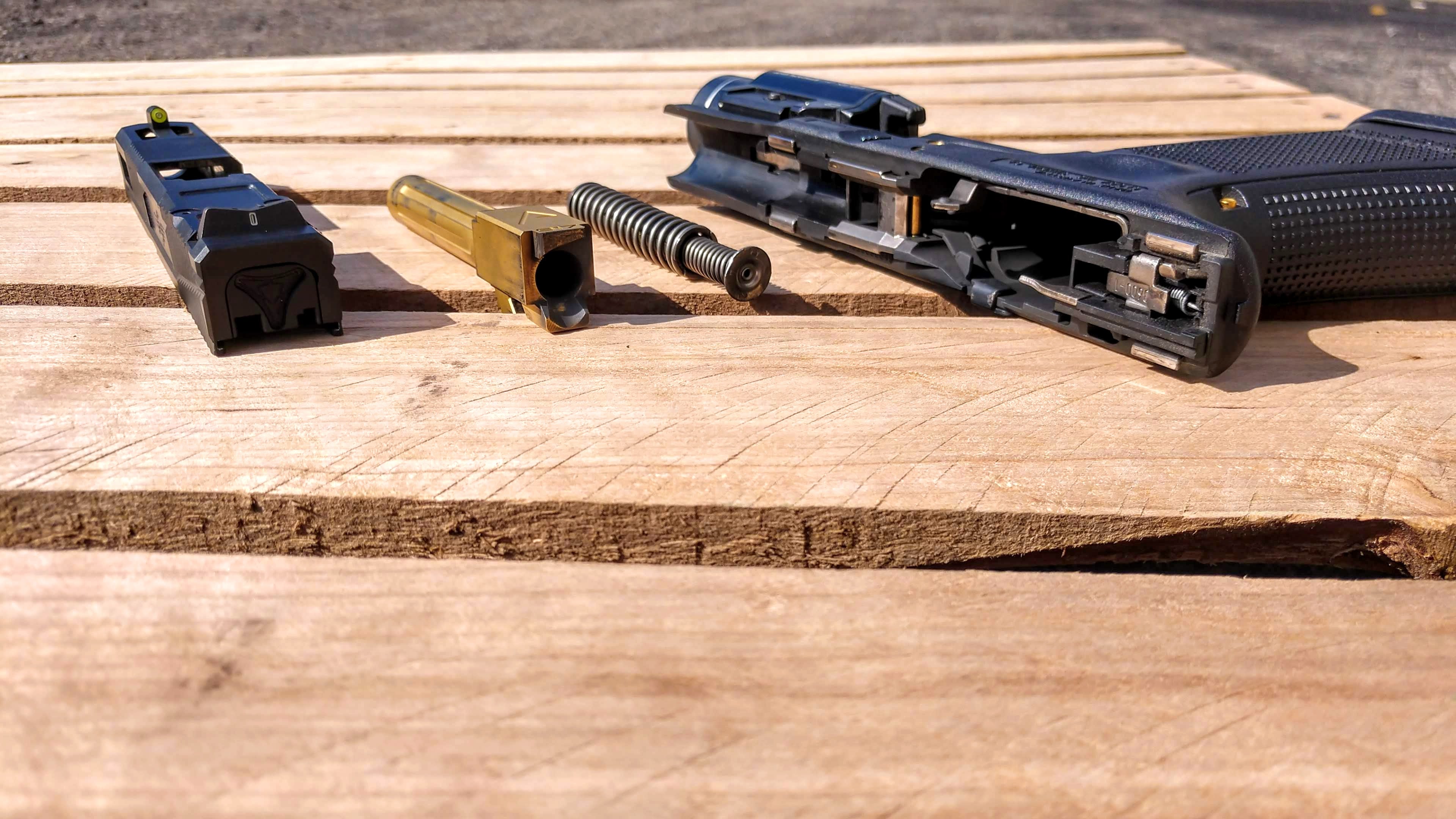 When it came to shooting them they performed great in both bright light and low light situations. Whether it would be used for defense, hunting, or recreation by the end-user I would see no problems whatsoever in regards to sight acquisition. Understanding how you should aim this lollipop-style sight picture as I call it could be a bit of a learning curve for some people though, but definitely not insurmountable. In sum, at an MSRP price of $132, I believe the XS Sights DXT2 Big Dot Night Sights are worth the money.
In closing, I want to say thank you to XS Sights for allowing AllOutdoor and myself the opportunity to try out their XS Sights DXT2 Big Dot Night Sights. That is greatly appreciated. Also, we would like to know what all of you guys and gals think? Do you believe that the XS Sights DXT2 Big Dot Night Sights are something worth spending your money on? Would you carry these sights on a pistol while camping or hiking? Shoot a league with them? Hunt? Let us know all of your thoughts in the Comments below! We always appreciate your feedback.