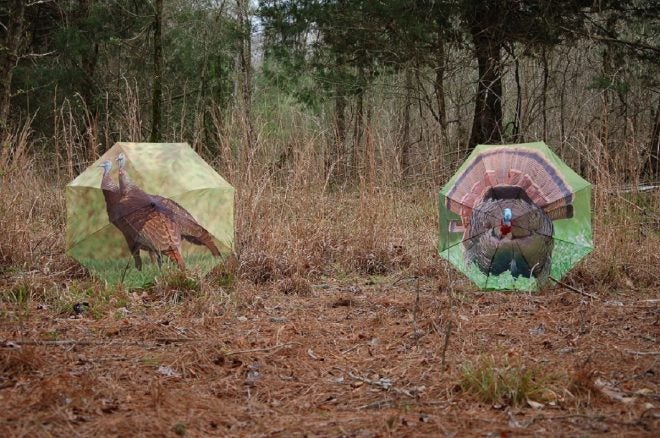 The whole game with turkey hunting is the deception that hunters contrive to fool a gobbler into thinking the hunter is a hot hen. This whole premise is predicated on the idea of the hunter hiding in cover or a blind making hen calls to attract the gobbler close enough for an effective shot. It sounds a whole lot easier than it really is most of the time. That is the challenge of turkey hunting to start with.
Though the idea to use fake game decoys may have certainly started earlier, it is known that American Indians used the tactic to fool and attract all sorts of game. Enter current technologies and fabrications of materials to mold or make turkey decoys of all sorts that really do rival the real thing in appearance. Even so, the mere posting of a hen, jake, or gobbler decoy is not just the simple solution.
The basic idea is to set up a blind or hide just inside the woods or deep in the timber from which to conduct the hunt. On the edge of an open green field, prepared agricultural crop field, a clear logging road or other travel corridor is a best bet. This gives the hunter a reasonable view of any approaching turkeys or observation of turkeys in the open for calling.
Most turkey hunters who use decoys will place one hen decoy out in the open where it can be seen by any gobblers in the immediate area. With judicious hen calling, a prospective gobbler's curiosity can be aroused to coax him to the hunter's position. A gobbler sighting a hen decoy out in the open helps to attract him to the hunter. That's all in theory of course.
Many turkey hunters will set out more than one hen decoy to give the impression of a small flock gathering. Another good trick is to add a jake decoy to make it look like another male bird is trying to horn in on the ladies. This typically infuriates the boss gobbler, which comes in to take charge and take back the hens. I've seen this tactic work more than once.
To really up the ante on using decoys, set up a strutting gobbler decoy in with a set of hens. I once tried this tactic and watched as a gobbler ran at a full dead out run entirely across an open field to the gobbler decoy. He was running so fast he ran right past the decoy and right into my shot. It was epic.
If you want a challenge, try using turkey decoys.