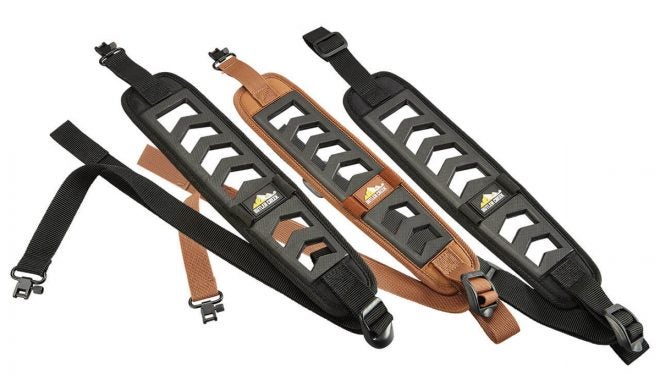 Butler Creek has been making stuff for hunters and shooters for a long time now, and they have earned a reputation for quality and value. Their new Featherlight Rifle Sling is now shipping, according to a recent press release.
You can get the sling with or without swivels, which is helpful for those of us who have spare swivels lying around from those stud sets we've bought to add to out guns that didn't come with them. Save ten bucks and use those swivels that have just been sitting in a drawer? That's a no-brainer.
They say the Featherlight is 45% lighter than any other sling they make, and that's pretty cool.
Here's some info from the press release:
The new Featherlight sling features an industry first design made from close cell foam and is 45% lighter than any other sling made by the company. The foam material not only helps to reduce weight but allows the sling to be extremely durable making it the perfect addition for any long gun this hunting season.

As comfortable as it is durable, the Featherlight is a true multi-purpose sling. Whether used on bolt-action, shotgun, or modern sporting rifles, the Featherlight sling makes transporting any firearm into the field a breeze.

Once in the field, hunters and shooters will appreciate the Featherlight's breathable construction. Made possible by cut out slots that are evenly spaced across the close cell foam, the Featherlight sling reduces trapped heat… close cell foam provides superior gripping ability, allowing it to easily adhere to synthetic clothing.

For added security when navigating rough terrain, the Featherlight sling features a large thumb loop attached to the bottom of the sling. Additional features include two built-in cartridge holders giving shooters immediate access to extra ammo should the need arise. Adjustable from 22 to 36 inches, the Featherlight sling can be easily tailored to meet the required length of any user.
These slings come in brown or black, and MSRPs are $24.95 without swivels and $34.95 with. Apparently, the brown option is only available with swivels.
Click here to buy one today: Butler Creek Featherlight Rifle Sling w/o swivels_190034, Black