The modern sporting rifle (MSR), based on Eugene Stoner's Armalite Rifle, Model 15, is one of the most popular target and hunting rifles in the country. These adaptable, accurate and easy-to-maintain rifles work extremely well for benchrest, three-gun and other target shooting practices, as well as predator, wild hog and varmint hunting in smaller calibers, as deer and other bigger game in larger-caliber variants. With many, many versions of the AR-15 on the market, which one should you get? Here's a little help in getting the best AR-15 for your money.
There are two common variants of the MSR – the AR-15 platform and the AR-10 platform. Most AR-15 rifles fire some version of the 5.56mm round, such as the .223. There are other caliber offerings, like the .300 Blackout, .224 Valkyrie, .350 Legend, and even the .450 Bushmaster. The AR-10 is based on the 7.62, or .308 round, and its variants include the popular 6.5 Creedmoor. For appearances sake, most MSRs get lumped under the banner of the AR-15. Most gun guys cringe at that, but it is what it is.
*Note: This is by nowhere, a complete list of the best AR-15s. These are just a few of our favorites.
Springfield Armory Saint Victor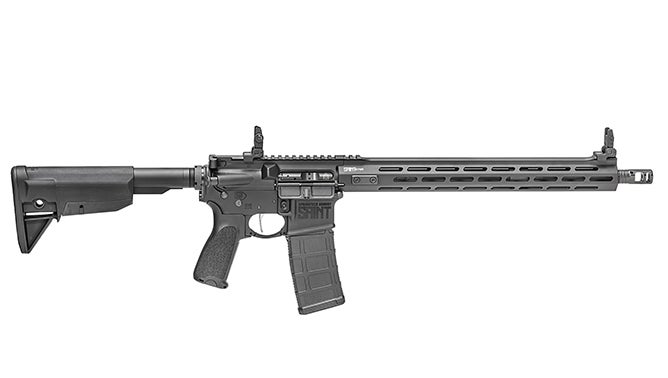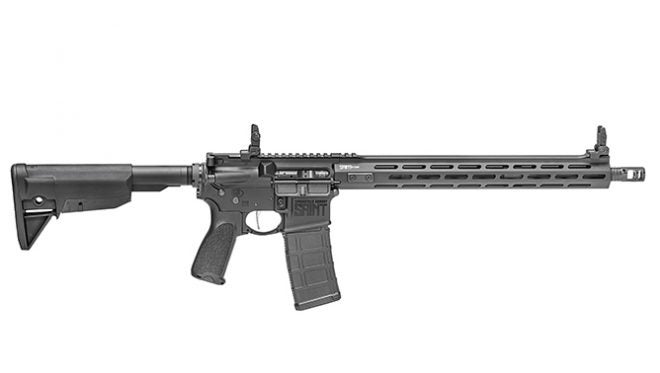 The original Springfield Armory operated by the U.S. Government to supply firearms to the military played a role in the development of the AR platform as the competition with the M-14. After the adoption of the AR-platform (M-16), the Government closed the Armory in 1968. A private family brought back the name and principles of the Armory and the Springfield Armory company was formed in 1974, and now, is a major player in the MSR field with the Saint Victor rifle. The Victor is a direct-impingement, mid-length, low-profile gas system rifle. It has a heavy tungsten buffer and a 16-inch, 1:8-twist chrome vanadium barrel. Everything has a durable melonite finish and the rifle weighs in at a light 6.9-lbs. Fit and finish it top-notch and this is a quality MSR that you should seriously consider.
Smith & Wesson M&P15 Sport II – Best Buy
A simple, no-frills MSR, the M&P Sport II is a GREAT deal, especially in this combo kit that comes with a case and speed loader. The 4140 steel 16-inch barrel has a 1:9.6 twist and has an Armorlite finish. The rifle has sights and is optics-ready with a picatinny rail. The rifle weighs in at 6.45 pounds and is a great platform as is, or for folks looking to add personalized accessories for a cool, custom build. This MSR has all the things that make it a best AR-15 buy. It has a lightweight aluminum receiver and 6-position CAR stock. It is still equipped with the forward assist, something that some MSRs are skipping these days. The value combo comes in under $700, so it's a great option.
FN Herstal FN-15 Sporting – Editor's Pick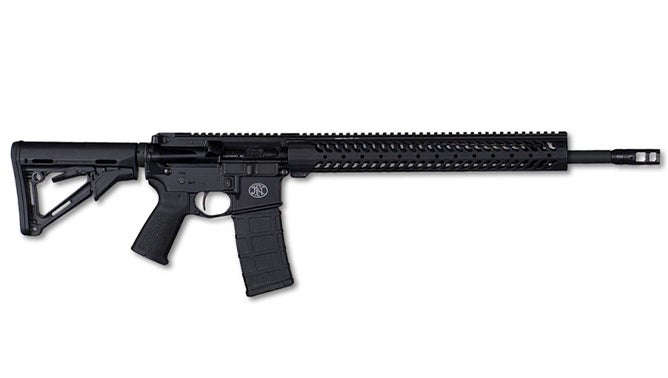 People often ask why some MSRs cost much more than others. The FN is one of those rifles. It starts with absolute precision. FN Herstal designed the FN-15 Sporting for competition and for those shooters looking for a premium target and hunting rifles, this is it. The FN-15 is chambered in .223 and has an 18-inch, match-grade, cold-hammer forged, chrome-lined barrel. These are the type of barrels people pay to have custom made for them. The direct-impingement rifle comes loaded with aftermarket goodies, like a SureFire ProComp 556 muzzle brake to decrease the muzzle climb, a premium, and it has a Timney Competition trigger that has a light feel, crisp break and fast trigger reset. FN also included a Magpul grip, and buttstock, and a 15-inch, Samson Evolution handguard. The result is a custom, hyper-accurate rifle perfect for competition shooting right out of the box. The FN-15 is easily one of the best AR-15s for your money.
Bushmaster Hunter
The .450 bushmaster started out as a way to get a big chunk of lead coming out of an AR-platform rifle. We got to test one of the very first .450 Bushmaster ARs to come out years ago and found it to be a great take on .45/70 ballistics in a MSR. The hype was short lived as the round wasn't widely accepted. Then, in recent years, it has stormed back into popularity as many states with rifle restrictions started to allow straight wall rifle cartridges for deer hunting. Suddenly, the .450 Bushmaster is a big deal again. The original rifle is a great option. It has a 16-inch, 4150 chrome-moly steel barrel with a 1:24"inch twist, that has been FNC treated for maximum durability and longevity. This 6-pound rifle comes with a 5-round capacity magazine and is one of the best AR-15 options for the hunter looking for big-game performance in the MSR platform.
Savage MSR15 Recon LRP
Savage hit the MSR field running with several models designed to showcase the elements Savage is so well known for – value and accuracy. This rifle is chambered in the 224 Valkyrie, a variant of the .223 developed by Federal. The 224 is not the same as a .223 and they are not interchangeable. The brass is different, as the 224 was designed to be a little more powerful and be a better performer at longer ranges. The rifle has an 18-inch barrel, free-floating handguard and a two-stage trigger that aids with taking those longer, calculated shots. These are seriously great rifles for all kinds of target shooting and competition, like three-gun. It is also a spectacular predator and varmint rifle, as the 224 is a flat-shooting, long range option for coyotes.