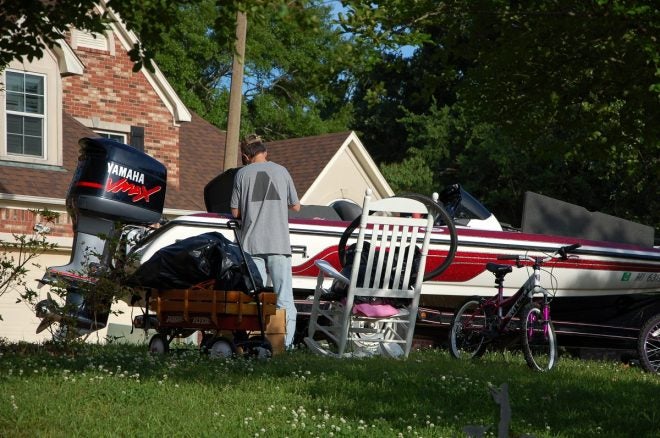 This pandemic has to end some point or another, hopefully sooner than much later. When it does wind down and recreational opportunities start to open up again, be ready to get back into the action. One of the many things that you can accomplish now is to get your fishing watercraft completely inspected and prepared to hit the water.
Many state lakes and public fishing areas are starting to open as part of the effort to get people outside safely. Fishing is a great way to do that even if you carry a couple family members along, which we recommend. Just make sure your boat and gear is ready to go.
Start first with an engine checkup or tune up if it has been a while since running. A bit of regular maintenance now could avoid trouble out on the lake. Charge up the battery or test it for replacement. Start with fresh gasoline. A good wash down inside and out gives you a chance to get everything in order. Double check your PFDs (flotation devices) and count them, one for everybody on board. Is the fire extinguisher fully charged?
Function test all electronics, wiring and connections. Mount and check the depth finder and sonar fish locating equipment. If you have communications equipment, check that. Be sure to take a cell phone, too and maybe a good idea to include an external charger.
Check the mounting on the trolling motor and its power connections. Lubricate the moving parts getting it ready for quick action out on the water. I have heard of trolling motors coming lose and apart from the mount and falling overboard. Don't let that happen to you.
Before you drive out of the driveway at home, inspect and maintain the boat trailer. This starts with greasing the wheel hubs, checking the hitch adding lubrication where needed. All the trailer wiring should be inspected, hooked up and turned on to be sure the trailer lighting works. Double check the brake lights too after the wiring harness is connected to your vehicle. Also give the trailer hitch on the vehicle a close look to make sure everything is in order.
And don't forget to inspect the trailer tires (and vehicle, too) for wear, cracks, or cuts. Check the air pressure to be sure they are inflated at the proper prescribed level. Air up the spare as well. All of this pre-trip maintenance and inspection work should go a long way to preventing breakdowns along the way. Even then, be prepared for anything to happen.