5.11 Tactical is Offering 20% to All Frontline Heroes in Thanks
Adam Scepaniak 05.06.20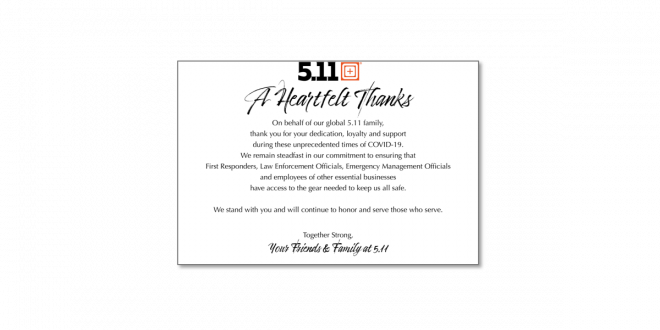 5.11 Tactical is extending their gratitude and thanks to all of the frontline heroes keeping the country safe by offering them 20% off. They understand that in unprecedented times like now there are many unsung heroes keeping our nation moving forward. Their announced promotion specifically for frontline heroes and the Press Release which elaborates their thanks can be read below:
"Dear 5.11 Friends:

5.11 was founded in serving those who serve, and now more than ever we want to recognize and honor all the heroes serving our communities. They are keeping us fed, safe, healthy and comforting those in need. It's time to pull together and endure as one. While we may be in a state of disbelief during the COVID-19 pandemic, 5.11 believes in the unsung heroes who are essential to our survival.

America's, and the world's, frontline workers have been challenged more than ever before over the course of the past few months. Our everyday heroes – our doctors, nurses, grocery clerks and delivery drivers, just to name a few, shine in a brighter light; while our first responders' roles – our police, fire, emergency services and military personnel – remain as critical as ever. These individuals put their health and safety second to the needs of our nation. We want to reward the men and women who keep the cogs of America turning in a time of need."
"Honoring those who serve is the most integral part of what we do at 5.11. Those who serve, and the capacities in which they serve has grown tremendously over the past several weeks, and as a brand, we want you all to know that our commitment to you matches your commitment to all of us. We sincerely thank you for your service.

5.11 welcomes all of these heroes to our growing family. To show our gratitude, on May 4-10, we're offering a 20% promo for all our heroes, as well as a special gift specifically for these essential frontline workers. We want to recognize all of our heroes for their continued service around the world.

Stay safe and Always Be Ready,

Francisco J. Morales, CEO of 5.11, Inc."
I believe I can safely speak for all of us at AllOutdoor when I say thank you to all of the frontline heroes in our country as well! All the people keeping America running even in times of uncertainty and unease, thank you! Hopefully this will all end soon so we can be closer to friends, family, loved ones, and the more frequent smell of gunpowder.