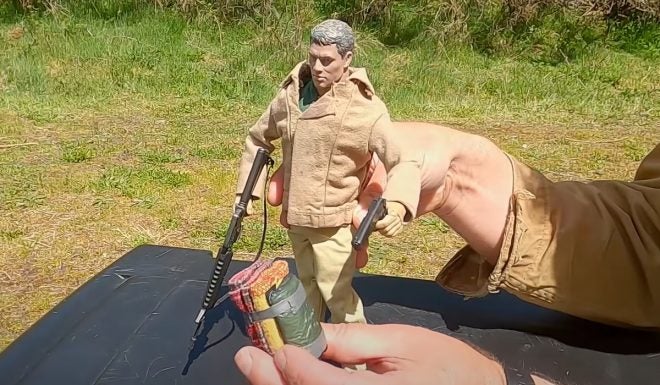 In honor of passing the 500,000-subscriber mark, Paul Harrell recently posted yet another FAQ video, which is (as usual) fairly random in its content. But the coolest thing for his fans is the Paul Harrell doll (oops, "action figure") he shows in the video.
Some mysterious figure named Chuck created it by altering a doll that sorta-kinda looked like Paul, then sewed up some clothing for it. The shooting jacket lacks pockets in which to stow large-frame handguns and boxes of ammo, but it does have a game pocket on the back.
There's even a replica of the meat target! Nice.
Other topics include haters and his responses, shooting without looking, and how he was somehow implicated in a Federal investigation by a deranged woman who purported to be his bride.
But the best part for me was the little doll. It's pretty neat. And oddly enough, lots of folks commented with the claim they'd happily shell out $100 or even $200 for one of them. What the??
Enjoy. For the action figure content, skip ahead to the 9:50 mark.