Rustrictor Restricts Rust in new Plano Rifle Cases
Russ Chastain 05.14.20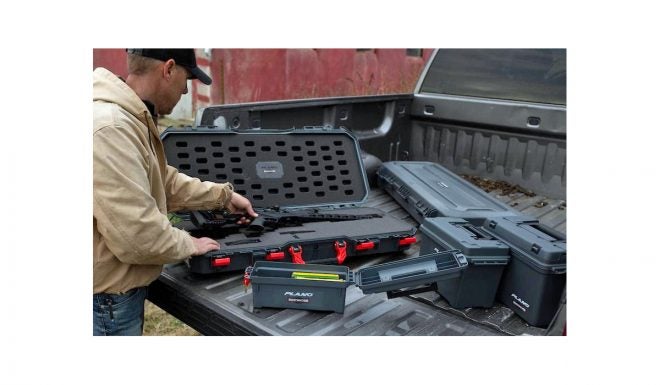 Plano has added VCI corrosion prevention to their line of all-weather rifle cases. VCI has been around for decades, but has met with mixed reactions in the firearms realm.
Formerly called Volatile Corrosion Inhibitor, the technology has been rebranded by changing the first word to "Vapor." There's a packet (Plano calls it an emitter) inside the case designed to gradually release chemical agents inside the fixed airspace to avert surface corrosion of anything inside the case.
When I last researched VCI a couple decades ago (for real), some folks were concerned about the vapors possibly damaging lens coatings on optics such as rifle scopes, but I haven't seen any more discussion of that in quite some time. As far as I know, the only caution about VCI is that the protection does run out after a few years.
From the Plano press release:
Plano has added Rustrictor technology, perfected in their tackle boxes, to their All-Weather 2 Rifle case.

Built to withstand the rigors of travel and still maintain your zero, the All-Weather 2 Rifle case features a tough outer shell built to shrug off abuse from the most careless baggage handler. The impenetrable exterior features dual-stage lockable latches and a Dri-Loc seal that creates a watertight, dust-proof shield. Lockable tabs allow you to use your choice of padlock to prevent unauthorized access.

Inside, Rustrictor technology perfected in Plano's premier line of tackle boxes keeps the ill effects of moisture at bay. A Vapor Corrosion Inhibitor (VCI) is infused into a resin and foam emitter and prevents your favorite firearms from rusting. In accelerated lab testing, Rustrictor has been proven to block rust and corrosion five times longer than competing products. Pre-perforated pluck foam allows for easy customization and cradles your favorite firearm safely.

Traveling is easy, with the over-molded carry handle providing comfort over the longest of hauls. The lockable, airline-approved All Weather 2 rifle case features a pressure release valve to equalize pressure changes caused by altitude or temperature changes so you can fly worry-free. The continuous Dri-Loc gasket creates a watertight seal, so the rifle will be safe from the heaviest of downpours while it waits on the tarmac.

Pick up the All-Weather 2, the first rifle case in the Plano line to feature Rustrictor Technology, and travel anywhere without fear of bumpy roads, cargo holds, or the elements. The Rustrictor AW2 36″ Rifle Case is the smallest case in the All-Weather series, perfectly sized to store and protect your favorite rifle through the most extreme conditions.
Rustrictor All Weather 2 Rifle Case Features:
Rust-preventive Vapor Corrosion Inhibitor (VCI) infused into resin and foam emitter
Blocks rust/corrosion 5x longer than competing products (per accelerated lab testing)
Pre-perforated pluck foam for easy customization
Pressure release valve equalizes pressure caused by altitude or temperature changes
Dual-stage lockable latches
Continuous Dri-Loc® seal creates a watertight, dust-proof shield
Rugged, industrial-strength construction
Comfortable, over-molded carry handle
Airline approved
Lockable
Made in USA
MSRP: $99.99 – $124.99
I like the pluckable foam idea, and these cases cost less than I spent on another brand a decade ago. If you're in the market for an airline-worthy rifle case, you should give these a good close look.
Plano AW2 cases are available in the following sizes: