Henry Arms COVID-19 Update with Hank Strange
Russ Chastain 05.19.20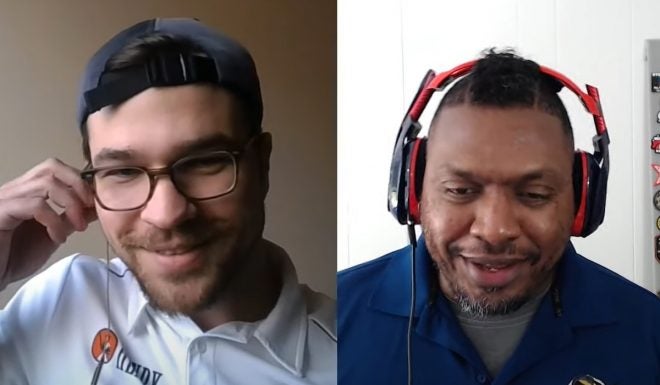 With gun demand at a historic high due to panic related to COVID-19 / coronavirus and gun shops remaining open because they are "essential" under Federal guidelines, gunmakers should be making money hand over fist. But is that really the case? Some firearms factories are in areas that are under severe restrictions… such as Henry's factory in New Jersey. In a video posted yesterday, YouTuber Hank Strange interviews Henry Communications Director Daniel Clayton Luce to find out just where Henry Repeating Arms stands these days.
Henry runs two factories; one in Bayonne, New Jersey and one in Rice Lake, Wisconsin. Each factory produces different models and performs different roles for the company.
Speaking from his own location in Pittsburgh, Dan says that because the Bayonne, NJ factory is located near the heart of one of the worst COVID-19 "hot zones," it's been 100% closed down since March 20. For that reason, folks (like myself) who have a NJ-specific Henry model on order really have no idea when their firearm might be produced or shipped. And unfortunately, the company doesn't know any more than the rest of us about when they might reopen, although they are "targeting" June 1 as a potential date to open their NJ doors again.
Even before they closed the factory, Dan says Henry was actively working to prevent employee illness by taking their temperatures as they entered the building, etc. But with 300+ employees at a location in the midst of a serious infection zone, they made the call to shut down the factory for the time being. The good news: Dan said no Henry employees have fallen ill with COVID-19.
Before anyone gets too het up, the closure of the NJ facility was strictly Henry's decision and NOT a government mandate. As a firearms business (and thus "essential"), they could have continued operations — but in an urban "hot spot" setting, they deemed it wiser to close temporarily.
Henry's Wisconsin facility is in a much more rural location and has remained open throughout the crisis, though in a limited capacity. He notes that the Wisconsin factory is larger than the NJ factory, and is running at about 90% capacity.
Until recently, about half of their models were made at each factory, but they are moving production of the AR7 Henry Survival Rifle from NJ to WI. This is great news for me, because that's what I have on order from Henry. Other models which may have some or all production moved include the H001 basic lever-action 22s and the Golden Boy line.
From there, they talk about the current firearms market and how Henry's guns appeal to "pandemic gun buyers" (my phrase, not theirs). In other words, which Henry firearms are more utilitarian than dressy?
It gets a little long if you're not specifically interested in Henry news, but it can be a great way to learn more about them like Henry's charitable work, auto racing, the thousand-man shoot, and more.
Huge bonus: Never once did I hear the repulsive phrase, "new normal."
Enjoy!