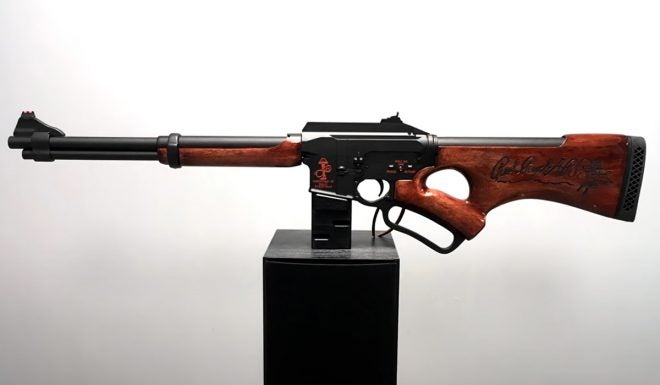 This one goes in the "You've got to be kidding me" file. Not only is it a lever-action AR-pattern rifle, it's been decorated to appear more like a classic lever-action Red Ryder BB gun.
Oh, the humanity…
This gun was covered in some detail at our sister site TFB last October; here are some highlights and a video.

The company, Brickwurx, is located in Louisville, Kentucky and does work in graphics design, commercial art, and metal fabrication/prototyping of "everything ranging from firearms to custom motorcycles." The company owner John Brickey said he has "a habit of modifying and creating new designs from existing works."
No kidding!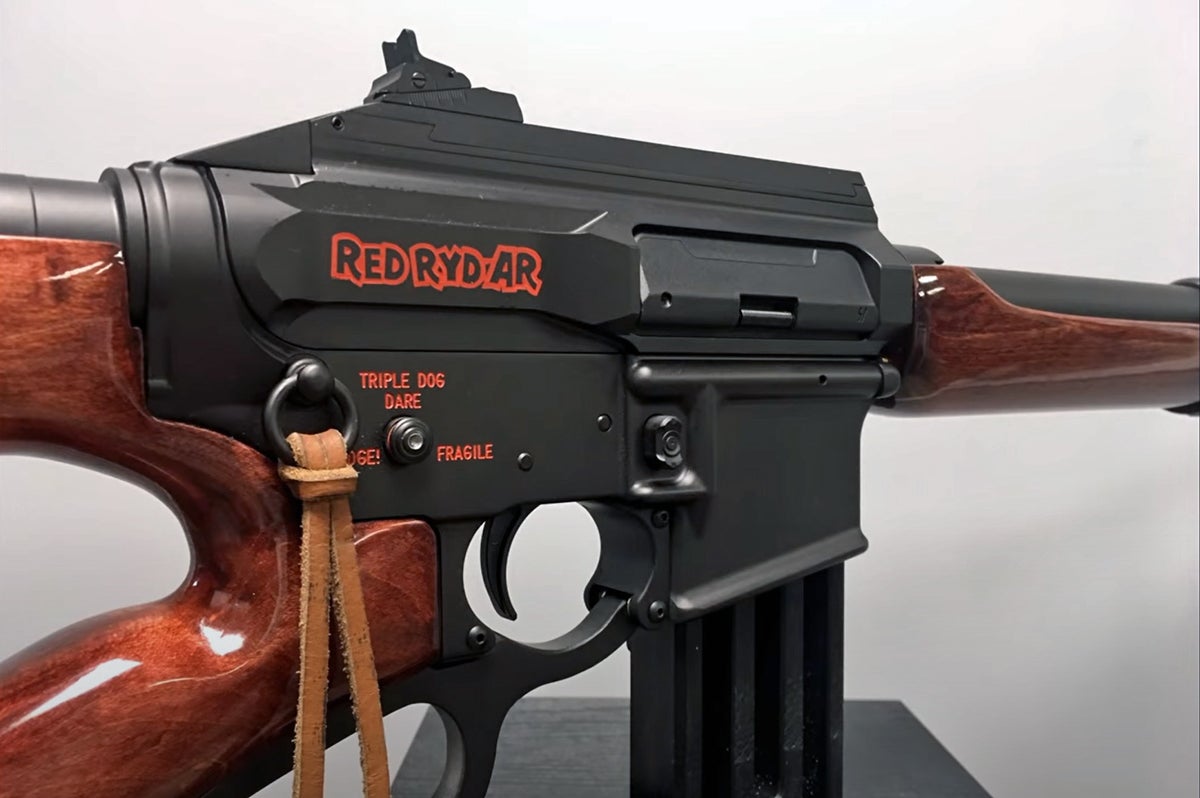 The lever-action aspect is in the patent process so we don't get to learn a whole lot other than "the design and all mechanics are completely incorporated into the rear stock assembly" and "only a lower front trigger guard 'sleeve' is required to modify ANY forged AR-15 lower to convert it to a lever-action rifle."
The trigger guard sleeve requires very minimum modification to an existing forged lower, requiring only light Dremel work near the lower mag-well, and the addition of two drilled holes. If and when a kit is offered for sale, a guide jig would be included with the kit.

The conversion stock requires a modified bolt carrier, but the bolt and remainder of any standard AR upper will function with this design. While the hard maple wood used for the theme build is attractive, a polymer stock would be far more practical for AR conversions. I am prototyping these currently.
"Attractive." I guess that's one word for it.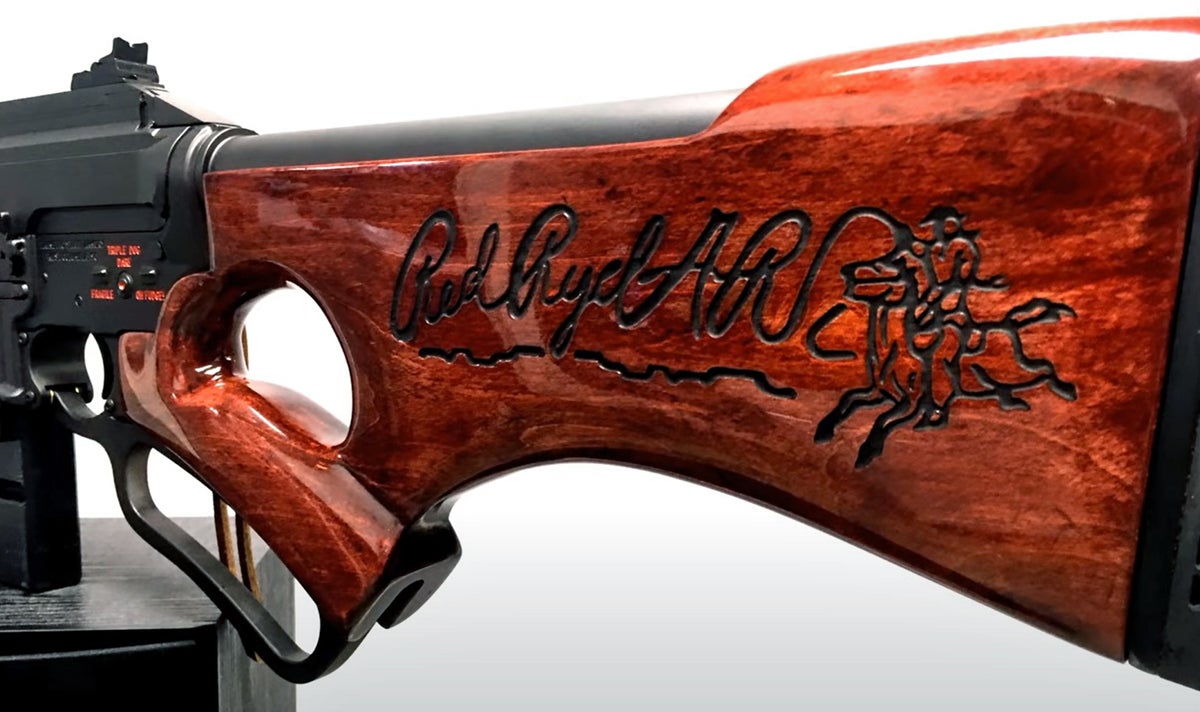 This particular gun is chambered for 223 Wylde, and as you will see in the video below, lever throw is amazingly short.
Brickey designed a tubular magazine system that would have eliminated the typical AR removable box magazine, but abandoned the notion as impractical for numerous reasons.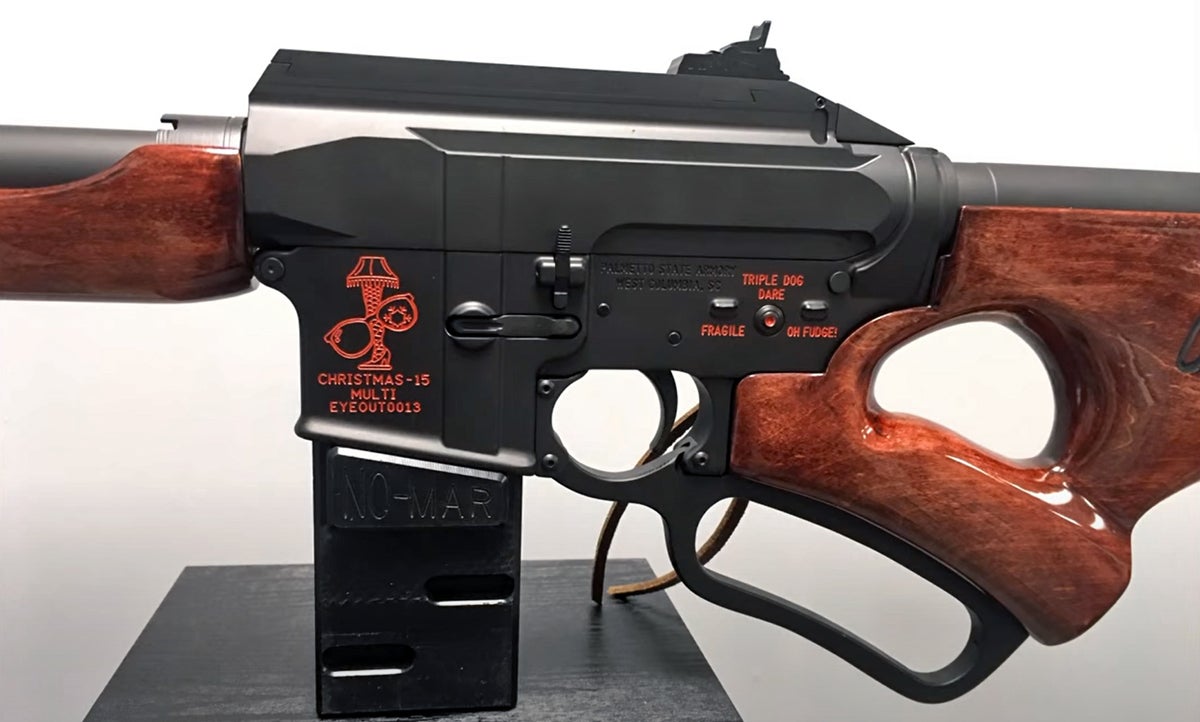 While I personally think it's hideous and I can't stand "A Christmas Story," I'm impressed with the ingenuity here, and especially the really short lever throw. So I guess my rating here would be "ugly but cool."
Here's the video, which is less than a minute long. Please check it out and let us know what you think in the comments below.