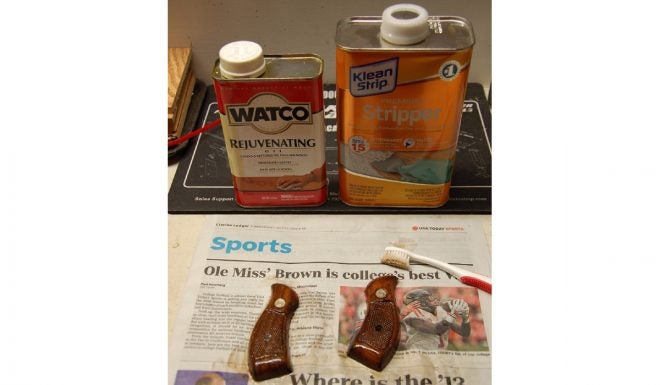 Half the fun of collecting old guns is cleaning them up and refinishing various aspects to bring the shine back. Short of a full-blown refinish or reblue job, just a little spit and polish can make any old gun look better. In fact, just a basic good cleaning with bore cleaner goes a long way toward restoration. Leaving the metal finish as is on some old guns retains its history and character — and its collector value.
Sometimes the wood grips on old handguns can stand a bit of work. I often totally refinish wood grips to restore the wood to a more natural state. I am a big fan of oiled wood on any long gun stock or handgun grips, not the shiny polyurethanes that were once very popular on wooden gun parts.
Recently at a gun show I spied a neat Model 10 Smith & Wesson with a fairly rare 2-inch barrel. It was blued and had some wear on the muzzle and a bit of rust. The rust came right off with some oil and fine steel wool. The factory standard wood grip panels with Smith medallions were dulled and showed some handling with sweaty hands which had turned the butt section almost black.
First, I removed the grips using an old Smith & Wesson screwdriver, which they used to supply with every revolver back in the old blue box days. That screwdriver blade fits those grip screws perfectly. I eased the screw out, then carefully bumped the grip frame in my hand until one of the panels came loose. From the inside of the other panel, I just tapped it off. Then I could completely and thoroughly scrub the gun metal with Hoppe's, soft brushes, bore and chamber brass brushes.
For the grips, I first dusted them off with an old, clean toothbrush being sure to clean out the checkering. Next I used a liberal amount of common furniture stripper to coat the wood grips to sit for about 15 minutes. Wear gloves or be careful handling that stuff. Using a soft rag, I wiped all the goo off the grips. All the old varnish came off, so one application was enough.
Next, I coated the wood with a walnut stain, letting it sit a while. After wiping that off to get the effect I wanted, I let them dry completely. After a few hours I wiped the grips down with a good wood oil and let them dry overnight. I polished them up again the next day and reinstalled. They almost look new, brighter and cleaner. These are good projects for a gun tinkerer that loves to collect, shoot or just admire old guns.