Thunder You Can Carry! NEW Springfield Armory SAINT Victor 308 Pistol
Adam Scepaniak 05.19.20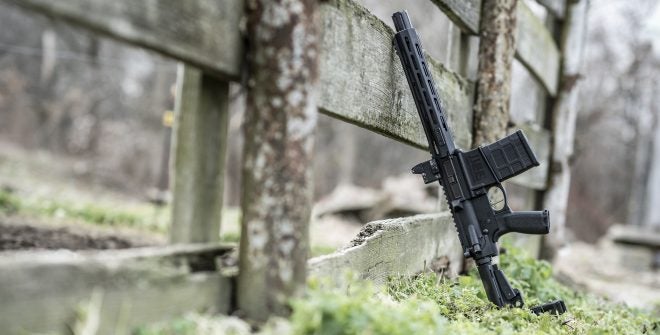 The SAINT series of AR-15/AR-10 rifles and pistols has been tremendously popular ever since their introduction a few years ago. Springfield Armory has identified a median price-point with superb quality that many shooters can get on board with. The next logical step is to bring this platform to a higher level. Springfield Armory has taken the thunderous power of the 308 Winchester cartridge and compacted it into a small AR pistol package that is now the SAINT Victor 308!
Some people need a strong yet agile firearm platform for not just hunting, but everyday life. Whether it is meant to be carried daily in the outdoors as a part of their job, they may desire legitimate force while recreating in the outdoors or simply want a primary hunting firearm that does not weigh 10 pounds. If that describes you, the Springfield Armory SAINT Victor 308 could be a good contender for your gun safe. All of the specifications can be read below as presented by Springfield Armory:
CALIBER: 308 WIN (7.62x51mm NATO)
COLOR: Black
BARREL: 10.3″ CMV, Melonite®, 1:10
UPPER RECEIVER: Forged 7075 T6 Aluminum, Type III Hardcoat Anodized, Forward Assist
LOWER RECEIVER: Forged 7075 T6 Aluminum, Type III Hardcoat Anodized, Accu-Tite™ Tension System
BOLT CARRIER GROUP: 308 BCG w/ 9310 Steel Bolt, HPT/MPI, Melonite®
GAS SYSTEM: Direct Impingement Carbine-Length, Low-Profile Pinned Gas Block

HANDGUARD: Aluminum Free Float w/ Patented SA Locking Tabs, Forward Handstop, M-Lok®
PISTOL BRACE: SB Tactical™ SBA3™
TRIGGER: Nickel Boron Coated Flat GI
MUZZLE DEVICE: SA 2-Piece Forward Blast Diverter
RECEIVER EXTENSION: SA Carbine
RECEIVER END PLATE: QD
BUFFER ASSEMBLY: Carbine "H" Heavy Tungsten Buffer

CHARGING HANDLE: GI Style
SAFETY SWITCH: Single Side
TRIGGER GUARD: Integral to Receiver
PISTOL GRIP: BCMGUNFIGHTER™ Mod 3
MAGAZINES: (1) 20-Round Magpul® PMAG® Gen M3
WEIGHT: 8 lbs 6 oz
LENGTH: 28.25″ – 30.5″
The current MSRP is benchmarked at $1,363 and is covered by Springfield Armory's Lifetime Warranty in the rare event you should need service. Springfield Armory has a fairly well-rounded collection of AR pistols within the SAINT line of firearms and a 308 Win seemed to be the next logical conclusion. Springfield Armory speaks more about their newest offering in this quote from their website below:
"The newest addition to the venerable SAINT Victor line brings 308 power down to size. With a host of premium features and duty-grade components the all new SAINT Victor Pistol in 308 is built for rugged dependability and available now from Springfield Armory."
With so many of us still unfortunately in quarantine combating the COVID-19 (coronavirus) it has given a lot of us more time to get outdoors. Is this something you would consider toting along with you on your outdoor explorations? Let us know all of your thoughts in the Comments below! We always appreciate your feedback.