XS Sights Debuts XTI2 DXS Ember Standard Dot 45° Offset Iron Sights
Adam Scepaniak 05.21.20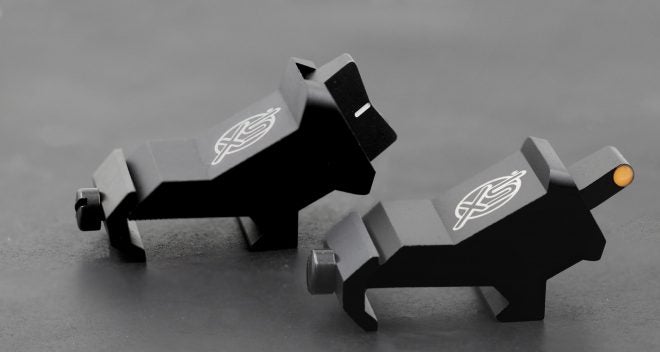 Iron sights might not be all the rage currently when it comes to the AR platform (LPVOs are – Low Power Variable Optics), but that does not mean they are without tremendous value. Optics can fail, and if they do, you will be eternally grateful you have some irons on your rifle. One company who is not settling for average is XS Sights as they have just debuted their XTI2 DXS Ember Standard Dot 45° Offset Iron Sights. This 2nd generation offering looks to improve upon the original and give shooters more value. The full Press Release from XS Sights can be read below:
"Fort Worth, TX (May 13, 2020) – XS Sights is pleased to introduce the XTI2 DXS Ember Standard Dot 45-Degree Offset Iron Sights for AR-15 rifles.  The second generation XTI2 DXS sights are a close-quarters, secondary sighting solution for rapid transition from a magnified primary optic.  Eliminating the need to adjust magnification reduces target engagement time when every fraction of a second counts.

The XTI2 DXS features taller bases than its predecessor for easier sight alignment without having to break a standard cheek weld, and the base angle has been increased to accommodate wider lens optics. The front sight measures 0.140" wide and now features an Orange Ember Glow Dot for increased visibility.

XTI2 sight sets are mounted in front of the primary optic to reduce snagging on chest rings.   The sights ship with thread locker and a front sight adjustment tool."
These sights are not only meant be a backup to your primary sighting system (likely an optic), but are an incredible companion for any modern sporting rifle. They boast a low-snag design as to not slow you down and are actually ambidextrous so they can be run on the right-hand or left-hand side of your rifle; whatever you prefer. The rest of the specifications can be read below as presented by XS Sights:
High-Contrast Color Front Sight – Highly visible orange for bright light shooting
Ember Glow Dot – Photoluminescent dot absorbs ambient light and glows in shadows and low light settings
Rear Sight Windage Adjustment – Rear sight is driftable allowing easy windage adjustability
6061 T6 Aluminum Bases – Keeps rifle weight as light as possible
Fully Ambidextrous – Front and rear sight can be rotated for left handed shooting
CNC Steel Iron Sights – Extremely durable for duty use
Easy Bolt on Installation – Top rail installation allows for fitment on all optic ready AR-15 rifles
The full MSRP is currently benchmarked at $180. These sights also carry the XS "Lifetime Warranty – No Questions Asked Sight Warranty" in the rare event you should ever need service or a replacement. Zack Kinsley, the Product Marketing Manager for XS Sights, shared these words surrounding the announcement of the XTI2 DXS Ember Standard Dot 45° Offset Iron Sights:
"Our new XTI2 express sights are engineered for rapid sight acquisition in close quarters. These advanced offset iron sights are also ideal for 3-gun competitions when targets are close – within pistol range and where magnified optics make target identification more difficult.  XS's proprietary Orange Ember Glow technology provides a high contrast front sight in bright light and is instantly charged by the sun's UV rays, causing it to glow in shadows and low light settings such as vehicles."
These sights are currently available on the XS Sights website for anyone who is eager to start running them on one of their rifles. For all of our readers out there, what do you think of these? Do you still run iron sights on your AR-15? Does this XTI2 DXS Ember Standard Dot 45° Offset Iron Sights set look appealing to you? Let us know all of your thoughts in the Comments below! We always appreciate your feedback.
---
About XS Sights
XS Sights is known for making the fastest sights in any light. For more than 20 years, the XS team has created some of the most innovative sights on the market today for pistols, rifles and shotguns.  Whether used for personal defense or hunting, these sights are designed and built to be the absolute best for their specific purpose.