Sig Sauer Fastback Nightmare Carry: More Like a Dream
Eve Flanigan 05.27.20

Sig Sauer's Nightmare is kind of oddly named, considering it ended my 1911 operation nightmares. There's nothing like a fine 1911, after all. And there's nothing like the frustration of a 1911 with tolerances so tight that it malfunctions at least once per magazine-full, or has a grip safety that takes conscious effort to keep mashed to the floor by less-than-meaty palms. All that ended when I met the Nightmare.
This gun started out as a review topic when it was a new release, circa 2016. I never let it go back to its New Hampshire birthplace, but instead made it my own, having found it surprisingly pleasing. Today, after a few years of partnership and countless loans of the Nightmare to students wanting a .45 caliber-specific qualification under my state's concealed carry rules, I respect it even more.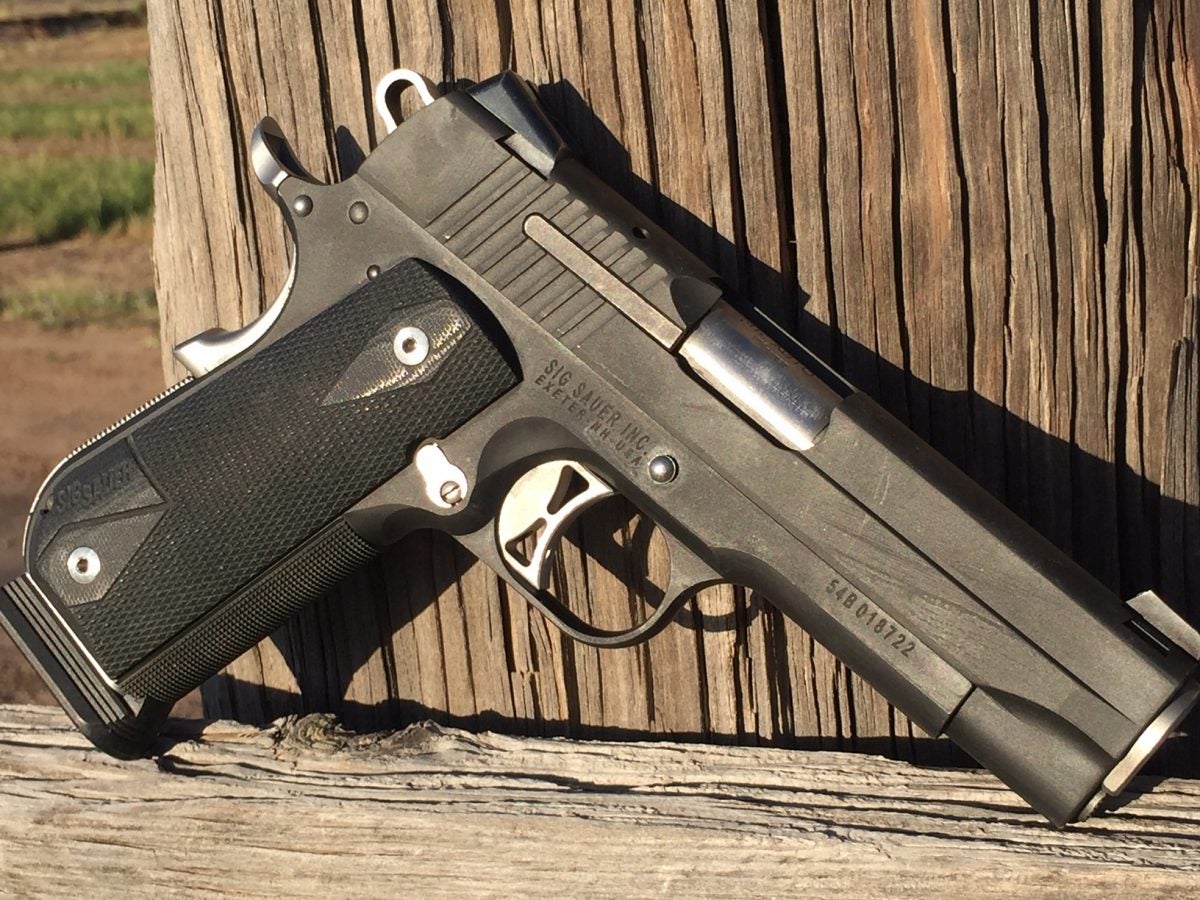 While the sample gun is a commander size chambered in 45 ACP, the Nightmare was once also offered in 357 Sig and in both full and commander size frames. The model featured is the only one currently offered. It's sometimes hard to find in stores.
Daily carry was considered in the Nightmare's design. It sports a bobtail grip, or "fastback" as Sig calls it, in an apparent appeal to the Gen X and older crowds who remember the Mustang design of the same name. The slide bears Sig's trademark matte black Nitron finish. Its bushing, slide lock, grip screws, thumb safety, and beavertail have a polished, nickel-tone finish. The checkered front and backstraps, grip safety, and skeletonized trigger are matte nickel. The silver-on-black contrast is striking and, in this writer's opinion, quite attractive.
Every Nightmare ships with two steel eight-round magazines—one with a sporty black floorplate; one with a slightly lower profile plain, flush floorplate. Though I find the black-bottom one more pleasing to look at, I prefer using the plain one, which drops freely from the magazine well while the one with a polymer floorplate needs some help.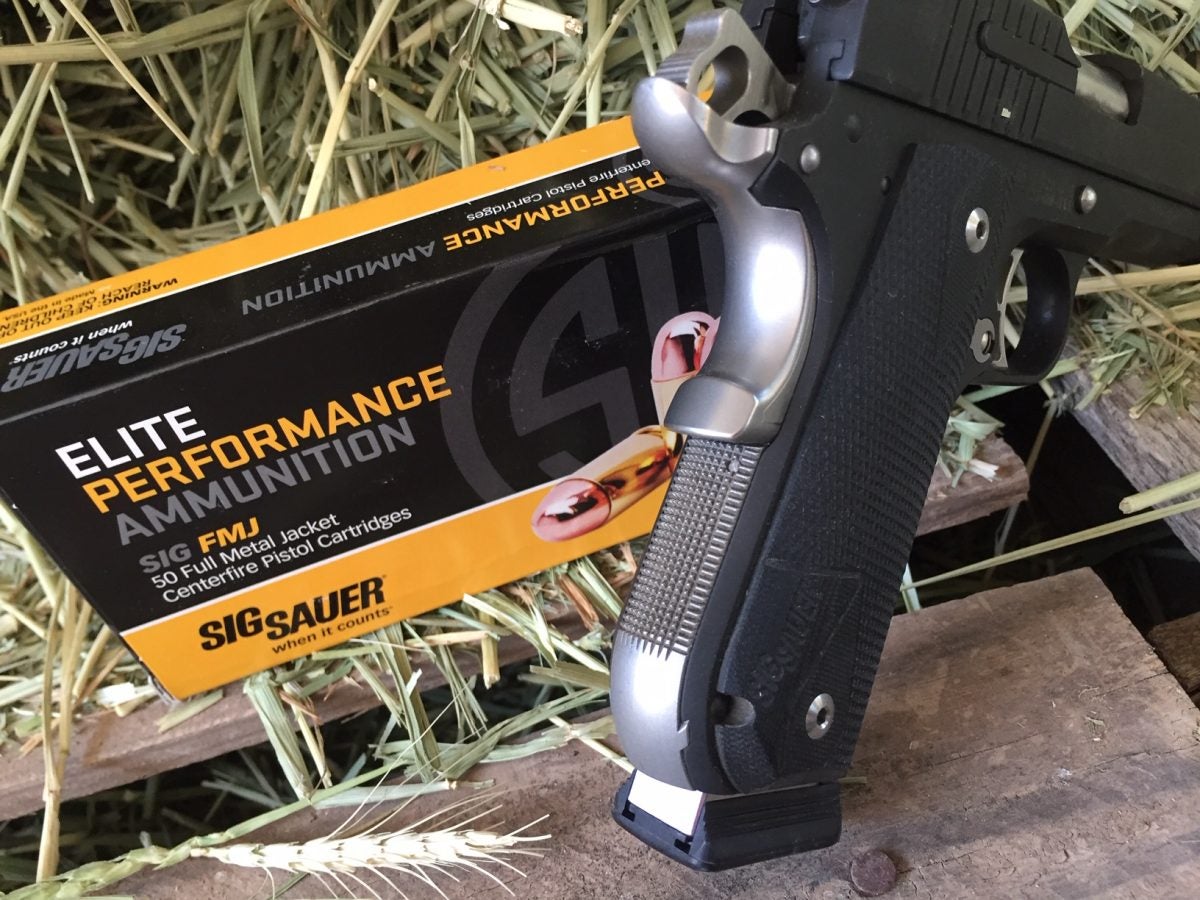 As is common with commander-size 1911s, not all standard 1911 magazines are a good match for the Nightmare's function. It dislikes my Wilson Combat and Chip McCormick mags, but runs fine with Kimber mags.
"Runs fine" is a joy to say after suffering with a more costly 1911 that didn't. With factory-made, brass-cased ammunition and the aforementioned preferred magazines, the nightmare is more reliable than any other 1911 I've had. It runs when dust and dryness have prevailed—a true feat for a tight-spec 1911. The carbon steel barrel is accurate, too. The light trigger is typical for the platform, with a crisp break and short reset.
A prominent grip safety contributes to this gun's reliability. Unlike some others, it stays naturally disengaged when the gun is in my hand. Misfires, which were commonplace with me and some other guns of this platform, are absent with the Nightmare.
The front and rear Siglite tritium sights are adjustable. No need to upgrade!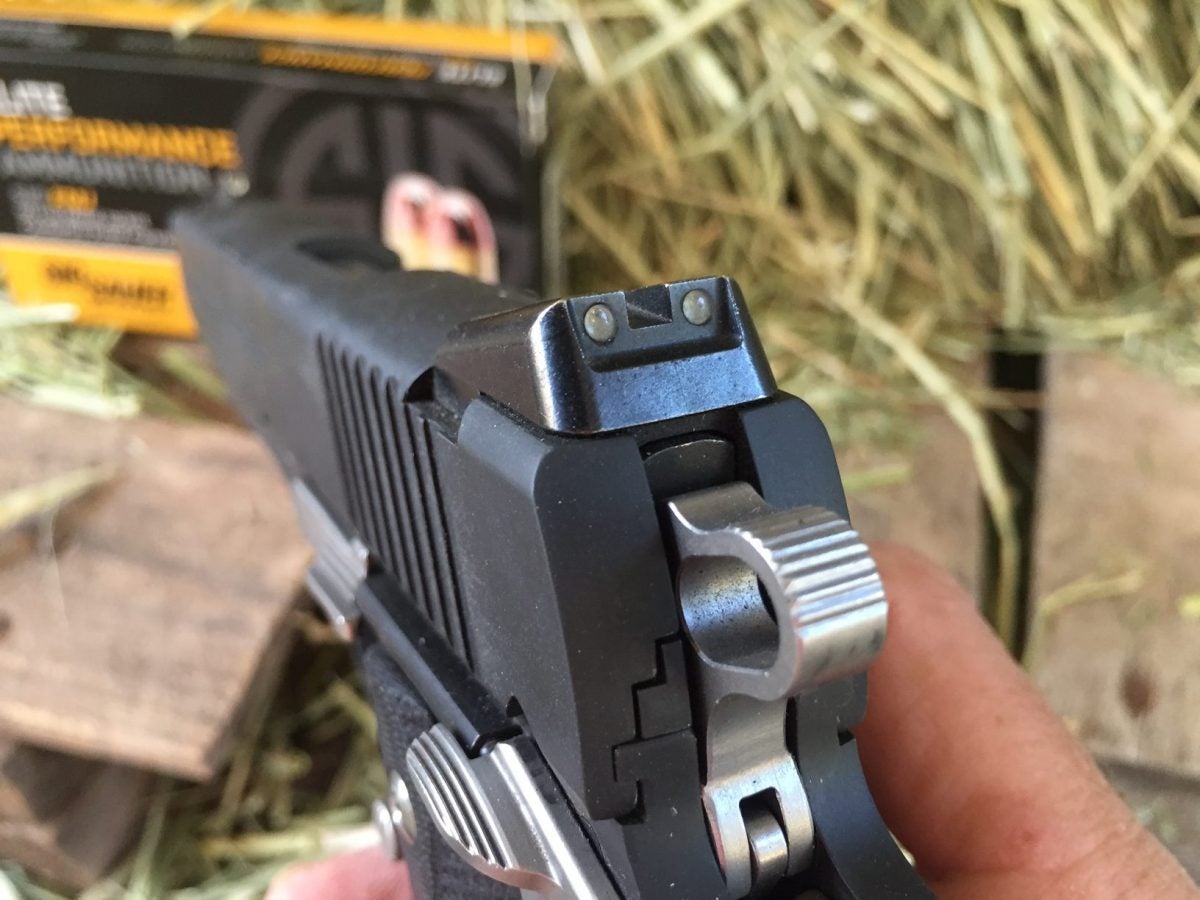 Attention to detail is a hallmark of the Sig Sauer brand, and this gun shows it with perfect checkering on the front- and backstraps and symmetry of sculpting on the G10 grip panels. It oozes quality.
There is only problem I've encountered with this gun, on the couple of occasions I've carried it without a magazine—once at a USPSA match where going mag-less between stages is mandatory. The corners of the bottom of the grip are quite sharp. Their outer side puts scratches on my inner arm while the inner side snags clothing. A little de-horning is needed to make it perfect. With a magazine inserted, this problem goes away.
The Sig Nightmare renewed my enthusiasm for 1911s in general. It eliminates issues I had with others being reliable, and looks great to boot. Whether purchased for concealment or open carry, this is one to be proud of.
Specifications: Sig Sauer Fastback Nightmare Carry
Caliber: 45 ACP
Magazines: Two 8-round steel
Sights: Siglite (tritium)
Barrel: Carbon steel, 4.2 inches
Overall Length: 7.7 inches
Overall Height: 5.5 inches
Overall Width: 1.4 inches
Weight: 38 ounces
Sight Radius: 5.7 inches
Frame Material: Stainless steel
Grips: Black G10
Average market price: $1,300